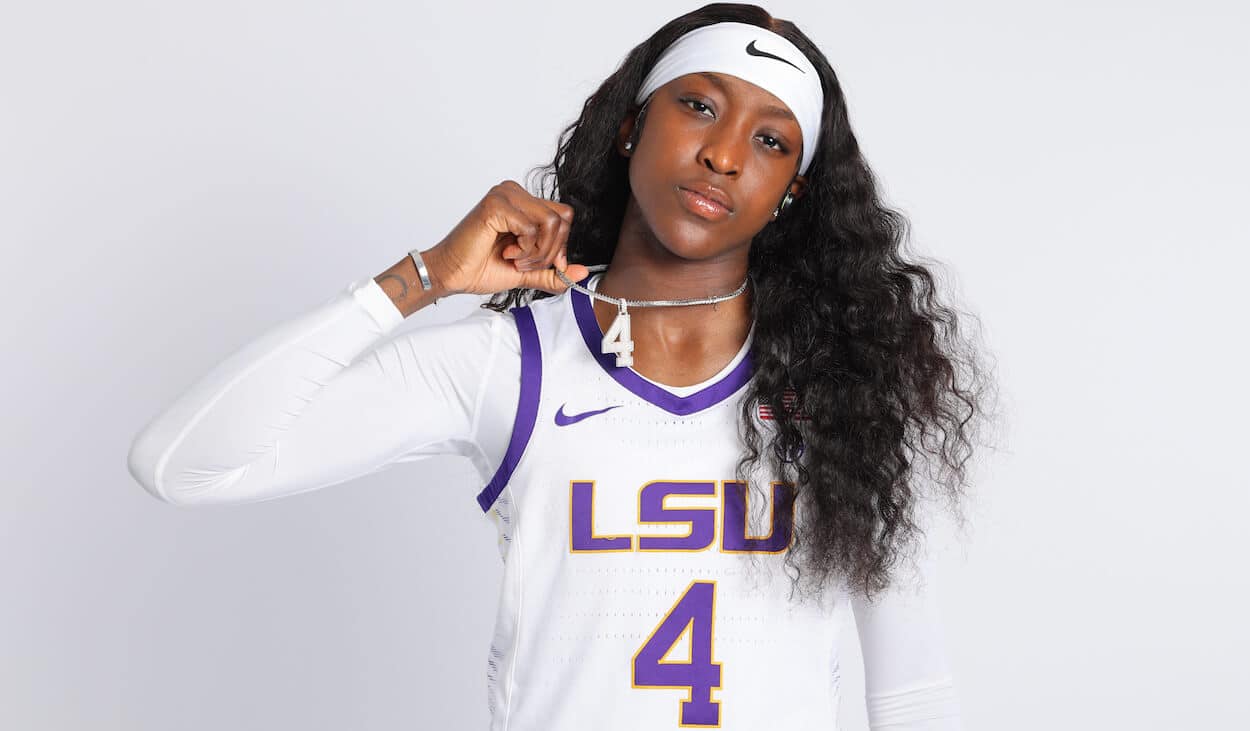 How LSU Freshman Guard and Roc Nation Rapper Flau'jae Johnson Got Her Unique Name
Rapper and LSU star Flau'jae Johnson has an incredible story and a fascinating first name that she got from her father, who tragically died before she was born.
Caitlin Clark and "Bayou Barbie" Angel Reese will be the biggest names on the court in the Women's NCAA Tournament Final on Sunday. But the most interesting name goes to LSU freshman guard Flau'Jae Johnson. And the intrigue around Johnson goes beyond the unique moniker. She is not only a college basketball star. Johnson is a Roc Nation rapper and will be the highest-earning NIL player on the court in the final.
How Flau'jae Johnson got her unique first name
The story of how Flau'jae Johnson got her unique first name is a sad one, unfortunately.
When Flau'jae Johnson's parents, Kia J Brooks and Jason "Camoflauge" Johnson, found out they were having a baby in 2003, Jason immediately knew what he would name her: Flau'jae Monae Johnson.
The "Flau'jae" part comes from Jason's rap name, "Camoflauge." And as a rapper, Flau'jae speculates today on ESPN's Outside the Lines that he liked that the names rhymed.
Sadly, Flau'jae never met her father.
Camoflauge was an up-and-coming hip-hop artist whose 2002 album "Keep It Real" opened at No. 24 on the Billboard independent album chart. Six months before Flau'jae was born, though, Jason was shot and killed in front of his recording studio in Savannah, Georgia.
Flau'jae honors her father today with an incredible music career and is paving her own path as a basketball player with pro-level talent.
Flau'jae Johnson's rap and basketball careers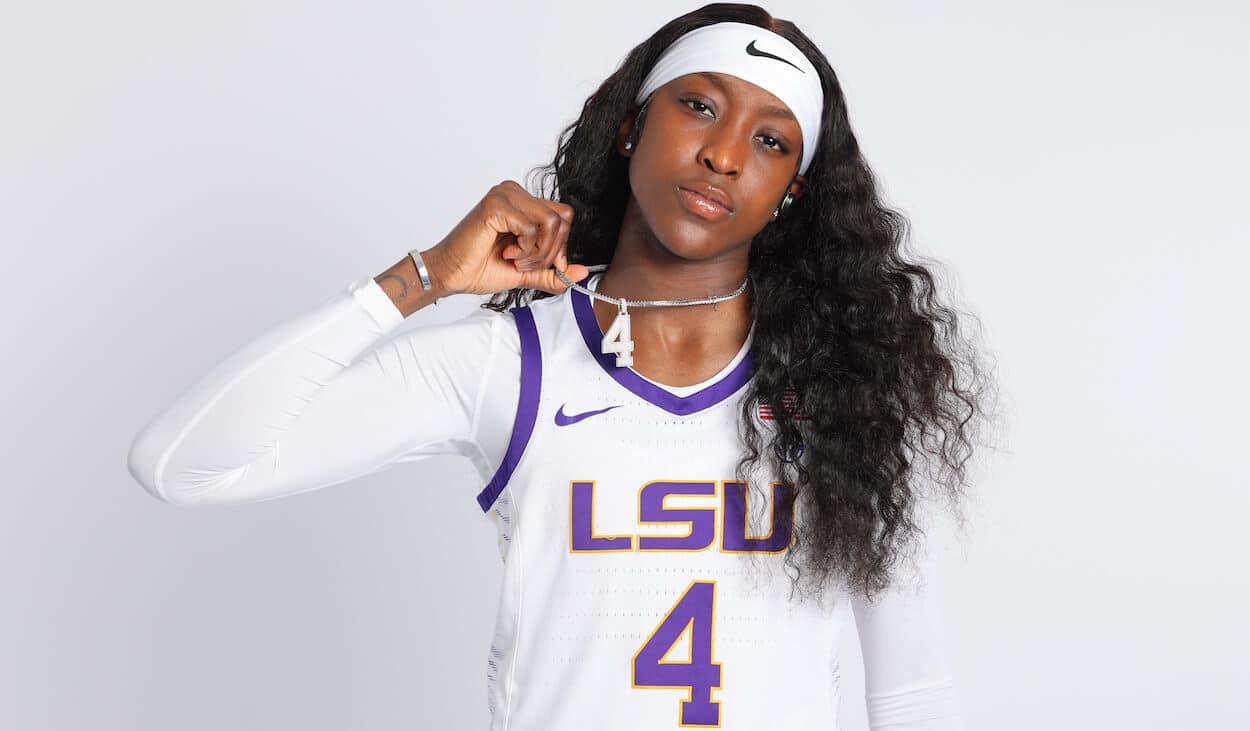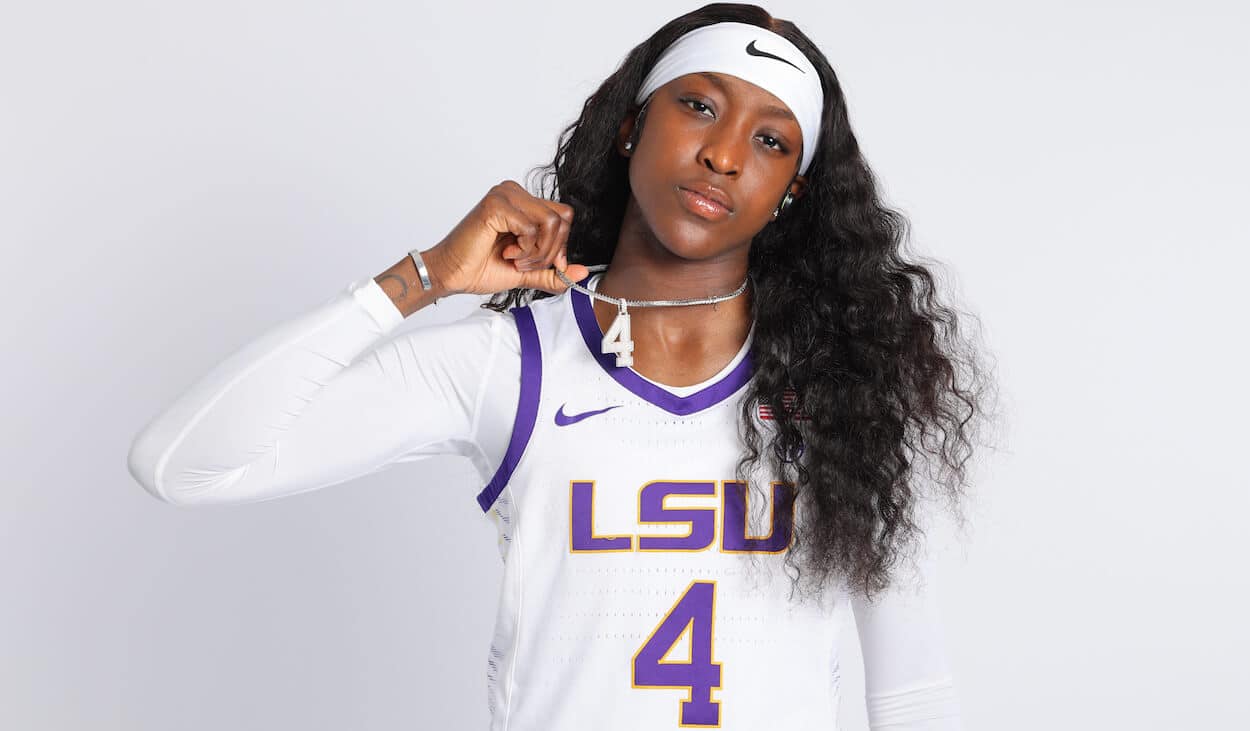 Flau'jae Johnson might only be 19, and her basketball career is just getting underway, but her time with her other talent, rapping, has been developing at a high level for a long time.
When Johnson was young, she picked up rapping as a tribute to her late father. It quickly became a passion, and when she was 7 or 8 years old, she performed on stage at a tribute party for Camoflauge.
She recorded a few songs on CD, and her father's producer and manager, Gary Cope, took Johnson under his wing.
When she was 12, Johnson starred in a reality show called The Rap Game on the Lifetime network, where aspiring hip-hop artists competed for a chance to work with legendary producer Jermaine Dupri.
At 14, she competed on America's Got Talent and made it to the quarterfinals.
In high school, though, Johnson's focus shifted to basketball, and the 5-foot-10 Georgia native worked her way to becoming the No. 6 guard in the country and the No. 26 overall player in the 2022 recruiting class.
Johnson signed with Kim Mulkey and the LSU Tigers, and as a freshman, Johnson played 27.3 minutes a game and averaged 11.0 points, 1.2 steals, and 5.9 rebounds. The Tigers are now in the 2023 final against Iowa.
How Roc Nation signed the budding LSU star
Flau'jae Johnson is signed with Jay-Z's Roc Nation label. But in a complicated confluence of events, Roc Nation actually called Johnson's mother to talk about the sports management side of the business representing her.
When sports agents from Roc Nation reached out to Kia J Brooks, Flau'jae Johnson's mom asked them if they knew the guard rapped, too. The rep did not, so Brooks sent them some songs and told them to call her back after they listened to them.
The reps listened to the music, and the president of the company called Johnson back and told her, "congratulations."
Johnson went to New York and signed an NIL deal with Roc Nation. The agreement allows Roc Nation to distribute Flau'jae's music on all streaming platforms while she owns all the master tapes. And in turn, Roc Nation represents her in a marketing capacity, helping her get NIL deals.
The partnership is working out well for "Big 4," as her LSU teammates call her. According to On3, Johnson is the fourth-highest-earning women's basketball player, raking in an estimated $669,000 annually.