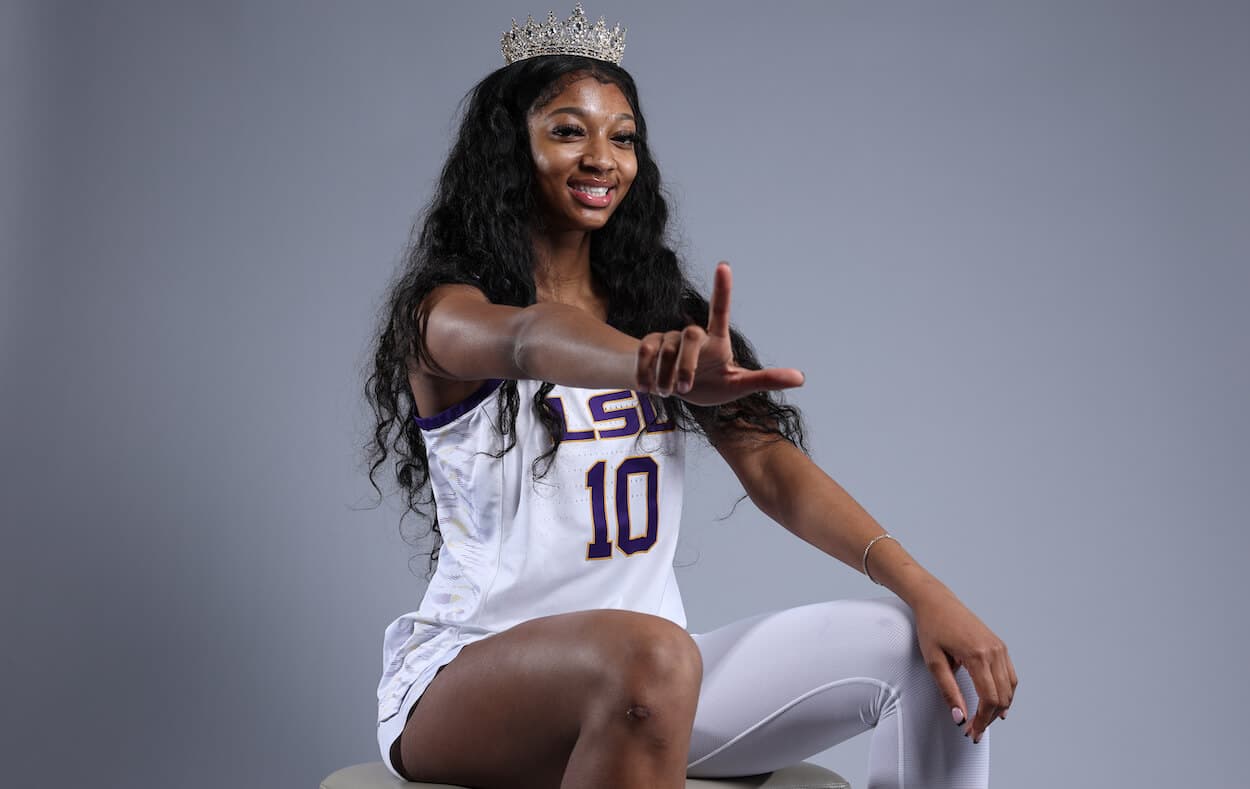 LSU Star 'Bayou Barbie' Angel Reese Has More NIL Deals Than Any Men's or Women's College Basketball Player
Angel Reese, aka 'Bayou Barbie,' led her LSU Tigers to the NCAA tournament finals, and leads all college basketball players in NIL deals.
NIL and transfer rules have changed the state of college basketball in 2023, and the NCAA tournaments have reflected that this season. One of the interesting shifts is that the women's side of March Madness has more star power than the men's this year. And while some of that is due to Iowa superstar Caitlin Clark, don't sleep on LSU Women's basketball forward Angel Reese, aka "Bayou Barbie," who has more NIL deals than any player in either tournament. 
LSU star Angel Reese has the most NIL endorsements of any college basketball player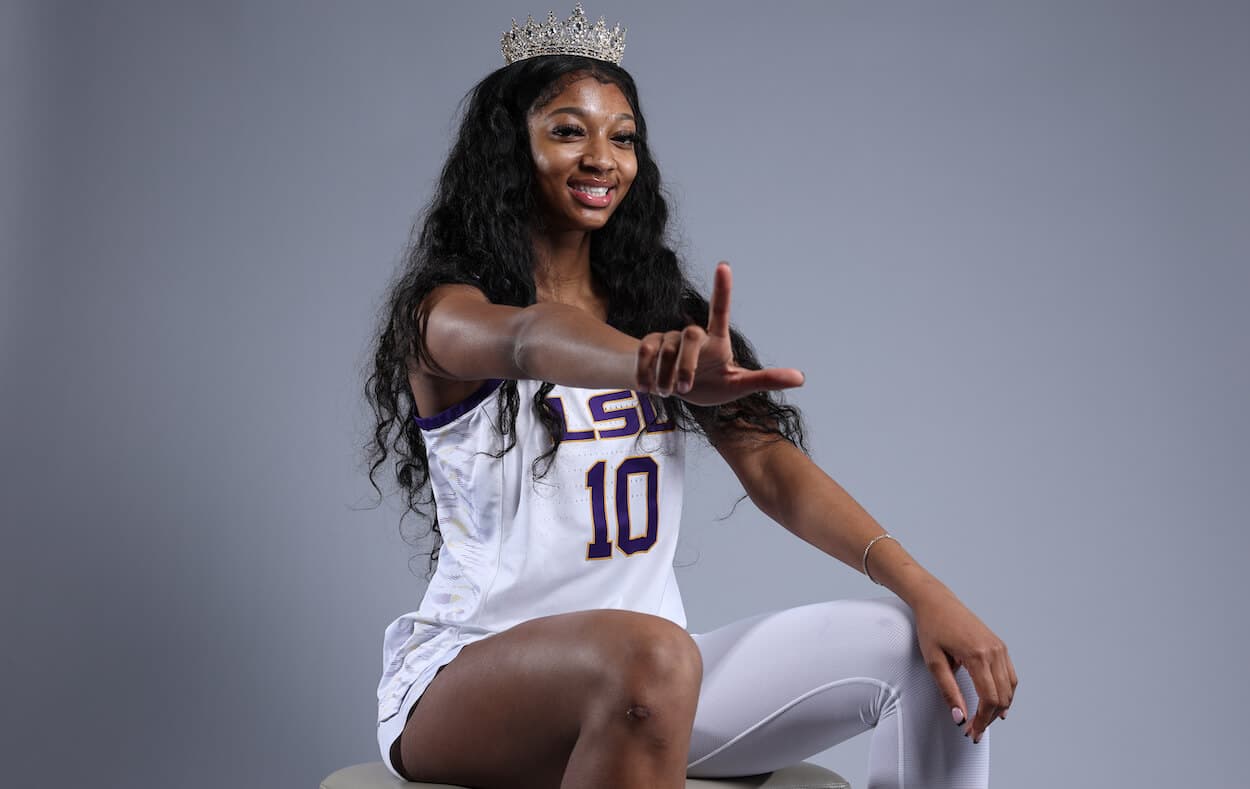 Name, image, and likeness (NIL) deals are changing the face of college sports, especially women's basketball. Star players with huge social media followings are raking in hundreds of thousands of dollars in endorsement deals. 
And no one in college basketball has more NIL deals than "Bayou Barbie" herself, LSU Tigers superstar Angel Reese. 
According to an NIL study by Sponsors United, Reese's 17 NIL deals put her in fifth place in college sports behind:  
Rayquan Smith, Norfolk State, football and track, 66 deals 
Ky'Wuan Dukes, Johnson C. Smith University, football, 29 deals
Lauren Burke, Texas, softball, 22 deals
Jon Seaton, Elon, football, 18 deals
On the college hoops front, Reese is ahead of Miami's Cavinder twins (Haley and Hanna) and the men's CBB leader, North Carolina's Armando Bancot, who have 16 deals each. 
On the money front, "Bayou Barbie" is doing well, too. According to On3, an NIL tracking site, Reese is making $392,000 per year on these endorsements, which includes partnerships with companies like Bose, JanSport, McDonald's, Outback Steakhouse, Xfinity, and more. 
That dollar figure puts the ninth overall among female college athletes, well behind her fellow LSU Tiger, gymnast Livvy Dunne, who rakes in $3.4 million annually. 
And despite having the most individual deals in her sport, Angel Reese ranks sixth in earnings. The top five for women's college basketball are: 
Haley Cavinder, Miami: $862,000
Hanna Cavinder, Miami: $862,000
Paige Bueckers, UConn: $754,000
Flau'jae Johnson, LSU: $669,000
Hailey Van Lith, Louisville: $480,000
Not bad in a sport where earning a penny just a season ago would have gotten you kicked off the team. 
'Bayou Barbie' vs. Caitlin Clark is must-see TV
The 2023 Men's Basketball Final Four features some uninspiring matchups, both in terms of teams and star players. On one side of the bracket, you have Florida Atlantic vs. San Diego State, and on the other, it's UConn vs. Miami.
This means you'll see "stars" like Jordan Miller, Johnell Davis, Ricky Roe, Adama Sonogo, and Matt Bradley. Actually, four of those are real players in the 2023 Final Four, and one of them is a character from the movie Blue Chips.
Do you know which is fake?
The point is, there aren't a lot of household names on the men's side of the draw. On the women's side, though, there are two of the biggest and most watchable stars in all of basketball in the final game.
Angel Reese vs. Caitlin Clark is going to be a heavyweight title fight in the women's final game.
Clark is the best player in college basketball. She averaged 27.7 points, 8.6 assists, and 7.2 rebounds this season. In the tournament, she's been even better, dropping 31, 41, and 41 points in her last three games.
On the other side, head coach Kim Mulkey has the Tigers in the final game in just her second year at the helm. That's thanks in large part to the 6-foot-3 Angel Reese. "Bayou Barbie" transferred from Maryland before the season and put up 23.3 points, 15.6 rebounds, and 1.6 blocks per game. She went for 24 points and 12 rebounds in her Final Four game against Virginia Tech.
Angel Reese vs. Caitlin Clark could make for the best college basketball game all year when the two go at it on Sunday, April 2, at 3:30 pm ET for the 2023 title.