Shaquille O'Neal 'Analyzed' Michael Jordan, Then Beat Him to the Punch in Hollywood
Shaquille O'Neal studied how Michael Jordan built his brand then took it to the next level by starring in the movie 'Blue Chips'.
A college marketing professor once told Shaquille O'Neal that big men don't sell. The 7-foot-1, 300-plus-pound NBA superstar sure proved him wrong. Shaq became one of the most marketable players in league history from the moment he took the court in 1992 and continues to be one of the biggest stars in the NBA orbit today as a TNT analyst. O'Neal did this with his drive and infectious personality for sure, but he also studied the greatest personal "brands" in the league, like Michael Jordan, then went out him at his own game, starring in Blue Chips two years before MJ got Space Jam.
Shaquille O'Neal studied the brands of Michael Jordan, Larry Bird, and Magic Johnson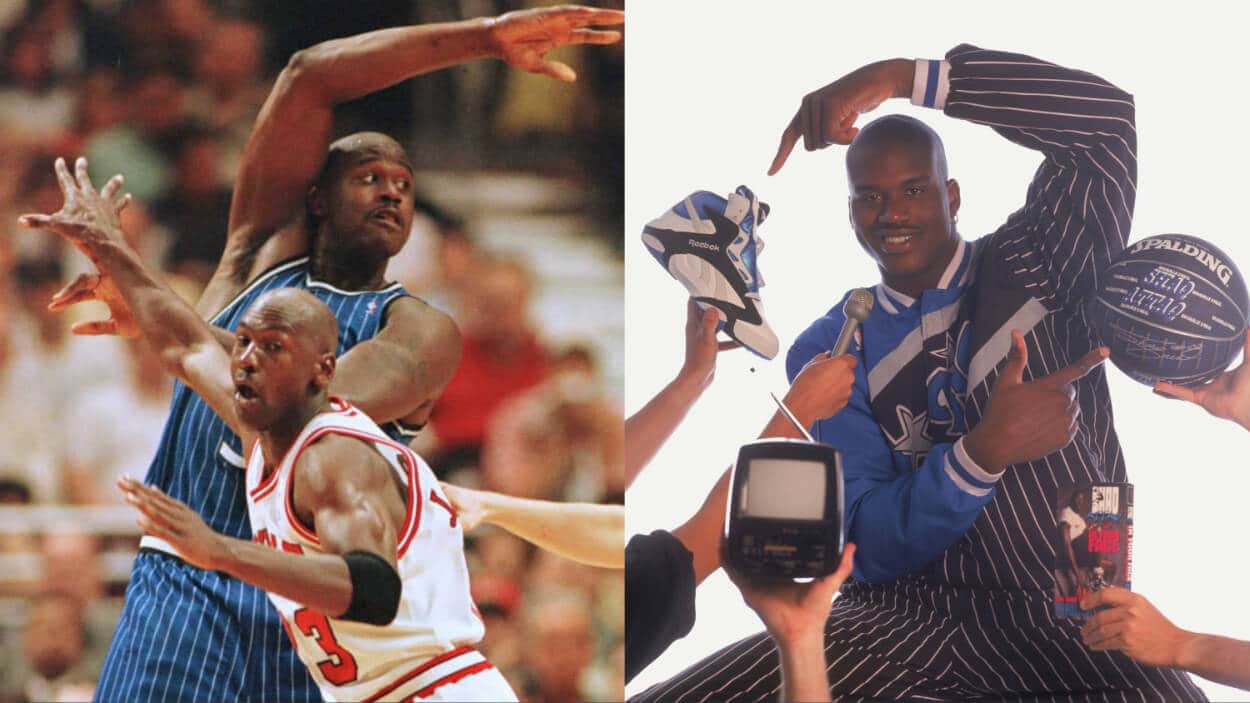 Shaquille O'Neal knew he wanted to become a brand on the level of the biggest (and most famous) NBA stars to that point — Michael Jordan, Magic Johnson, and Larry Bird — from the beginning.
Longtime NBA insider Jackie MacMullan shared on her Icons Club podcast that "Shaq analyzed how Bird and Magic and Jordan grew their brands, then cherry-picked what he liked, and discarded what he didn't."
For example, he designed the logo for his Reebok shoe as a silhouette of him dunking, an idea that "was unapologetically stolen from Jordan's 'Jumpman' logo."
He also saw the success of Jordan, Magic, and Bird's commercials but wanted to take things to the next level as far as being on camera.  
"The big man set his sights beyond commercials or straight-to-video films," MacMullan explained. "He traded phone calls with Hollywood producers to ignite his acting career."
By carefully watching those who went before him and adding his larger-than-life size and personality to everything he did, O'Neal quickly became the biggest star in the NBA next to Jordan. And when it came to Hollywood, Shaq beat MJ to the punch.
"At the tender age of 21, Shaq was already blossoming into a multi-dimensional talent," MacMullan shared. "Just like his idol [Julius Irving], he starred in his own movie, Blue Chips, alongside Nick Nolte and fellow icon Bob Cousy. Who would have ever guessed O'Neal would beat Michael Jordan to the box office? But he did. Blue Chips hit the big screen two years before Space Jam."
And while Shaq's proceeding films, Kazaam and Steel, weren't great, Blue Chips remains the best film with pro basketball players as actors.
'Blue Chips' is awesome
Blue Chips is a 1994 film that follows a Bobby Knight-like big-time college basketball coach Pete Bell (Nick Nolte), whose Western University Dolphins have struggled in recent seasons as programs that pay players are beating them in recruiting.
To turn the program around, Athletic Director Vic Roker (Bob Cousy) and Bell turn to rich booster "Happy" Kuykendahl (J.T. Walsh) to help bring in better "blue chip" recruits. With Happy's help, the Dolphins land Neon Boudreaux (Shaquille O'Neal), Butch McRae (Anfernee "Penny Hardaway), and Ricky Roe (Matt Norver).
Blue Chips — written by Bull Durham screenwriter Ron Shelton —is a fun, entertaining, and good, not great, movie. It's not in contention for the best sports movie of all time, but it is the best movie starring NBA players.
Space Jam (both the Michael Jordan and LeBron James versions) is fun but aimed at kids. And we're also not counting movies where NBA players simply play themselves, like Eddie and Like Mike.
This leaves the main competition for Blue Chips as He Got Game (with Ray Allen) and The Fish That Saved Pittsburgh (Julius Irving). Both are good, and Denzel Washington's performance in He Got Game certainly outshines Nolte.
In the end, though, any basketball fans who love college basketball will happily sit down with Blue Chips before any other NBA player-led movie.