Floyd Mayweather Jr.'s Fans Have Been Warned Why He Can't Beat Logan Paul
True boxing fans will be rooting for Floyd Mayweather Jr. to pummel Logan Paul for eight solid rounds in their boxing match on Sunday at Hard Rock Stadium in Miami Gardens, Florida. Better yet, Mayweather can lay Paul out in the first round and perhaps help bring an end to these sham bouts.
What Mayweather cannot do, however, is improve upon his pristine record in the ring.
Floyd Mayweather Jr. vs. Logan Paul is a PPV bonanza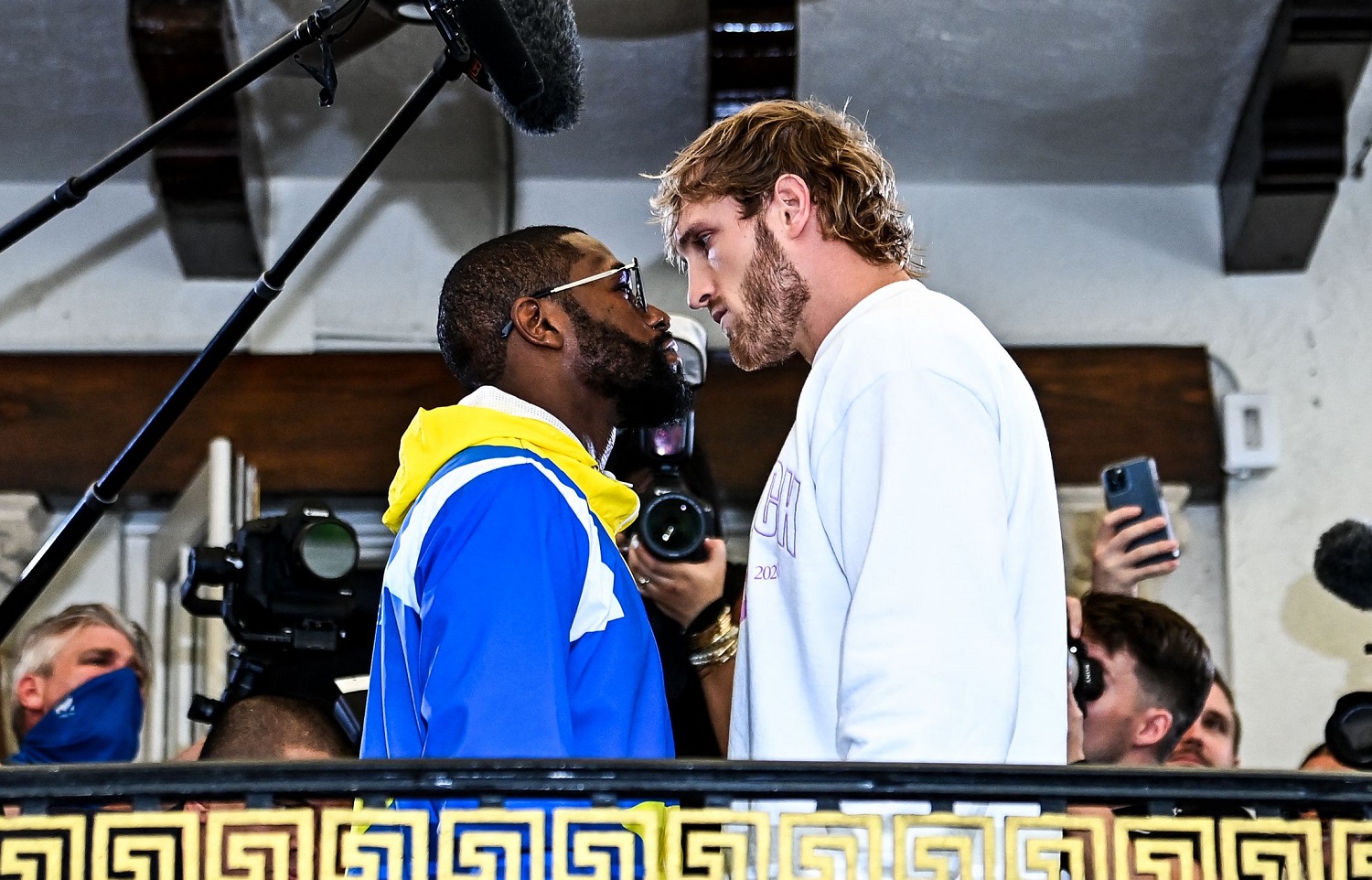 Multi-time world boxing champion Mayweather carries a 50-0 record into his bout against Paul, the YouTube personality who lost his November 2019 boxing debut to KSI, an English rapper and YouTube celebrity.
Their records aren't the only apparent mismatch. Mayweather stands 5-foot-8 and will give away six inches in height and four inches in reach to his opponent. Paul was 199 pounds during his previous bout. Mayweather generally fought at between 147 and 154 pounds as a pro.
The financial aspect of the bout is even more lopsided. Mayweather vs. Paul is a Showtime pay-per-view event selling for $49.99. Understandably, Mayweather is getting the bigger slice of the pie, though the difference is startling.
According to a report by SportingFree.com but unconfirmed by the promoters, Paul makes $250,000 plus 10% of the PPV gross. On the other hand, Mayweather picks up $10 million just by stepping into the ring, supplemented by 50% of the PPV money. Assuming 2 million PPV purchases, Paul will pick up $10 million from the rights compared to Mayweather's $50 million.
Cleveland.com reports that Paul speculates that there will actually be 4 million PPV purchases, which would put his end of a $200 million deal at $20 million.
The rules say Mayweather cannot win
Lest anyone be confused, the match between Mayweather and Paul is strictly an exhibition. No matter what happens, Mayweather's record will remain intact at 50-0, if for no other reason than there cannot be a decision if there aren't judges at ringside.
ESPN reported the Florida State Boxing Commission isn't sanctioning the bout. However, the commission is providing the referee, who will be able to stop the bout if necessary. If the fight does go the distance, organizers can conduct some type of vote for the winner. But it won't be recorded on Mayweather's professional record.
A few other details:
Neither fighter will wear headgear, and both will use ultralight, 10-ounce gloves.
According to DAZN, Paul has agreed to fight at 190 pounds and will return $100,000 of his purse for every pound he goes over. Mayweather is expected to weigh close to 160 pounds.
This isn't Mayweather's first bout vs. an unconventional opponent
Mayweather's last official time in the ring came Aug. 26, 2017, against Conor McGregor. Though he's better known as a UFC star, McGregor demonstrated sufficient boxing skills to keep it interesting up until the referee stopped the bout 1:05 into the 10th round.
As Mayweather's first fight in almost two years and an opportunity to up his record to 50-0, the McGregor fight was the superstar of PPV events. It took in more than $600 million, with a peak charge of $89.95 per home, according to Showtime.
Already, there is speculation that Mayweather took his latest fight as a prelude to a battle with Jake Paul, Logan's brother. Jake Paul has a bout scheduled against MMA fighter Tyson Woodley on Aug. 28.
Like Sportscasting on Facebook. Follow us on Twitter @sportscasting19.