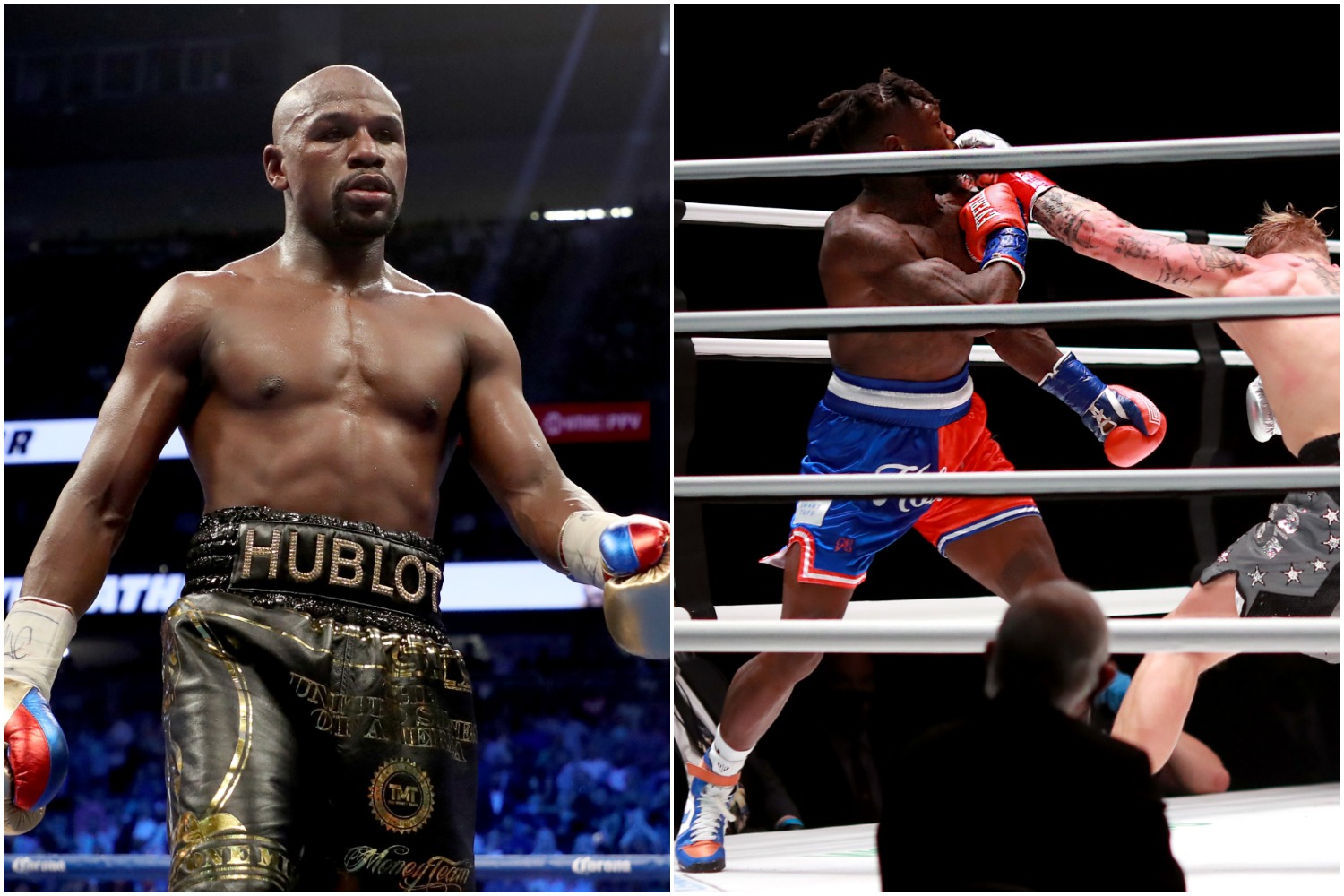 Floyd Mayweather Sends Stern Message to Black Community About Mocking Nate Robinson
Floyd Mayweather sent a stern message to the Black community about mocking former NBA player Nate Robinson for getting knocked out.
Since getting knocked out in his pro boxing debut, Nate Robinson has been picked apart on social media. But luckily for the former high-flying dunker, he has Floyd Mayweather in his corner.
And on Sunday, the legendary boxer sent a stern message to the Black community about Robinson has been treated following his first official fight.
Nate Robinson couldn't translate his prowess on the court to the boxing ring
Despite tipping the scales at just 5-foot-9, 185 pounds, Nate Robinson played 11 seasons in the NBA. Drafted 21st overall in 2005, he spent the first four years of his career with the New York Knicks.
Although he mostly came off the bench, Robinson endeared himself to basketball fans with his surprising ability to dunk. In fact, the diminutive point guard won three slam dunk contest titles.
Robinson bounced around a number of teams after getting traded from New York to Boston. In 2011-12, he averaged 11.2 points and a career-high 4.5 assists with the Golden State Warriors. The following season, he played all 82 games for the first time in his career as a member of the Chicago Bulls. Robinson played his last NBA game during the 2015-16 season as a member of the New Orleans Pelicans.
However, he recently made a comeback to the pro sports world…sort of. The ex-NBA player faced YouTuber Jake Paul as part of the undercard for the Mike Tyson-Roy Jones Jr. showdown on Saturday night. Robinson made it through the first round before Paul knocked him out in the second frame.
The former NBA star has been picked apart for his performance
Once Nate Robinson fell straight to the mat, social media channels immediately blew up with memes and reactions to his first pro fight. Even former athletes took the opportunity to mock the former NBA player for getting knocked out in such convincing fashion by the YouTube star.
Philadelphia 76ers star Joel Embiid tweeted "NIGHT NIGHT" after the fight ended.
Pro Football Hall of Famer Shannon Sharpe put Robinson on blast on Twitter with a message that included, "Told you not to take this fight." The former NFL star even posted a meme with himself as the referee checking on a knocked-out Robinson.
Even the Fox NFL social media crew got in on the action with a tweet that dubbed Cam Newton's warmup routine the #NateRobinsonChallenge.
While the image of Robinson lying face down on the mat has become prime meme material, Floyd Mayweather has a huge problem with how his fellow former pro athlete has been treated by the Black community.
Floyd Mayweather sends a stern message to the Black community for mocking Robinson
Nobody understands the pressure of performing in the boxing ring like Floyd Mayweather. After all, he compiled a 50-0 record during his legendary fighting career.
And the way Mayweather sees it, there's no place for the way the Black community has treated Nate Robinson after he got knocked out in his first pro fight.
The boxing icon recently sent a stern message via Instagram that left little room for interpretation.
"Nate, I'm proud of you and I will always stand behind all my brothers. I will never kick my brother when he's down," Mayweather wrote. "It's ok for people to voice their opinions on social media, but no black athletes or black entertainers, especially black NBA players should make a mockery out of you. We are supposed to all stand with each other through the good, bad and ugly."
The 43-year-old deserves credit for coming to Robinson's defense. And after sending a clear message to the Black community, he wrapped up with words of encouragement for the former NBA player.
"I'm here to uplift you and let you know we all love you and congratulate you for just making an effort," Mayweather wrote.
Like Sportscasting on Facebook. Follow us on Twitter @sportscasting19.