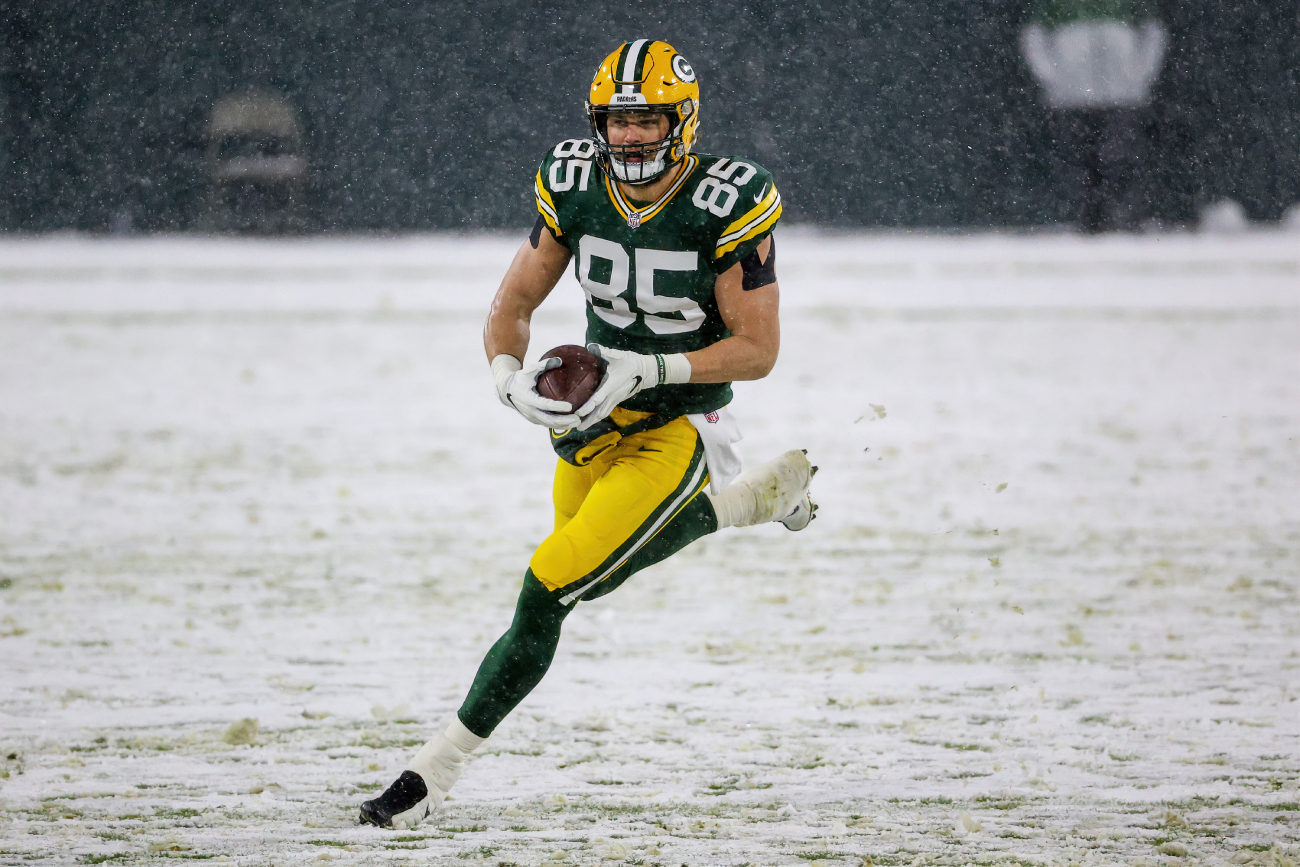 For Aaron Rodgers, Robert Tonyan Has Always Been 'Bobby'
For Green Bay Packers quarterback Aaron Rodgers, tight end Robert Tonyan has been 'Bobby' since Day 1.
Tight end Robert Tonyan has come into his own this season for the Green Bay Packers. Tonyan, a 6-foot-5, 237-pound tight end out of Indiana State, is in his third season in the NFL and making a name for himself. While NFL fans are just getting to know Robert Tonyan, Packers quarterback Aaron Rodgers has been calling him 'Bobby' since Day 1.
Robert Tonyan had a career year
Robert Tonyan is in his third season in the NFL. Tonyan played his college football at Indiana State but went undrafted in 2017. He was signed by the Detroit Lions but was released right before the start of the season. The Green Bay Packers scooped him up and assigned him to the practice squad.
Tonyan never played any significant role in the passing game until this season. In 2018, Tonyan finished the season with four receptions. He appeared in all 16 games but was targeted six times. In 2019, he finished with 10 catches for 100 yards in 11 games.
This season, Tonyan has played a major role in the offense. He was targeted 59 times during the regular season. He finished with 52 catches for 586 yards and 11 touchdowns.
Aaron Rodgers made Tonyan feel at home right from the start
Robert Tonyan was on the Green Bay Packers scout team in 2017. That's where he and quarterback Aaron Rodgers became close. Rodgers, too, was on the scout team that season. Aaron Rodgers on the scout team? Yes, he was working himself back into shape after suffering a broken collarbone against the Minnesota Vikings earlier in the season.
"Aaron was in the process of rehabbing the collarbone injury he'd suffered against the Vikings earlier that season, and he was working his way back when I came to Green Bay," Tonyan wrote in The Players' Tribune on Thursday. "So now … that's my scout team QB. Aaron frickin' Rodgers. Not too shabby, right?"
Tonyan said Rodgers was tough on him, but it helped him in the long run. "Looking back on it, it really does seem to me like maybe Aaron saw something in me that day because from then on he's held me to an extremely high standard," Tonyan wrote. "He wouldn't let even the tiniest mistakes slide. He'd explain things to me and coach me up, but he'd also get legit mad when I screwed up."
He was 'Bobby' right from the beginning
During a first-person account in The Players' Tribune that was published Thursday, Robert Tonyan reflected on the days when he first met Aaron Rodgers. He remembers Rodgers introducing himself. "For a split-second, it was like, Whoa! But I hold it together and manage to get out something basic like: 'Hi, I'm Robert. Really excited to be here.' And Aaron, he's just being totally on-point and welcoming, but the funny thing is, for whatever reason, right off the bat I notice that he's calling me 'Bobby.'"
Tonyan was a bit confused, but he didn't say anything. "It's like he's known me for years and that's just what he calls me. Like we were buds from middle school and that's what he knows me as. Which is cool, obviously. But at the same time, it's kinda throwing me for a loop because no one has called me Bobby since, I don't know, kindergarten? First grade? Next thing I know he's introducing me to people as Bobby. And I'm just rolling with it. Right? Like of course. Lettin' it ride. Just sitting there smiling and nodding away like, I'll be Bobby … why not."
The two got together on the scout team and Rodgers and Tonyan connected for a few touchdown passes. "And, to top it off, dude ended up throwing me three touchdown passes that day, too," Tonyan wrote. "Perfect passes. Textbook throws. It was definitely one of the coolest days of my life. But then, at the same time, it was also like … I guess Bobby it is!"