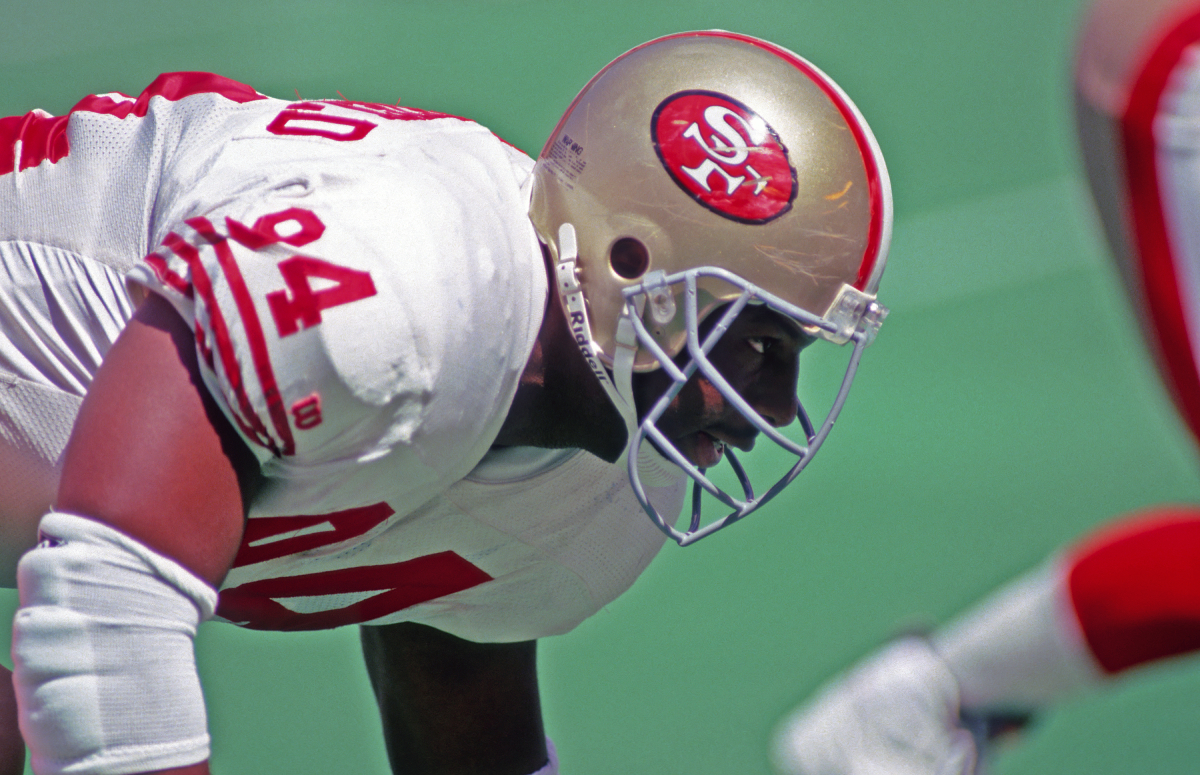 Former 49ers Star Sentenced for Rape of Developmentally Disabled Woman
Former San Francisco 49ers Pro-Bowl defensive lineman Dana Stubblefield was sentenced for raping a developmentally disabled woman.
Former San Francisco 49ers Pro-Bowl defensive tackle Dana Stubblefield was sentenced to 15 years to life Thursday for the rape of a developmentally disabled woman. The incident occurred in April of 2015 and Stubblefield, 49, was found guilty in July. Stubblefield played 11 years in the National Football League and was a Super Bowl champion.
Dana Stubblefield's football career
Dana Stubblefield played his college football at Kansas. He was a first-round selection in the 1993 NFL draft. The San Francisco 49ers drafted the 6-foot-2, 300-pound defensive lineman with the 26th overall pick.
In his rookie season, Stubblefield started 14 of the 16 games in which he played. He made quite an impact in his first season in the NFL when he racked up 10.5 sacks for the 49ers. The following season, Stubblefield made the first of two straight Pro Bowls when he recorded 8.5 sacks and two forced fumbles in 14 games.
He had another Pro-Bowl season in 1995 and also helped guide the 49ers to a Super Bowl title. In 1997, Stubblefield was named the AP Defensive Player of the Year. He finished the season with a career-high 15 sacks and three forced fumbles. Stubblefield played 11 seasons in the NFL, a total of seven during two separate stints with the 49ers. He also played for the Washington Redskins and the Oakland Raiders.
Stubblefield convicted of rape
According to The Associated Press, in April of 2015, Dana Stubblefield contacted a 31-year-old woman on a babysitting website and arranged for her to come to his house for an interview. The interview lasted roughly 20 minutes. The former San Francisco 49ers star then sent the woman a text and said he wanted to pay her for her time.
The woman returned to his house the following day when the assault occurred. Stubblefield gave the woman $80 and let her go. The woman went straight to the police department to report the rape. DNA matched that of Stubblefield, according to the AP.
According to CBS Sports, Stubblefield also had a few other run-ins with the law. He had previously been sent to jail for 90 days after pleading guilty to stealing his ex-girlfriend's mail. He also was sentenced to probation in 2009 for lying to federal officials investigating a performance-enhancing drugs ring.
Stubblefield sentenced to 15 years to life in prison
On Thursday, Dana Stubblefield learned that he would be spending at least the next 15 years of his life behind bars. The former San Francisco 49ers star was sentenced to 15 years to life after a jury found Stubblefield guilty of rape by force, oral copulation by force, and false imprisonment, according to CBS Sports. The jury also determined Stubblefield used a gun during the incident.
"'No' meant nothing to this defendant. Based on his status, I think he was never held accountable for prior criminal behavior," Deputy District Attorney Tim McInerney said in a statement Thursday. "Today, he was properly held accountable."
The sentence came down after a judge denied a defense motion for a new trial.