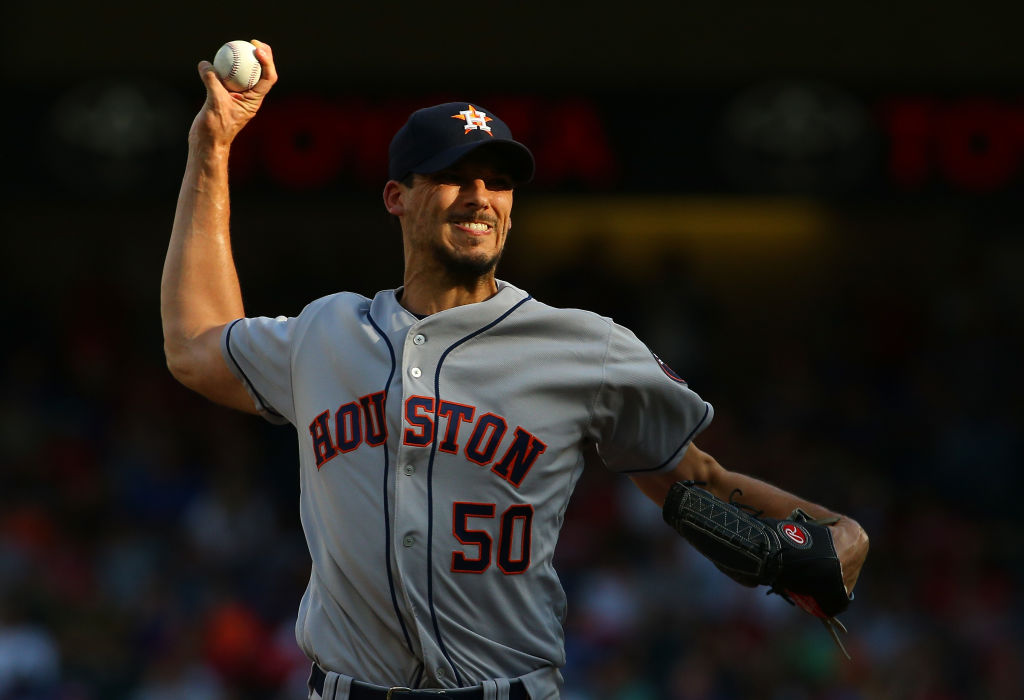 Former Astros Pitcher Charlie Morton Regrets Not Doing More to Stop Sign-Stealing
As we all know, the Houston Astros stole signs during their run to the 2017 World Series title. While Major League Baseball handed down a sizable punishment, not everyone was happy; not only did the players get off scot-free, but many Astros have seemed unapologetic. Charlie Morton, however, did things a little differently. While the …
As we all know, the Houston Astros stole signs during their run to the 2017 World Series title. While Major League Baseball handed down a sizable punishment, not everyone was happy; not only did the players get off scot-free, but many Astros have seemed unapologetic. Charlie Morton, however, did things a little differently.
While the pitcher no longer plies his trade in Houston, he wasn't afraid to comment on the sign-stealing scandal. The veteran even went as far as saying that he regrets not doing more to stop his teammates' behavior.
The Houston Astros' sign-stealing scandal
As initially detailed by The Athletic, the Houston Astros used a camera in center field to steal the opposing catcher's signs. That camera's feed ran to the replay room, where the signals were deciphered; batters would be audibly warned, usually by banging on a trash can, when an offspeed pitch was coming.
After a lengthy investigation, Major League Baseball confirmed that the Astros had electronically stolen signs en route to the World Series title. The club was fined $5 million and docked several draft picks; manager AJ Hinch and general manager Jeff Luhnow were suspended for a year and promptly fired.
Major League Baseball's finding had an impact beyond Texas, though. Alex Cora, who was the Astros' bench coach during the 2017 campaign, lost his job in Boston; the Red Sox are still waiting for the results of their own MLB investigation, but Cora was bound to receive a hefty suspension. Mets' manager Carlos Beltran, who was an Astros player in 2017, also stepped down before managing a single game.
Charlie Morton wishes that he did more to stop the sign-stealing
This year will be Charlie Morton's 13th season in Major League Baseball. He's spent time with the Atlanta Braves, Pittsburgh Pirates, Philadelphia Phillies, Tampa Bays, and, most relevant to us, the Houston Astros.
In 2017, Morton signed a two-year deal with the Astros. While he was new to the organiztion, he eventually encountered the sign-stealing scheme.
"I was aware of the banging," he explained via Marc Topkin of the Tampa Bay Times. "Being in the dugout, you could hear it. I don't know when it dawned on me, but you knew it was going on," Morton said. "Personally, I regret not doing more to stop it. I don't know what that would have entailed. I think the actions would have been somewhat extreme to stop it. That's a hypothetical."
Charlie Morton still seems to have a soft spot for his old teammates, though
While Charlie Morton has shown more remorse than some of his former teammates, let's not get carried away. The ex-Astro still seems to be sympathetic towards his old teammates.
"From a personal standpoint, good people make mistakes. It's as simple as that," the pitcher continued. "I really don't have anything else to say about it. I think mistakes were made, and everybody is just trying to move on. I think it is one of those things where I know those guys, I went through a lot with those guys, so I feel like I have a little different perspective on who they are as opposed to someone that is just reading that the Astros cheated in 2017."
That falls well short of a proper apology. One thing that Morton does have right, though, is that the Astros' World Series title will be perceived differently. Regret or not, most fans have already judged Houston's actions; their feelings certainly won't change with halfhearted apologies.