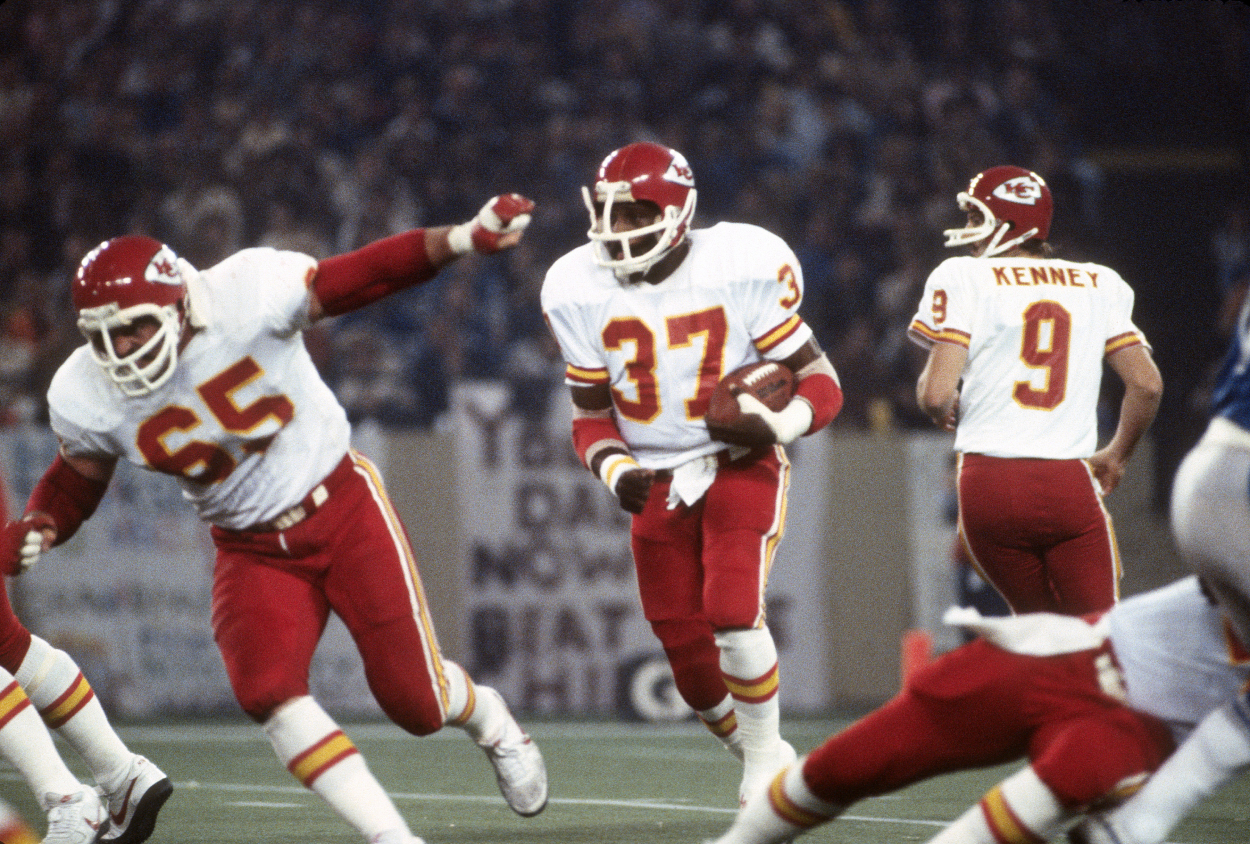 Former Chiefs RB Joe Delaney's Legacy Lives on Through His Daughters After His Tragic Death in 1983
Former Kansas City Chiefs running back Joe Delaney died in 1983 while trying to save young children from drowning.
The youngest of Joe Delaney's three daughters doesn't have any actual memory of her dad. Joanna Delaney was three months old when he died. Joe Delaney, who couldn't swim, tried desperately to save three drowning children in a pond back in 1983. He died a hero while putting his life before others. The former Kansas City Chiefs running back lives on through his daughters. Joanna still refers to her dad as her hero.
Joe Delaney's football career
Joe Delaney played his college football at Northwestern State and was a second-round pick in the 1981 NFL draft. The Kansas City Chiefs selected him with the 41st overall pick. Delaney, a 5-foot-10, 184-pound running back, didn't disappoint.
As a rookie, Delaney was the featured running back in the Chiefs offense in 1981. He started 10 of the 15 games in which he played and rushed 234 times for 1,121 yards and three touchdowns. Delaney was also a threat out of the backfield, catching 22 passes for 246 yards. He was named to the Pro Bowl as a rookie.
The 1982 season was marred by a strike and Delaney also suffered an eye injury. Delaney underwent surgery to repair a detached retina and played in eight games that year. He rushed 95 times for 380 yards.
Joe Delaney's tragic death
Joe Delaney was known for his generosity. He was always there to help others and on June 29, 1983, it cost him his life. Delaney dived into a pond to try and save three children who were screaming for help. One child was saved and one went to a nearby hospital where he later died. The bodies of Delaney and the other child were later recovered by police.
While Delaney's No. 37 hasn't been officially retired, no Kansas City Chiefs player has worn the number since Delaney. Delaney's three daughters – Joanna, Tamika, and Crystal – were all very young when their father passed away. Although they don't remember specifics about their dad, they know what he stood for.
"He lived up to what I heard, giving his life for others," Joanna said in a 2019 article in The Hays Daily News. "And I want others to know, to be an example to others to help others. If you see your neighbor in need, help your neighbor."
Delaney's legacy lives on
Joanna Delaney has continued Joe Delaney's legacy of generosity and putting himself before others by writing two children's books about "Joe the Great." "Joe the Great" and his dog, King, protect children from bullies. According to the 2019 article in The Hays Daily News, Joanna was hoping to get the books illustrated and published.
The Delaney daughters are all in the medical field. Tamika is the oldest and she is a dialysis technician. Crystal is a registered nurse and lab technician, while Joanna is a medical coder. It's not surprising that the Delaney family is working to help others.
"(We are) all about helping others … and coming to the rescue, just as he did," Joanna said. "We saw he had a genuine heart and a heart that cared for people, so we all kind of have his heart."