Former Giants GM Dave Gettleman Suddenly Looks Like a Genius Thanks to Brian Daboll
Perhaps Dave Gettleman was right all along. 
A year ago, it would have been sacrilegious to say anything positive about one of the most criticized personnel executives in NFL history. Yet, with the New York Giants still playing football in late January, it's fair to say their former general manager deserves far more credit than anyone could have imagined.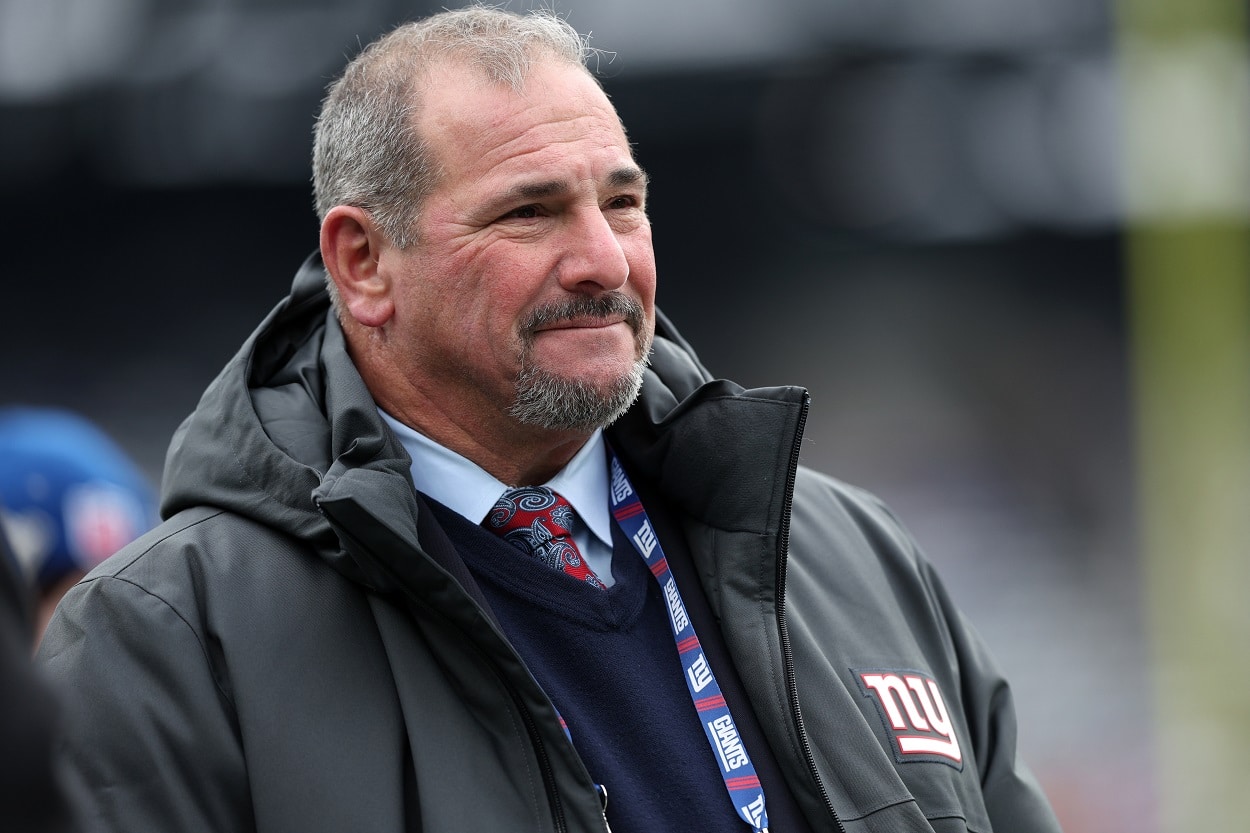 But while Gettleman should feel some level of vindication, he should also feel lucky the Giants hired a head coach who's been able to bring the best out of several high-profile players who entered the 2022 season with a ton to prove.
Brian Daboll's arrival changed the narrative for Dave Gettleman's most scrutinized draft pick
Let's just say more than a few NFL teams are probably kicking themselves for passing over Brian Daboll during the last hiring cycle. 
While the Denver Broncos made a massive mistake by banking on Nathaniel Hackett to help revitalize Russell Wilson's career, the Giants hit a home run by entrusting Daboll to save Daniel Jones from becoming one of the biggest draft busts of all time. 
Selected sixth overall in 2019, the physically gifted quarterback entered 2022 with a lackluster resume and little certainty about his NFL future. Yet in the span of a single season, Jones has turned himself into a valuable commodity–and set himself up for a lucrative long-term contract. 
Coming off an injury-riddled campaign in which he threw 10 touchdowns and seven interceptions in 11 starts, the former Duke signal-caller set career-highs in completion rate (67.2%), passing yards (3,205), and quarterback rating (92.5). 
Most importantly, Jones operated Daboll's scheme efficiently and without making the back-breaking turnovers that made him look like a colossal whiff by Gettleman. With just five interceptions on 472 attempts (1.1%), the fourth-year pro's improved ball security and decision-making undoubtedly helped the Giants secure their first playoff berth since 2016.
Daboll also deserves praise for getting Saquon Barkley back on track
Talk about knowing exactly how to maximize your players' skill sets. 
Besides unleashing Jones' talents as a runner (708 yards and seven touchdowns on 120 carries), Daboll unlocked Saquon Barkley's full potential in his first season as an NFL head coach. 
Another highly selected player who looked destined to play elsewhere in 2023, the No. 2 overall pick from the 2018 NFL Draft reminded everyone why he went ahead of some incredibly talented prospects. 
Finally healthy and playing behind an improved offensive line, Barkley racked up 1,312 yards and 10 touchdowns on 295 carries. Daboll also took advantage of his star running back's pass-catching chops by making him the No. 1 target in the passing game. While some of that had to do with injuries at the receiver position, it still speaks volumes that Barkley tied for the team lead in receptions (57). 
Ultimately, Daboll's faith in the injury-prone playmaker paid off in the form of a Pro Bowl season for an offense significantly hampered by health issues. 
Luckily for Barkley's bank account and Gettleman's reputation, the Giants hired a head coach who created game plans that accentuated his most talented players' strengths. And with both Jones and Barkley providing fantastic production and leadership, it's become abundantly clear that they're valuable building blocks for Daboll and his staff.
Don't forget about Dexter Lawrence's breakout season, either
Gettleman got a lot of flak for taking a nose tackle with one of his three first-round picks in 2019. 
Now, though, there's no denying he landed an All-Pro caliber talent in the form of 6-foot-4, 342-pound defensive lineman Dexter Lawrence. 
Only it took until 2022 for the former Clemson star to finally look like a Day 1 selection. 
In his first season playing for Daboll's hand-picked defensive coordinator, Don Martindale, Lawrence emerged as a dominant force who surprisingly excelled against the pass. After totaling just nine sacks in his first three years in the NFL, the nimble interior lineman racked up 7.5 to go along with a career-high 28 quarterback hits. 
Needless to say, the first year of the Brian Daboll era went equally well for the Giants' first two picks from the 2019 draft. 
And if this is just the beginning, don't be surprised if the historic NFC East franchise finds itself in the mix for the Lombardi Trophy on an annual basis moving forward.