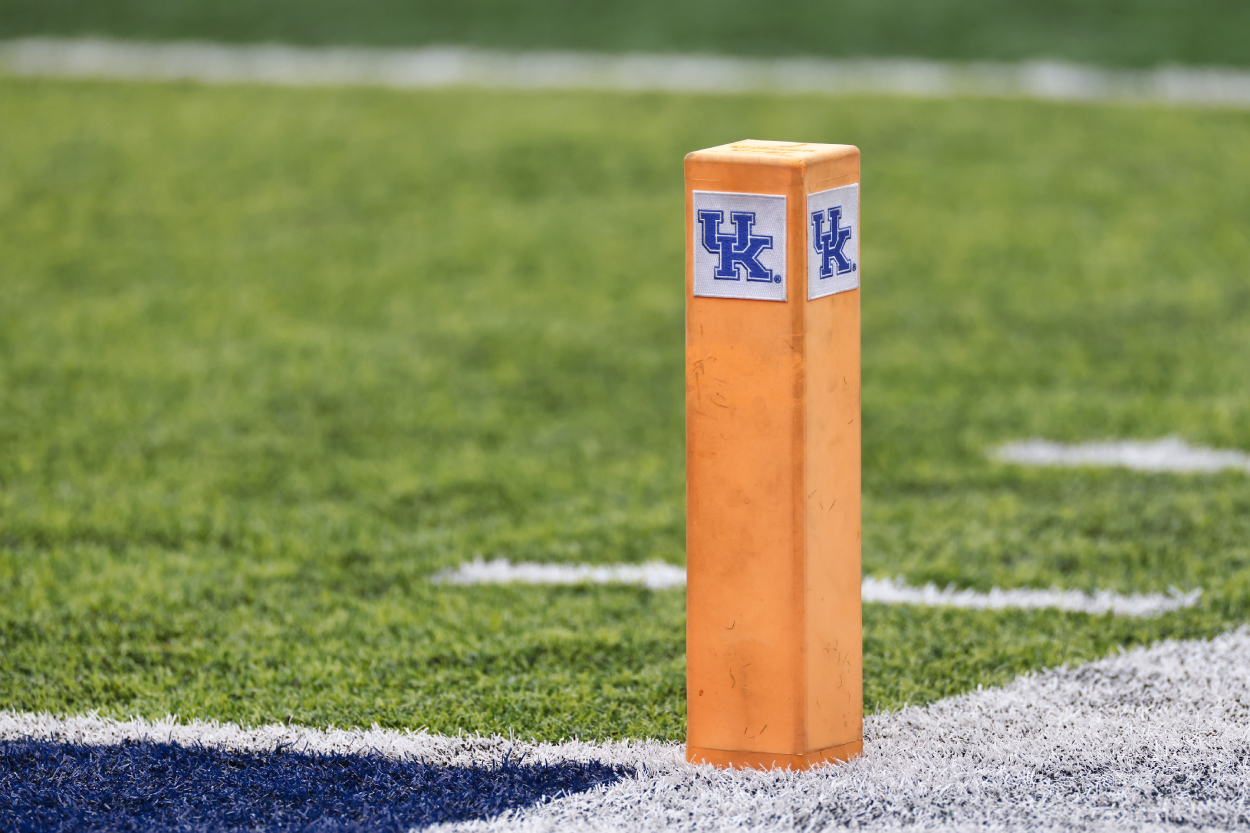 Former Kentucky Football Player Trent DiGiuro's Killing Went Unsolved for Years Until the Murderer's Ex-Girlfriend Finally Came Forward
Trent DiGiuro was finally going to start for the Kentucky Wildcats in 1994. However, he was sadly shot and killed before his senior year.
Trent DiGiuro was supposed to be a starting offensive lineman for the Kentucky Wildcats, his college football team, in 1994. He had been a walk-on that put in a ton of work to make a difference on his team. However, just before his senior season, DiGiuro lost his life as he was tragically murdered. For years, no one knew who killed DiGiuro, either. That was until the murderer's ex-girlfriend came forward.
Trent DiGiuro was a lineman for the Kentucky Wildcats
According to the University of Kentucky's site, Trent DiGiuro started playing for Kentucky as a walk-on in 1991.
Kentucky wasn't very good at football in those years, especially compared to the school's basketball team. The Wildcats' basketball team went all the way to the Elite Eight in 1991-92 and then the Final Four in 1992-93. The football team, though, struggled. In 1991, UK went 3-8. Then, in 1992, they went 4-7.
However, in 1993 — the same year DiGiuro began getting playing time —  Kentucky potentially had their best season since 1984. They ultimately went 6-6 and reached the Peach Bowl. Their tough defense ended up leading them to a lot of their success that year, as the Wildcats only allowed 17.4 points per game, which also made the Peach Bowl a low-scoring affair. Kentucky ultimately lost to Clemson, though, 14-13.
In 1994, DiGiuro finished spring practice as Kentucky's starting right guard. He even recorded the team's best bench press during the offseason, according to UK's site, and was coming off a year in 1993 where he earned SEC Academic Honor Roll honors.
However, DiGiuro's life sadly came to an end way too soon.
He was tragically shot and killed
According to NBC News, in July 1994, just a couple of months before the start of the season, DiGiuro was at a house celebrating a birthday. However, while at that party, someone shot and killed him.
A detective later showed up, but to his surprise, no one had seen what happened.
"With each and every person that I talked to, they didn't see anything," former Lexington police detective Don Evans said, according to NBC News.
DiGiuro's case then went unsolved for years. Five years after his death, though, an article about him was published in a local newspaper. This ultimately led to someone coming forward.
The murderer's ex-girlfriend came forward
Close to a year after DiGiuro died, a woman went to a bar with her boyfriend at the time. According to NBC News, while they were there, the two discussed the worst things they had done. Her boyfriend then admitted that he killed DiGiuro.
The woman essentially tried to forget about it so she could continue the relationship. Once that article came out on the fifth anniversary, though, she decided to come forward with what she knew about her ex-boyfriend.
The woman went to her friend, who was an attorney, and discussed her situation. She was ultimately afraid of what her ex-boyfriend would do if he found out about her revealing his secret. So, the attorney went to the detective, Evans, and gave him the information, which included the name of the alleged killer.
The alleged killer was Shane Ragland, who also also went to UK. So, what was the alleged motive? Ragland reportedly blamed the Kentucky football player for him "being blackballed from a fraternity," NBC News reported.
Evans then met with the woman and they set up a sting operation. She started talking with Ragland again and ended up meeting up with him at an airport in Lexington. While the two discussed old times, the woman — who had been wearing a wire — subtly brought up DiGiuro's murder.
"I regret it," Ragland said, according to NBC News
What happened to Shane Ragland?
NBC reports that authorities then ultimately arrested Ragland and he was charged with murder. He was initially found guilty of intentional murder. Ragland was then sentenced to 30 years in prison.
However, according to the Courier-Journal, Ragland's conviction was later thrown out because, during a pretrial conference, an FBI bullet analyst lied. Ragland then pleaded guilty to second-degree manslaughter. He was set free in 2007, per the Courier-Journal.
Trent DiGiuro worked extremely hard to get a starting spot for the University of Kentucky. He was supposed to prove what he was made of in 1994. His premature death, though, sadly kept everyone from learning what he could do.
Stats courtesy of Sports Reference