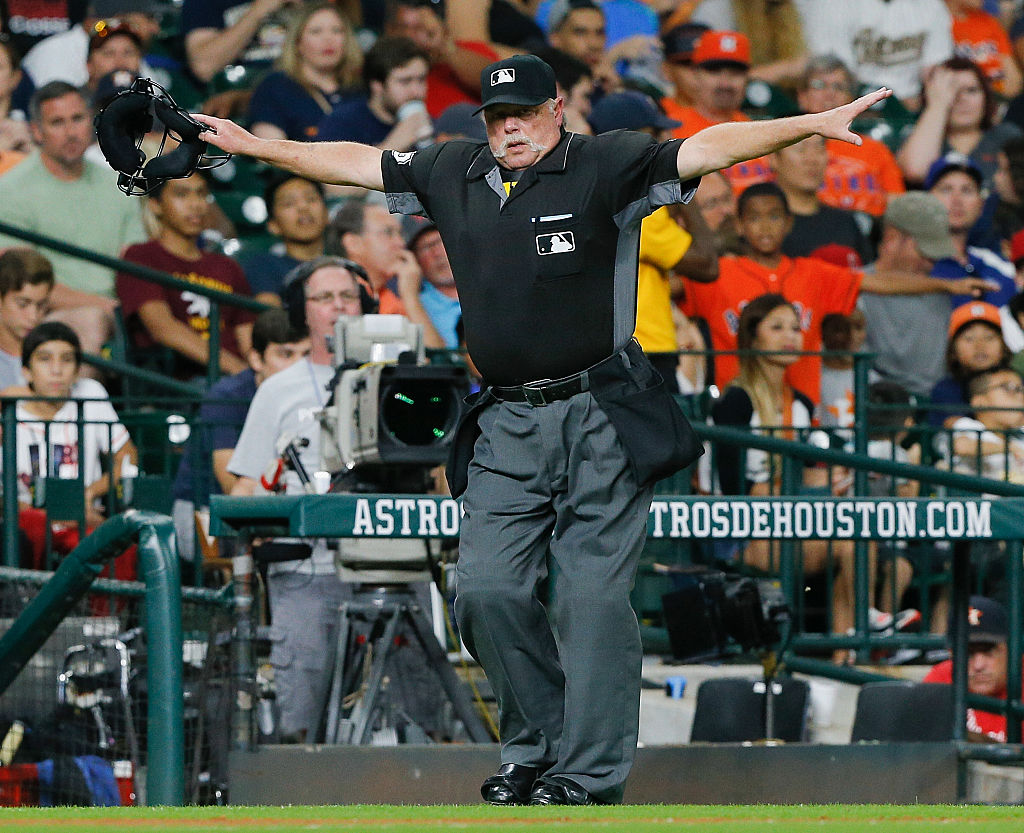 Former MLB Umpire Jim Joyce Saved a Woman's Life Weeks After the Worst Call of His Career
Jim Joyce will forever be remembered for ruining Armando Galarraga's perfect game, but he heroically saved a woman's life two months later.
For years, Jim Joyce was the most hated man in baseball. He wasn't a player or a coach or even involved with any MLB team at all. He was the first base umpire that made the unfortunate decision to call Jason Donald safe in 2010 and ruin Armando Galarraga's perfect game bid with two outs in the ninth inning. Upon replay review, Donald was clearly out and Galarraga was robbed of a historical feat. Joyce will forever be remembered for that one missed call and not his 30 years as a steady MLB umpire. Most people don't even know Joyce saved a woman's life just a few weeks after the worst call of his career.
Jim Joyce served as an umpire in the MLB for 30 years
When baseball fans hear the name Jim Joyce, they immediately think of his biggest mistake. Unfortunately for Joyce, a large percentage of them don't know how much time he put into his job and how praised he was outside of that infamous call.
Joyce served as an MLB umpire from 1987-2016. He is one of the most experienced umps in the history of the league, officiating a total of 3,268 games.
He umpired three All-Star Games, 10 Division Series, four League Championship Series, and three World Series during his time in the MLB. Joyce even won two UEFL Honorable Umpire of the Year awards in 2010 and 2012 and two UEFL Umpire of the Year awards in 2009 and 2013.
Joyce is remembered for his missed call in Armando Galarraga's 28-out perfect game
Armando Galarraga is largely a forgotten MLB pitcher today, but he would've been enshrined in baseball history forever if it wasn't for Jim Joyce's worst call of his career.
On June 2, 2010, Joyce called the last batter of the game safe at first base after Galarraga clearly beat him to the bag. The out would've made Galarraga one of just 23 players in MLB history to throw a perfect game, but it went down as a one-hit shutout. You don't get into the record books for that, unfortunately.
After realizing his mistake once he saw the replay, Joyce felt severe remorse. He had made thousands of correct calls over the course of his career, but all anyone remembers is his one massive blunder.
Joyce eventually wrote a book about the call and his career called "Nobody's Perfect." He and Galarraga moved past the incident down the road, but nothing could change what transpired that day.
Jim Joyce saved a woman's life at a baseball game just weeks after the missed call
Following his missed call, Joyce received numerous death threats from fans. Even with the shares attacks Joyce endured, he returned to work shortly after the missed call.
On August 20 of the same year, Joyce was at Chase Field to call an Arizona Diamondback game. As he was walking to the field, a woman collapsed in front of him. She had suddenly gone into cardiac arrest.
Instead of acting as a bystander, Joyce sprung to action. He performed CPR on the woman for a full 23 minutes before paramedics finally arrived. The woman went in and out of death several times, but she lived through the incident thanks to Joyce. He saved her life that day.
Joyce still gets recognized today as the man who ruined a perfect game. In reality, he should be recognized as one of the greatest umpires of all time and a life-saving hero.