Former NFL Player Keith Wright Was Sentenced to 234 Years in Jail for His Various Crimes
Coming out of college at Missouri, Keith Wright was a promising talent destined for NFL success. In 2003, Wright completed his lifelong dream of becoming a professional football player when he was drafted by the Houston Texans. However, Wright didn't quite pan out in the NFL. He lasted just four years in the league, and he went down a dark path in retirement. Wright went on to commit a series of robberies and assaults that landed him a 234-year prison sentence. It's safe to say he won't be getting out at any point in this lifetime.
Keith Wright had a short-lived NFL career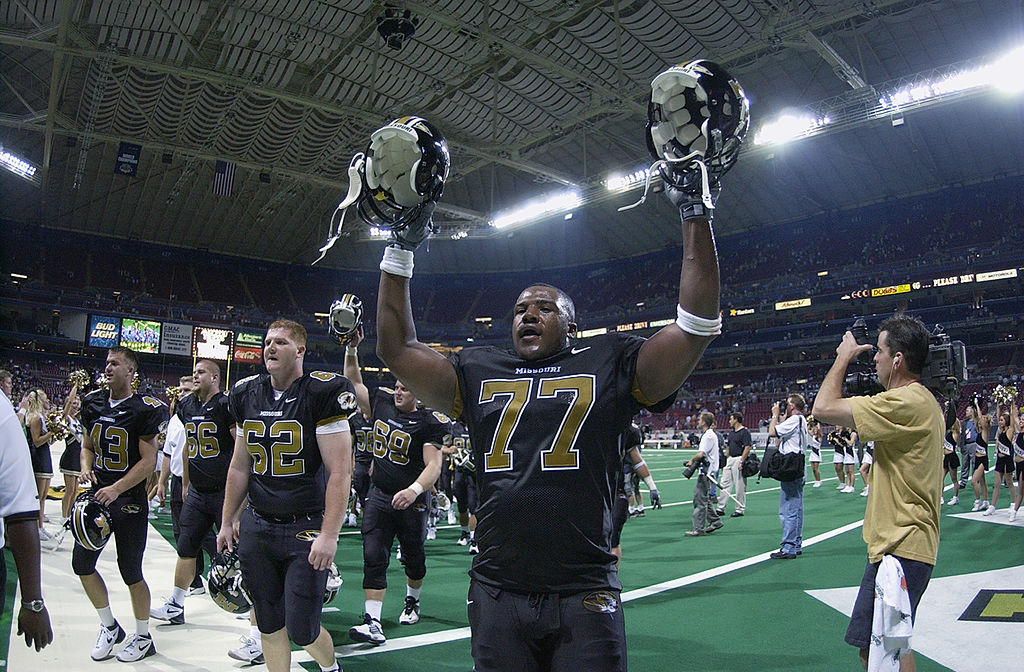 Wright was an effective pass rusher and run stuffer on Missouri's defensive line in the early 2000s. He recorded 68 tackles in his first year with the Tigers and amped it up to 92 tackles in his second year. Between 2001 and 2002, Wright switched from defensive end to defensive tackle, and it paid dividends.
Wright was selected by the Texans in the sixth round of the 2003 NFL draft. His success at Missouri didn't translate to the NFL, though. Wright was sent to the Texans' practice squad to start the season, and he was picked up by the Indianapolis Colts shortly after.
From there, Wright jumped to the Tampa Bay Buccaneers in 2004. He spent one season with the Bucs before he was released in 2005. The Arizona Cardinals then signed Wright to a one-year contract, but he was released less than a month later.
Wright finished his career with stints with the Buccaneers again and the Detroit Lions. He barely made an impact on the field in four years, and he was out of the league by 2006.
Keith Wright committed 19 felonies by the time he was 32
After his NFL career ended, Wright turned to a life of crime. In 2011 alone, Wright committed three home invasions around the Sacramento area where he lived at the time. During one of the home invasions, Wright sexually assaulted a woman and forced her to take money out of an ATM.
Wright racked up 19 felony charges in his second life. Along with home invasion, Wright was charged with kidnapping, armed robbery, false imprisonment, forcible oral copulation, and first-degree burglary.
In 2012, Wright was sentenced to 234 years and 8 months in prison. He was just 32 years old at the time.
Wright's 234-year prison sentence is the longest in sports history
Keith Wright's reckless actions after his NFL career cost him four lifetimes in prison. Imagine hearing the number 234 and realizing you'll never experience freedom again. That was the harsh reality for Wright in 2012.
Wright's lengthy prison sentence is actually the longest for any athlete in professional sports history. No one else even came close to 200 years.
Clifford Etienne, a boxer from the early 2000s, came closest to Wright when he was sentenced to 160 years in prison for a slew of crimes.
Wright will remain locked up in prison for the rest of his life. What could've been a promising football career turned into one of the most tragic sports stories ever told.