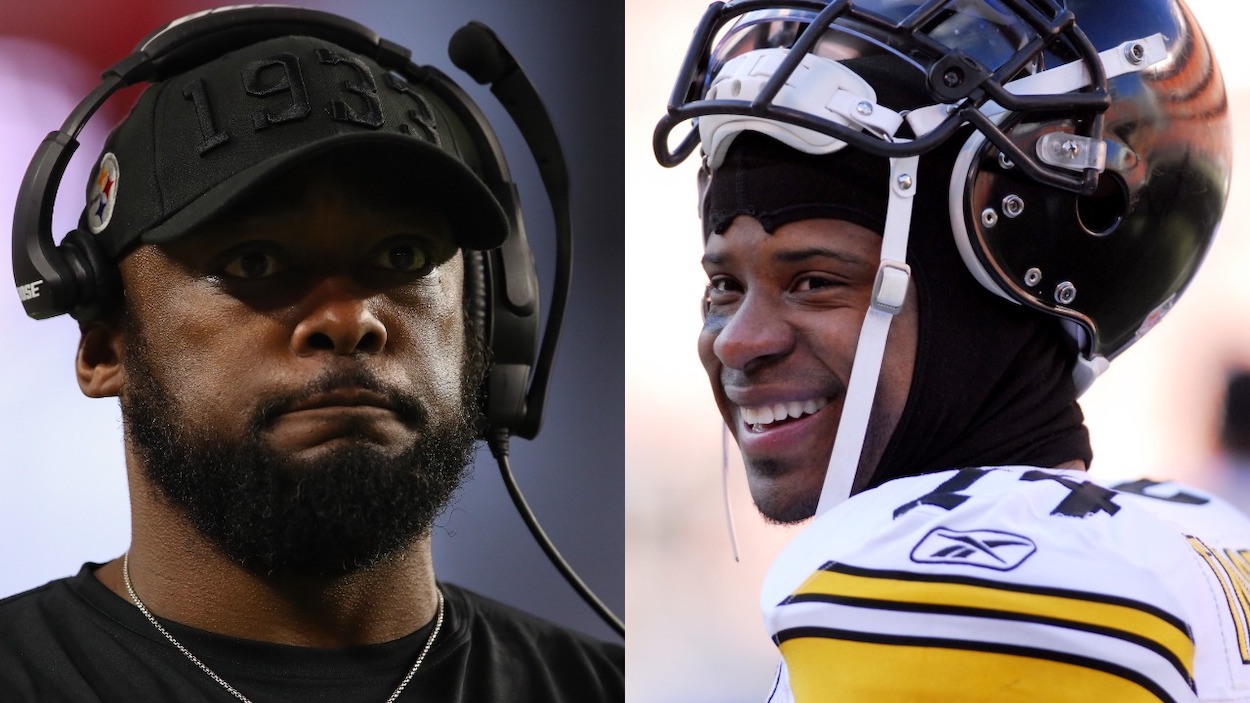 Former Steelers Defender Praises Mike Tomlin for Squashing the USC Rumors but Says There Is a Way to Get Him: 'A $15 Million Check and Coach T Gonna Chuck up the Deuces to Pittsburgh'
Mike Tomlin vehemently denied rumors he'd leave the Pittsburgh Steelers for USC but one of his former players says there is a way to get him.
Pittsburgh Steelers head coach Mike Tomlin thinks he has one of the best coaching jobs in all of sports and seemed offended earlier this week when a reporter asked if he'd consider leaving for the open USC Trojans job. While Tomin squashed the rumor in a perfect Tomlin-esque rant, his former player Ike Taylor thinks there is a way to get him to leave his longtime job. It just has to include enough zeroes.
Mike Tomlin stormed out of a press conference over USC job rumors
At the beginning of last week, following the Pittsburgh Steelers' bye week, former NFL and USC Trojans quarterback Carson Palmer accidentally broke news on the Dan Patrick Show. He slipped and told host Dan Patrick that his alma mater was interested in the Steelers' Mike Tomlin for its open head coaching position.
This rumor eventually made its way to Pennsylvania, and a reporter asked Tomlin about it the next day. The question led to an epic rant and Tomlin storming off the podium afterward. The 15-year Pittsburgh head man said:
I don't have time for that speculation. I mean, that's a joke to me. I've got one of the best jobs in all of professional sport. Why would I have any interest in coaching college football? … Never say never. But never. OK? Anyone else got any questions about any college jobs? There's not a booster with a big enough blank check. 

Mike Tomlin on the USC head coaching job
Tomlin's message seemed incredibly clear about his intentions to stay in the NFL with the Steelers regardless of the team's struggles in the past few seasons and QB Ben Roethlisberger's impending retirement. 
Despite his seemingly definitive, seemingly final statement on the matter, at least one former Steeler thinks there is a way to get Tomlin to move across the country and to the college level. 
Ike Taylor praised Mike Tomlin for his handling of the USC coaching rumors but said everyone has a price
Two days after Tomlin stormed out of his press conference after addressing the USC rumors, former Steelers cornerback Ike Taylor joined the Pat McAfee Show and talked about his former head coach's handling of the situation.
On the one hand, Taylor told Pat McAfee and co-host A.J. Hawk he would have told Tomlin after he walked out of the press conference, "yeah, Coach, you killed that s*** right there, dawg." He also theorized that Tomlin reacted that way because "he just felt played. He felt some kind of way," being asked about a college job as one of the most successful pro coaches of the last 20 years.
On the other hand, Taylor doesn't totally buy that there is absolutely no way Tomlin would ever leave for another job, college, or otherwise. The former Louisiana-Lafayette Ragin' Cajun says despite Tomlin's assertion, there is always a "check big enough."
That 'never say never but never,' boy if they do have a big enough [booster] to write that check, he gonna take all that s*** he said back. Because right now, I think he's looking at $8.5, $9-million-a-year. Someone can write him a $15 million check and Coach T gonna chuck up the deuces to Pittsburgh. … Man, $15 million gonna get you up outta there. $15 million gonna get anybody up outta there!

Ike Taylor on Mike Tomlin
Taylor won Super Bowls with both Bill Cowher and Tomlin. All told, he played eight seasons under Tomlin, so he is well-versed in how the coach operates.
There is no word if USC is still interested after Tomlin's outburst or if they can/will write a check that big for a prized head coach. It is interesting, though, that at least one of Tomlin's ex-players thinks he could move for the right price.
Taylor won Super Bowls with two Pittsburgh Steelers head coaches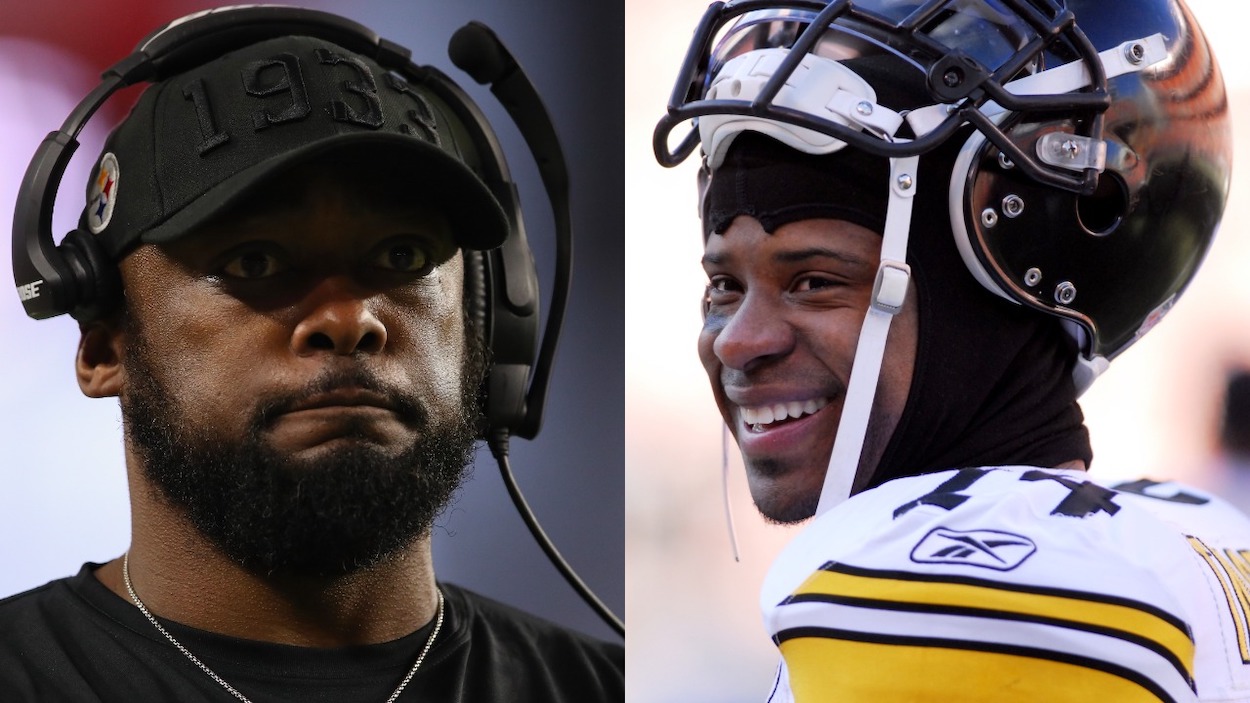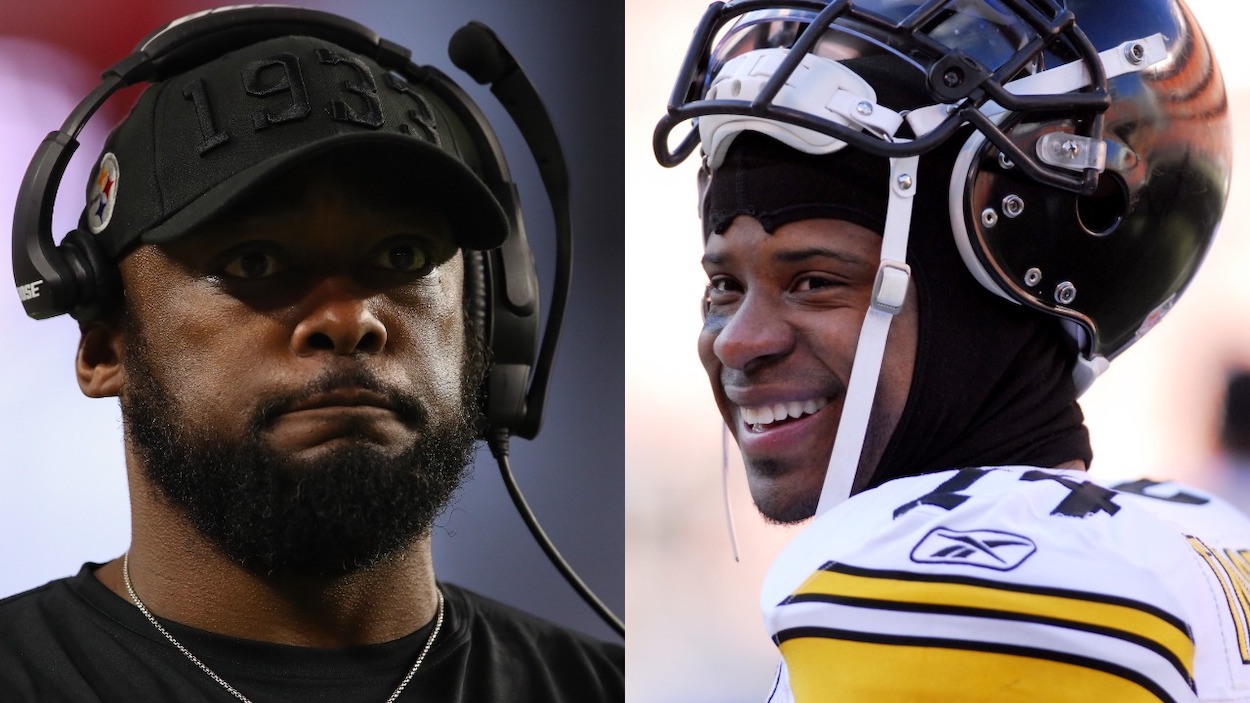 It takes 52-plus football players to win a Super Bowl. The superstars get all the credit, but it's often the quality play of the solid, every-week starters that turn a good team into a Super Bowl winner.
For the Pittsburgh Steelers in the 2000s, it's Ben Roethlisberger, Hines Ward, Santonio Holmes, James Harrison, and Troy Polamalu who are most associated with the Steelers 2005 and 2008 Super Bowl victories.
While those players made the highlight reel plays, it was Steeler stalwarts like Max Starks, Health Miller, Casey Hampton, James Farrior, Larry Foote, and Ike Taylor who made up the foundation of those two championship teams.
Cornerback Ike Taylor played his entire 12-year NFL career in Pittsburgh. He was never a Pro Bowler or an All-Pro. However, he started 140 of his 174 games in black and gold and was part of some of the best defensive units of his era.
Taylor retired after the 2014 season with 636 career tackles, 51 passes defended, 14 interceptions, and five fumble recoveries.
All stats courtesy of Pro Football Reference