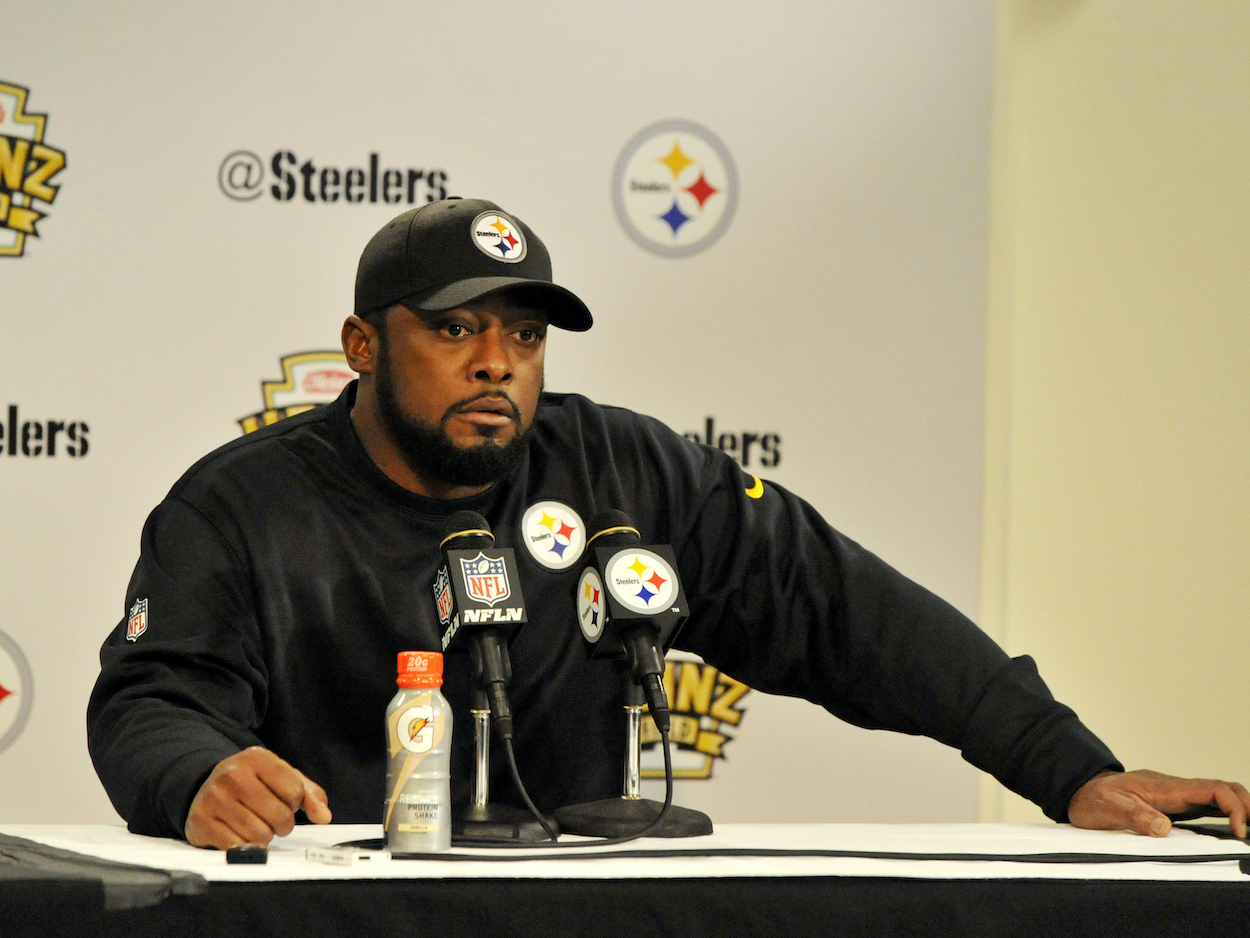 Mike Tomlin Storms out of Press Conference Over Question About Leaving the Steelers to Take USC Job: 'There's Not a Booster With a Big Enough Blank Check'
Despite what Carson Palmer said recently, Steelers coach Mike Tomlin made it clear he is not interested in the USC football head coach job.
The University of Southern California is one of the historically important programs in college football. USC has 11 football National Championship banners and has produced seven Heisman Trophy winners such as O.J. Simpson, Marcus Allen, Carson Palmer, and Reggie Bush. After firing coach Clay Helton in September, the school is looking for a new head coach. With that type of pedigree, the school can attract almost anybody they want. Except for Pittsburgh Steelers head coach Mike Tomlin, apparently.
Former USC QB Carson Palmer accidentally broke news that USC is interested in Pittsburgh Steelers head coach Mike Tomlin
Former Heisman Trophy-winning USC quarterback Carson Palmer joins host Dan Patrick on the Dan Patrick Show every week during the football season. While he mostly gives his NFL takes, Patrick took the opportunity to ask him about the head coaching search at his alma mater.
The former Sportscenter host asked Palmer if he was involved in the search and if, as Patrick was reporting, Penn State's James Franklin is the frontrunner.
Palmer affirmed that he's "as involved as they'll let me be." He also disputed the notion that Franklin is the top choice, telling Patrick there are "a lot of frontrunners right now."
He said coaches from Penn State, Iowa State, and Cincinnati were all options before accidentally breaking news:
You've got a wildcard like Mike Tomlin if Mike Tomlin wants out. … That's what's so great about the [USC] job. It can lure an NFL guy that's tired of their current situation and worried about, is Ben Roethlisberger gone? Is he done? Who are we gonna draft? Does Mike Tomlin have to start over with a young rookie quarterback?

Carson Palmer on Mike Tomlin and the USC job
When Patrick zeroed in on the Tomlin idea, telling Palmer that the theory was "pretty spicy," the former QB asked if that was the first time he heard Tomlin connected to the USC job.
Patrick told him that it was, to which Palmer simply responded, "Uh oh."
Tomlin stormed out of a press conference after a USC question
Pittsburgh Steelers head coach Mike Tomlin is not one beat around the bush. The former William & Mary wide receiver is a no-nonsense coach that NFL players love playing for.
While Tomlin has had a lot of success at the pro level, his style, personality, and relatively young age (49) make it fair to speculate that he would be a great college head coach. He has already demonstrated a superior ability to motivate young men, and his passion and charm would likely make him a tremendous recruiter.
After Carson Palmer's accidental revelation, a reporter had to ask Tomlin about his interest in the USC job on Tuesday. The 15-year head coach responded:
I don't have time for that speculation. I mean, that's a joke to me. I've got one of the best jobs in all of professional sport. Why would I have any interest in coaching college football? That'll be the last time that I address it. And not only today but moving forward. Never say never. But never. OK? Anyone else got any questions about any college jobs? There's not a booster with a big enough blank check. Thank you. Anyone asking Sean Payton about that? Anybody asking Andy Reid about stuff like that?

Mike Tomlin on the USC job
Tomlin then got out of his seat and stormed off the podium, making it quite clear that he is not interested in USC.
While Tomlin might not be the next head Trojan, the current state of the Pittsburgh Steelers does beg the question whether either party — Tomlin or the Steelers — would be better off if they parted ways.
Is it time for a new Pittsburgh Steeler head coach?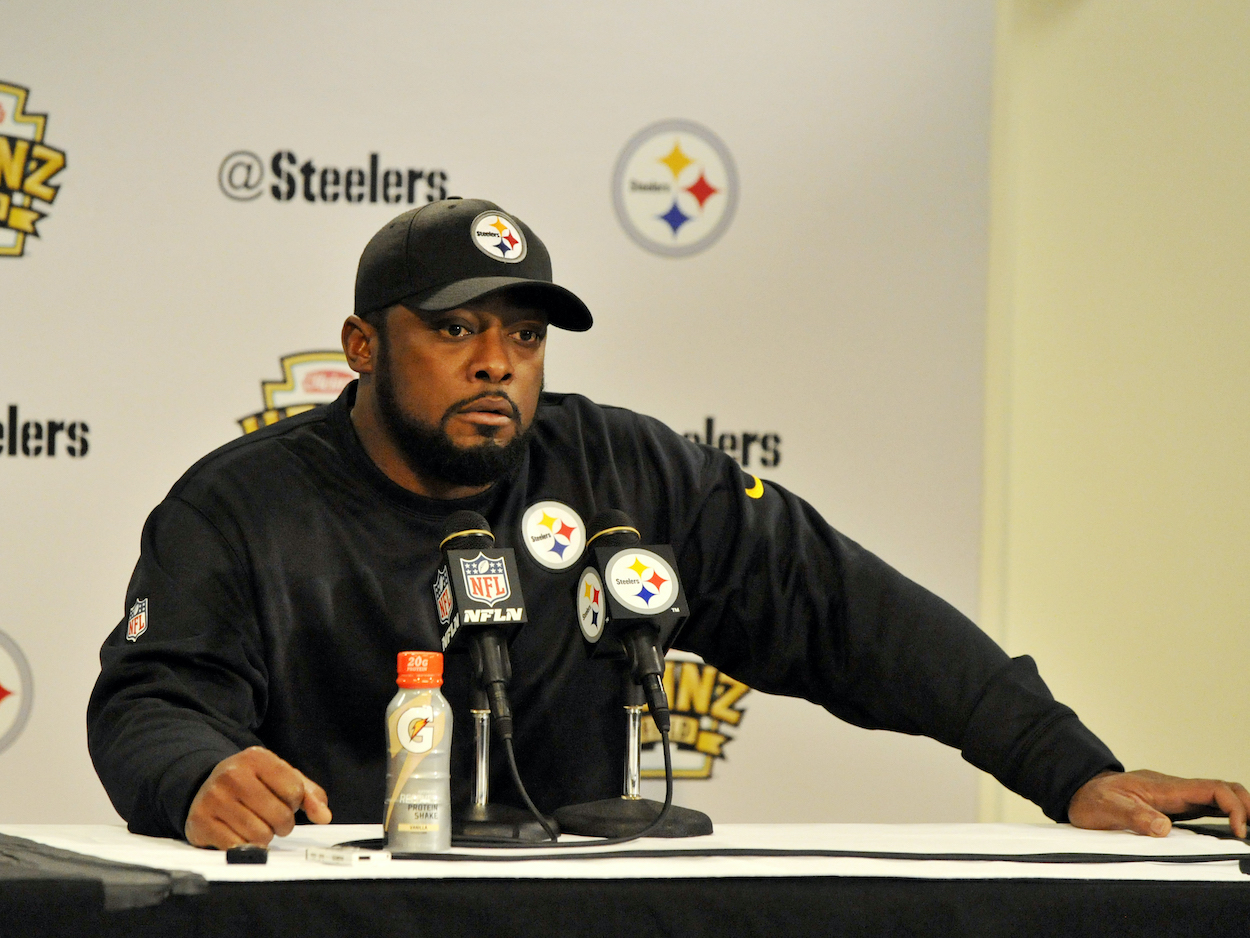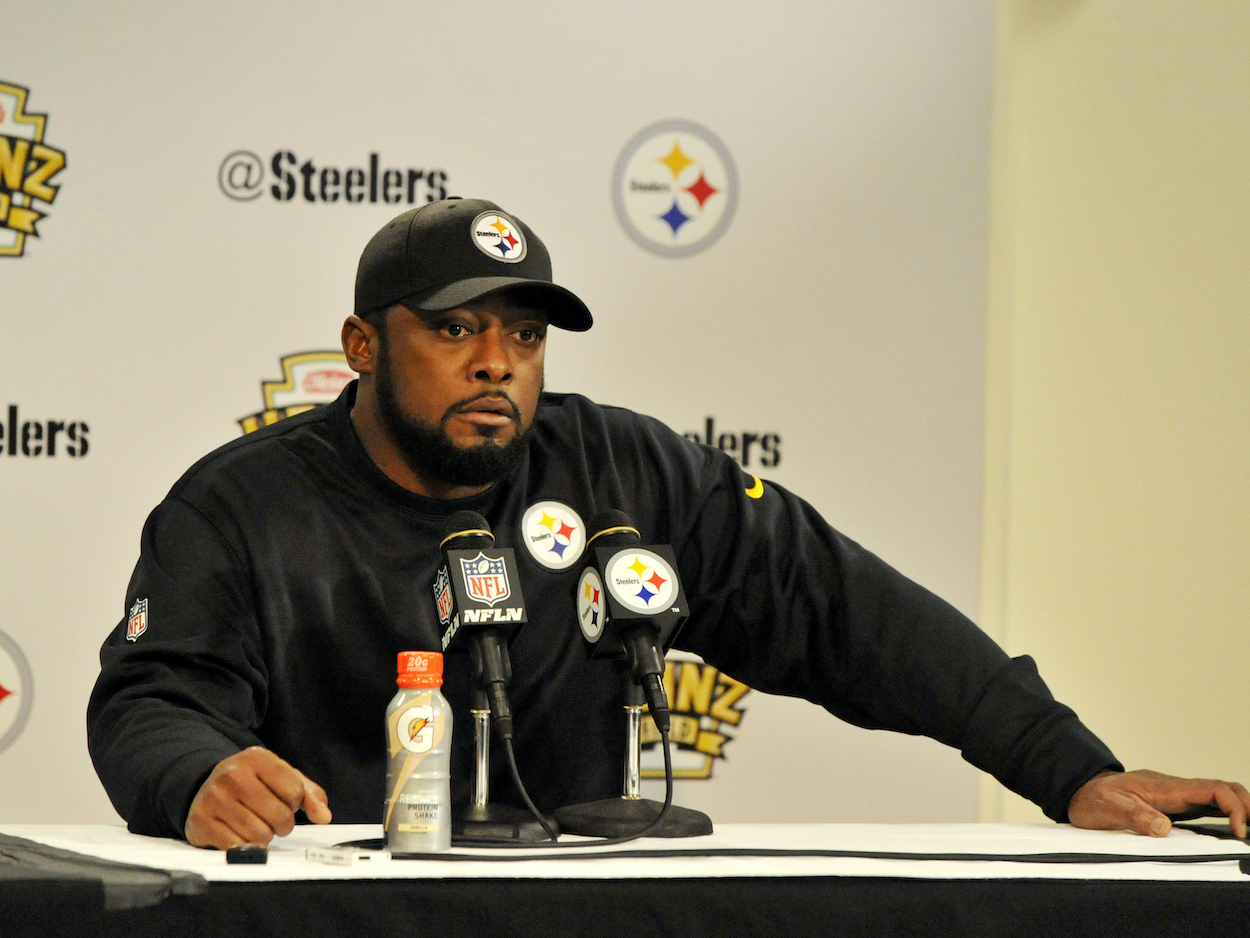 The Pittsburgh Steelers, one of the greatest franchises in NFL history, handed the organization over to 35-year-old Minnesota Vikings defensive coordinator Mike Tomlin. He became just the third Steelers head coach (along with Bill Cowher and Chuck Noll) since 1969.
Tomlin found success immediately, winning the Steelers' sixth Super Bowl in 2008. He then brought QB Ben Roethlisberger and company back to the Big Game in 2010, losing to the Green Bay Packers.
However, despite a stellar 148-81-1 career record, Tomlin and the Steelers haven't returned to the Promised Land since.
From Tomlin's perspective — as Carson Palmer pointed out — the Ben Roethlisberger Era is coming to an end. And, while the QB's up and down career is at least partially to blame for the team's lack of playoff success in the last decade, a team without a QB in the NFL is in trouble.
That said, even with Big Ben's imperfections, an experienced veteran signal-caller in hand is worth two college QBs in the bush (or something like that).
When you take all these factors together, it stands to reason that each side may have some incentive to move on from one another.
That's not going to happen, though.
First of all, the Steelers just don't do that, and secondly, why would they rather entrust a rebuild to an unproven NFL coordinator or college coach when they know they have a leader in place who can — under the right circumstances — win a Super Bowl?
For Tomlin, he said it himself. He has one of the best jobs in all of pro sports. Why would he leave to take a USC job that, let's be honest, hasn't really been "the USC job!" since Pete Carroll left in 2010?
Palmer and his fellow Trojans can dream all they want, but Mike Tomlin isn't going to coach college football in LA anytime soon.
And he made that abundantly clear in his press conference.
Like Sportscasting on Facebook. Follow us on Twitter @sportscasting19