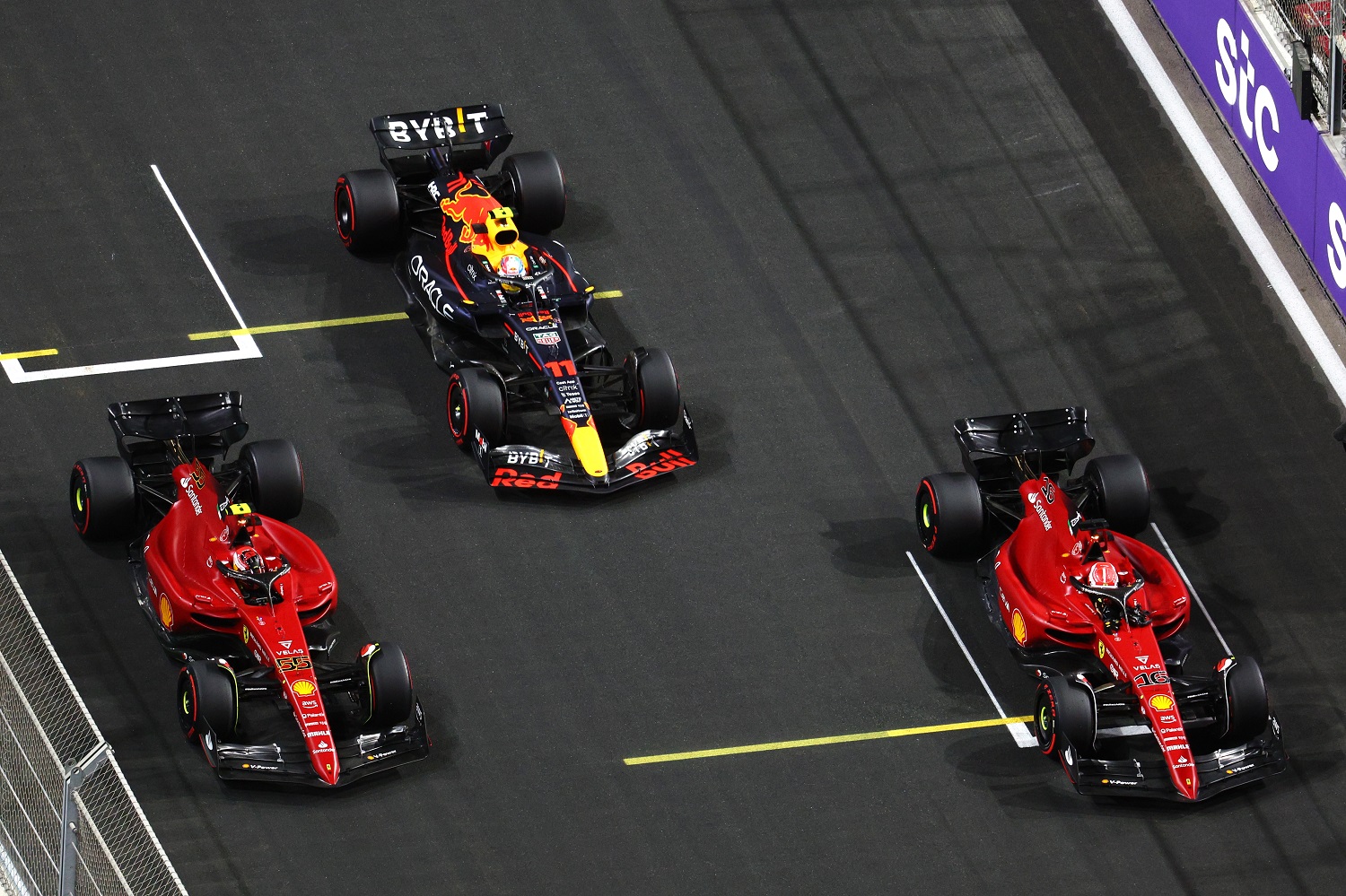 Formula 1 Is Telegraphing a Move That Won't Please American TV Viewers
ESPN has enjoyed substantial ratings growth for Formula 1 racing but has competition for the next broadcast contract that kicks in next season.
The increased popularity of Formula 1 has set American fans of the sport up for an exciting future. Circuit of the Americas has signed a contract extension to host the U.S. Grand Prix, Miami joins the F1 schedule with its inaugural race next month, and Las Vegas just struck a deal to bring a fall race to Nevada beginning in 2023.
The odds of being able to attend a race in person are improving by 200%. Alas, not all the news is good for American fans. The bill is coming due on one of the sweetest deals in sports broadcasting, and those fans are going to have to pay in one form or another.
The Formula 1 TV rights fell into ESPN's lap at a perfect time
Disney's various networks have a long history with Formula 1 racing, dating to ABC's Wide World of Sports showing the Monaco Grand Prix in 1962. ESPN took possession of the telecasts from 1984-97.
The now-defunct Speed Channel took over from there, and then NBC reportedly paid $4 million a year from 2013-17. When NBC backed out in 2018, Formula 1 literally gave the U.S. rights to ESPN. The parties subsequently came to an agreement through the 2022 season. Terms are unknown, but it's a safe bet that ESPN is paying pennies on the dollar this year, considering the explosive growth in interest in the U.S.
The combination of interest stirred up by Netflix's Formula 1: Drive To Survive docuseries and the compelling 2021 dual between Max Verstappen and Lewis Hamilton account for a sizeable growth in the audience.
ESPN's 2021 viewership set a record, the network said. The numbers should be even better in the final season of the contract. Thus, Formula 1 is dealing from a position of strength while negotiating the next contract.
Formula 1 fans understandably like ESPN's approach
With more than 400,000 tickets sold for the U.S. Grand Prix at Circuit of the Americas last year, Disney moved its TV coverage of the race to ABC. Otherwise, fans reliably can turn to ESPN News on Friday for practice and Saturday for qualifying. Then, ESPN shows the Formula 1 race live on Sunday morning.
There's a preview show for the hardcore fans. But for those who prefer the barebones experience, F1 races typically fit comfortably in a two-hour window with no commercials.
Rather than doing its own camerawork and announcing, ESPN shows the feed from Great Britain's Sky Sports, whose production values are top-notch. If the cameras don't catch it live, there's usually a nearly instant replay from the production truck of a pass in the middle of the pack or a relatively minor collision on a turn at the back of the pack.
Throw in a pair of announcers with deep F1 knowledge who seldom stray into extraneous topics, and it's a satisfying experience for the 1.5 million or so viewers who care more about open-wheel racing than Face The Nation or Meet The Press on Sunday mornings.
Formula 1 is telegraphing a move that won't please American TV viewers
Liberty Media, a U.S.-based company, bought Formula 1 after the 2016 season and has made it a profitable business by adding races that tracks pay tens of millions of dollars a year to host. Partnerships with multinational companies and media deals for broadcast rights are other key revenue sources, and it's the U.S. TV contract that should have fans worried.
Liberty Media CEO Greg Maffei appeared on CNBC on Monday and suggested that the rights fee will be substantially higher next season. He pointed to interest from several prospective broadcast partners, likely including streaming services.
"ESPN has been a great partner. They've got a very good deal because we've had a rise in popularity, and they've capitalized on that as well. Our hope is we'll find a great partner going forward, which could be ESPN or could be somebody else. And it's likely to be a much better price for us."

Greg Maffei
ESPN has spent lavishly recently on MLB, the NHL, the Southeastern Conference, and the NFL. Formula 1's expectation is that the Disney company's wallet is still open. Regardless of the network or streaming service that wins the rights, changes in the broadcasts might be necessary to cover the rights fee, and that should make fans nervous.
The changes could come in the form of commercials during the race, already a staple of NASCAR telecasts on Fox and NBC. Pulling that off might mean discarding the Sky Sports feed or resorting to tape-delayed broadcasts like NBC used to do. Either move would be unpopular.
A streaming service could be an alternative, and that prospect would be a wash for Formula 1 fans. Apple and Amazon have gobs of money to snap up the rights and could show races commercial-free. The downside for F1 fans is that they would need to pay a subscription fee for the service, which would rankle a lot of current followers.
Like Sportscasting on Facebook. Follow us on Twitter @sportscasting19.