Fran Tarkenton Proves That Stories Do Get Embellished as Time Passes
Sometimes, the further away you get from the moment, the more embellished it becomes. You know, if you threw a 30-yard touchdown pass to win the game in high school, it becomes a 40-yard pass when you tell the story 10 years later. It might hit 50 yards 20 years from when it happened. Former Minnesota Vikings quarterback Fran Tarkenton might be experiencing that right now.
Fran Tarkenton had two stints with the Minnesota Vikings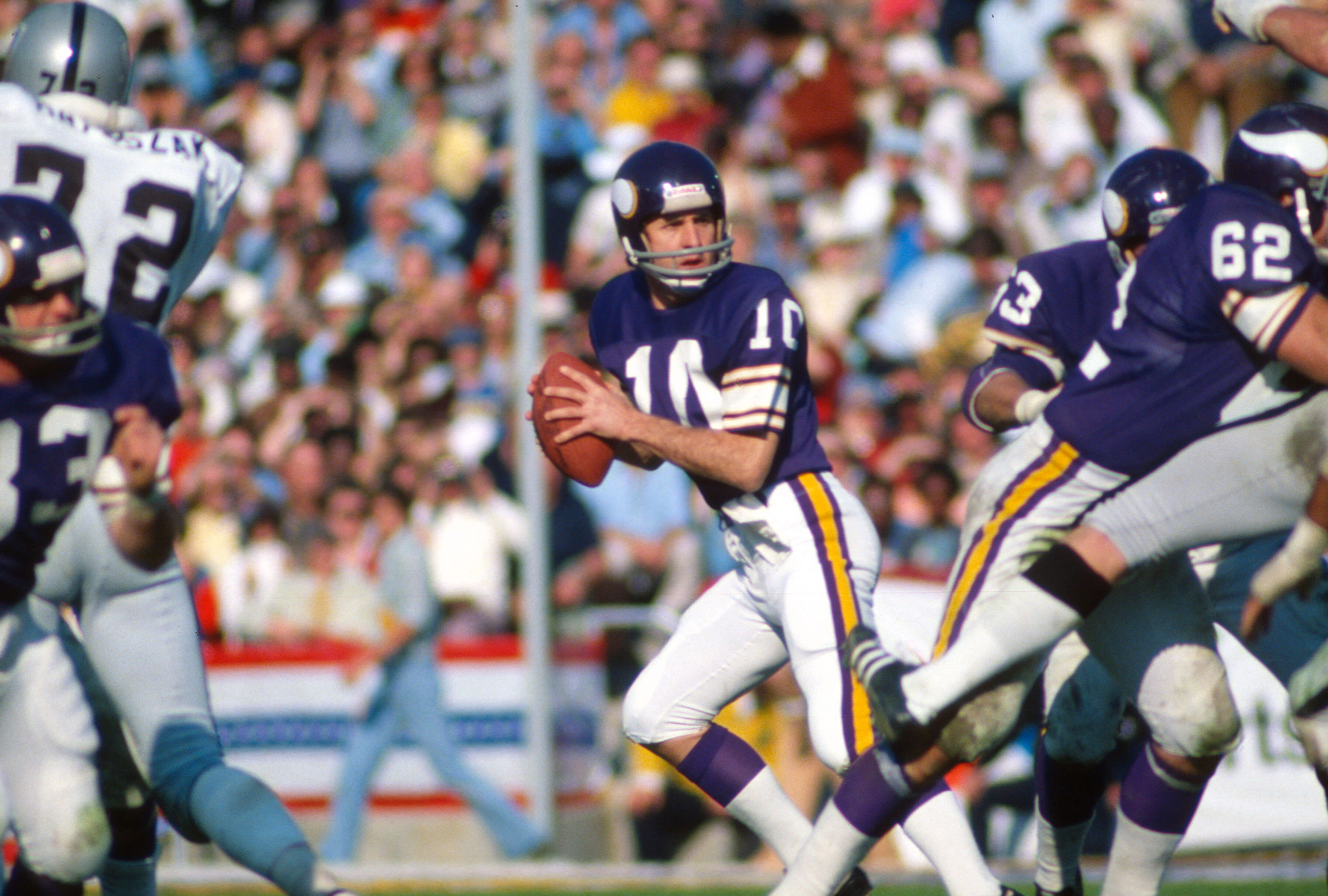 While Tarkenton was known as a running quarterback, especially during the early part of his Hall of Fame NFL career, he proved he could throw the football as well. At the time of his retirement from the NFL after the 1978 season, he owned several significant passing records, including passing yards (47,003), completions (3,686), and touchdown passes (342).
Tarkenton played 18 years in the NFL. Selected by the Vikings out of Georgia in the third round of the 1961 NFL Draft, Tarkenton finished second in the Rookie of the Year voting despite going 2-8 in his 10 starts as a rookie. He threw 18 touchdown passes and 17 interceptions. Tarkenton also used his legs, rushing 56 times for 308 yards and five touchdowns.
Tarkenton was an elusive quarterback, often racing out of the pocket to either buy time to throw the ball downfield or rush for positive yardage. His scrambling ability was both a blessing and a curse. While he racked up 3,674 rushing yards in his career, he also scrambled his way into some sacks. For the first four years of his career, he led all quarterbacks in yards lost due to sacks. In two of those four years, he was the most-sacked quarterback in the league.
He spent the first six years of his career with the Vikings, who traded him to the New York Giants in March 1967 for three draft picks and a player to be named later. Tarkenton spent five years with the Giants, earning Pro Bowl honors in his first four seasons. In January 1972, he was traded back to the Vikings and led Minnesota to three Super Bowl berths (1974, 1975, 1977). The Vikings lost them all.
Tarkenton may have gotten carried away with his 'invented scrambling' comment
Tarkenton was one heck of a quarterback, earning nine Pro Bowls. He had his lone All-Pro season in 1975 when he led the league in touchdown passes (25) and guided the Vikings to a 12-2 record and an NFC championship. He was inducted into the Pro Football Hall of Fame in 1986.
Tarkenton recently experienced that old exaggeration style of telling stories. While he was an excellent running quarterback (and a tremendous one overall), he may have gotten carried away in his latest tweet.
Nicknamed "The Scrambler," Tarkenton certainly perfected the scrambling part of being a quarterback. On social media, he took it a step further.
"I invented scrambling," Tarkenton tweeted Tuesday. "The two best quarterbacks this year played against each other in the Super Bowl. They're both scramblers, and that started with me!"
It was an interesting tweet, to say the least. His comment generated plenty of feedback.
"I know that he has a social media manager BUT the idea of 83 year Fran Tarkenton downloading a tiktok praising himself to post on twitter is KILLING me lmaooo," on Twitter user wrote.
Another tweeted, "You invented running around with the football?"
"Sad realizing we live in a world where even 83 year olds aren't able to avoid clout chasing," tweeted another.
There's no doubt "The Scrambler" could scramble, but he didn't invent it. It was just an odd, random flex that proved stories do get more exaggerated as time passes.