If Frank Gore Couldn't Catch Emmitt Smith, No NFL Running Back Ever Will
Frank Gore was the NFL's last shot to catch Emmitt Smith's all-time record for rushing yardage. Now that he's officially planning to hang 'em up, Smith's mark moves into the untouchable category.
Frank Gore is finally hanging up his well-worn NFL cleats, and Emmitt Smith can breathe a deep, prolonged sigh of relief.
The legendary Dallas Cowboys running back — we're choosing to forget the two, well, forgettable seasons spent with the Arizona Cardinals — racked up 18,355 rushing yards throughout his Hall of Fame career. He might as well be safe forever atop that particular leaderboard, the proud owner of one of sports' untouchable records. The NFL, even with the new 17-game schedule, has changed too much for anyone to knock him off his perch.
Gore came close, finishing with an even 16,000 rushing yards that leave him just 726 yards shy of Walter Payton for the No. 2 spot. But if he couldn't get to 18,356, no one will.
Frank Gore was the longevity model
When Frank Gore entered the NFL, he did so courtesy of the San Francisco 49ers as the first selection of the third round (No. 65 overall). The players who came off the board on either side of him? Offensive tackle Adam Terry and defensive back O.J. Atogwe, neither of whom achieved much at the professional level.
To put that in perspective, notable 2022 draft prospects Isaiah Spiller, Drake London, Breece Hall, Jameson Williams, and George Pickens were all born in 2001, just four years before Gore entered the NFL ranks.
The Miami (FL) product may never have earned a first-team All-Pro selection and graced just five Pro Bowl rosters, but he created a unique Hall of Fame candidacy by virtue of his unparalleled longevity at running back in the modern NFL.
Playing for five different organizations, he suited up in at least 14 games during 15 distinct seasons, and the only exception came in 2010 when he racked up 853 yards over 11 games with the Niners. He was both durable and productive, going over 1,000 yards in nine different campaigns, which is more than all but four running backs in league history: Emmitt Smith (11), Curtis Martin (10), Barry Sanders (10), and Walter Payton (10).
Now, after sitting out the 2021 season, Gore is officially calling it a career with his reported plan to sign a one-day contract and retire with the 49ers. If he couldn't use the longevity model, joining Marcus Allen as the only players with at least 100 rushing yards in 16 different seasons, to match or exceed Smith, the rest of the candidates are basically out of luck.
The NFL has changed too much for a reasonable candidate to emerge
When Emmitt Smith posted his final 1,000-yard season for the Cowboys in 2001, he was one of 15 players to hit four figures. During the 2021 campaign, even with an extra regular-season contest added to the ledger, only Jonathan Taylor (1,811), Nick Chubb (1,259), Joe Mixon (1,205), Najee Harris (1,200), Dalvin Cook (1,159), Antonio Gibson (1,037), and Ezekiel Elliott (1,002) broke past the threshold.
The game has changed. A lot.
Teams employ committee approaches more than ever, trying to preserve their best players for the duration of a season and the ensuing postseason run as the game gets bigger, faster, and more physical. The toll imparted by bigger linemen and linebackers and quicker, harder-hitting secondary members is immense, and it's shortened running back lifespans rather significantly.
Plus, the league has gotten younger at running back. Rather than paying big bucks to retain ball-carriers — exceptions exist, of course — the general principle is to try winning with a rookie-scale option rather than dedicating financial resources better spent elsewhere. Don't pay for running backs is a common mantra at this point.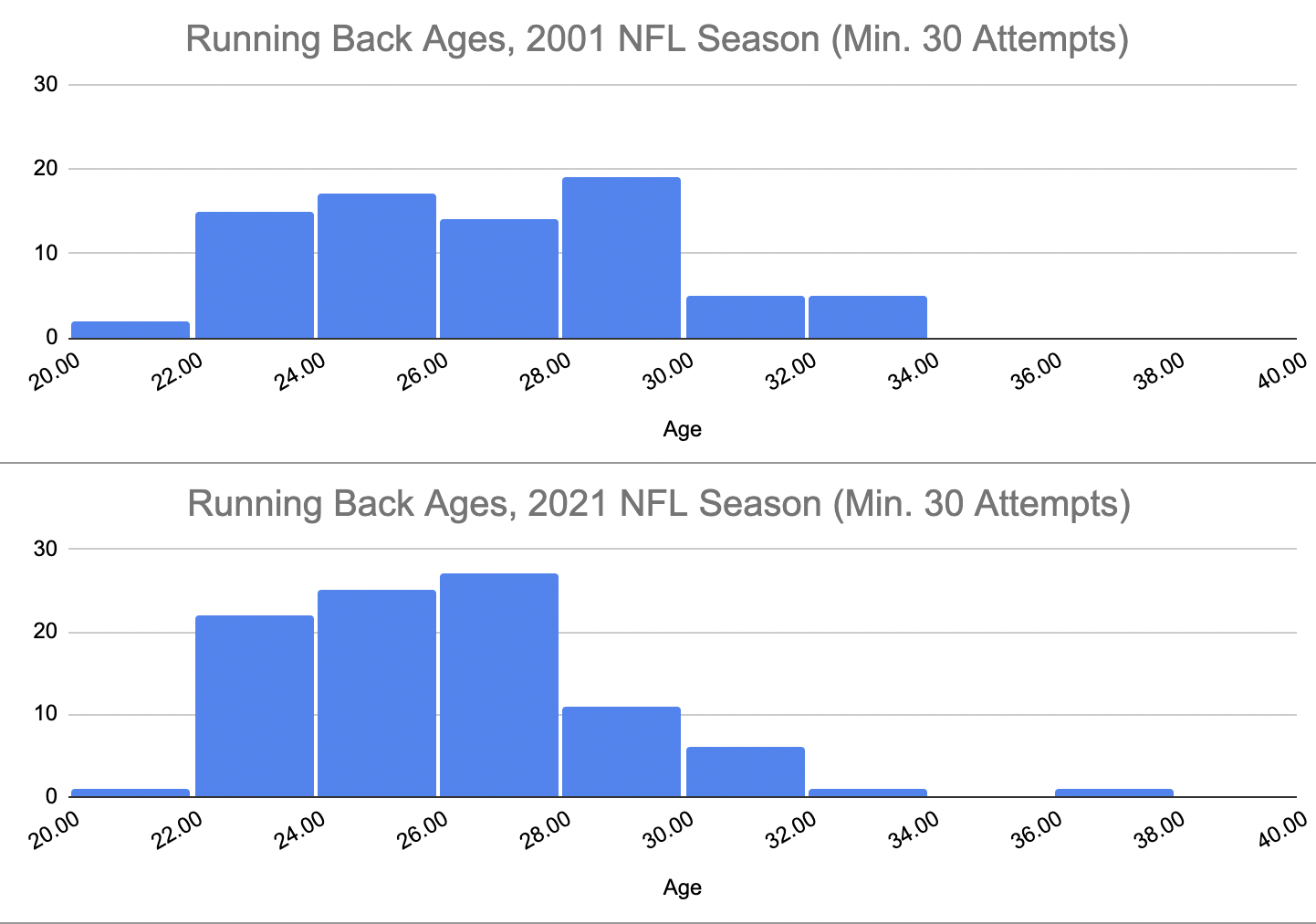 Over the last 20 years, the number of running backs used and the age distributions have changed drastically. Whereas the average age of the 77 running backs (2.5 per team) with at least 30 attempts sat at 26.3 years old in 2001, it's shifted to 25.6 for the 94 qualified players (2.9 per team) in 2021.
That might not seem like a change, but we're only talking about utilized running backs, not the true stars who actually have a chance to challenge Smith. And coupled with the transition to such passing-heavy offenses, that's still a big swing.
When Smith's career began in 1990, rushing accounted for 36.9% of the league's total yards. In 2001, his final season in the 1,000-yard club, rushing comprised 35.2% of the yardage gained by NFL teams. In 2021, that number had dropped to 33.5%, and that's saying nothing of the many mobile quarterbacks proliferating throughout the league and the increasing number of gadget plays that put the ball in the hands of speedy wide receivers.
Opportunities for big single-season rushing numbers are fewer and further between, and the same is true for the chances to have lengthy careers spanning the seasons necessary to chase down Smith.
The active NFL rushing leaders have a long way to go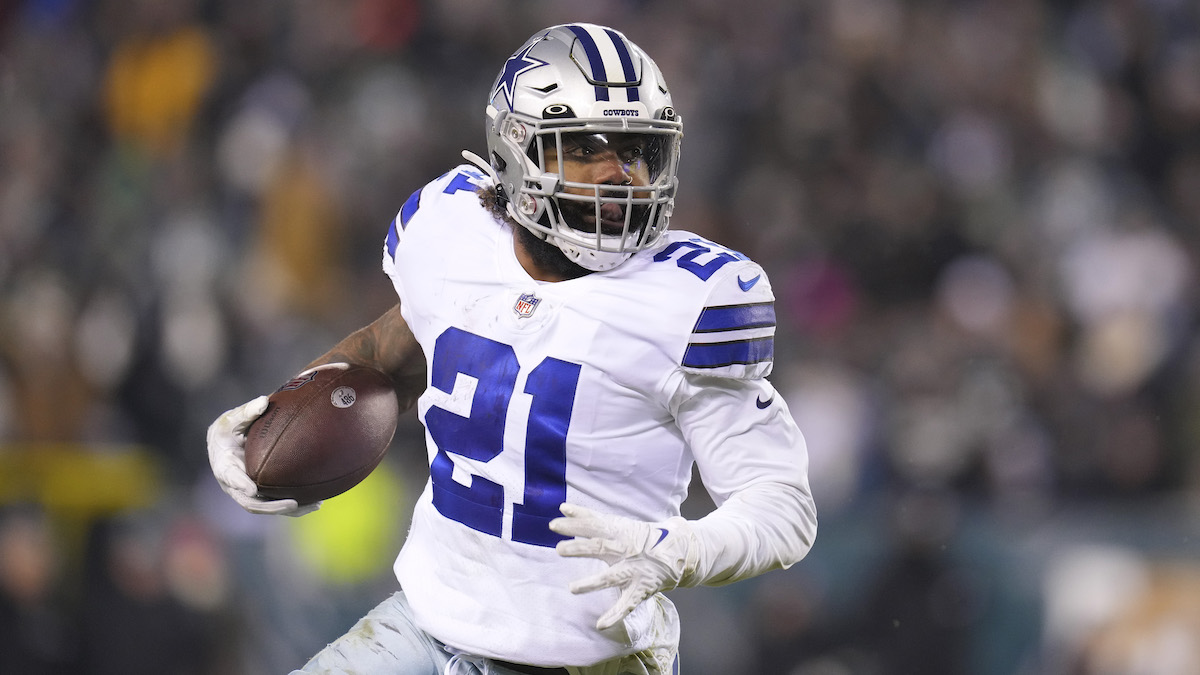 With Frank Gore out of the picture, most of the active rushing leaders are nowhere close to the magic number of 18,355:
Adrian Peterson: 14,918 yards (No. 5 overall), 37 years old, free agent
Mark Ingram II: 7,878 yards (No. 54 overall), 32 years old, New Orleans Saints
Ezekiel Elliott: 7,386 yards (No. 58 overall), 26 years old, Dallas Cowboys
Derrick Henry: 6,797 yards (No. 71 overall), 28 years old, Tennessee Titans
Le'Veon Bell: 6,554 yards (No. 76 overall), 30 years old, free agent
The only other members of the all-time top 100? Alfred Morris (No. 86), Melvin Gordon (No. 88), and Todd Gurley (No. 94), none of whom are operating at peak levels.
And even in that top five, no one feels like a true threat to Smith.
Peterson could retire at any moment, and he only has 3,243 rushing yards since 2016 — still shy of the number he'd need from here on out to catch the all-time leader. Ditto for Bell, who's even further back. Mark Ingram's last 1,000-yard season came in 2019. Elliott is in danger of being replaced by Tony Pollard as the Cowboys' primary running back, and he clearly hasn't been as effective as he was at the start of his career.
Henry is a prolific back right now, but he's already 28 years old, coming off a season in which he played just eight games, and the owner of a physical running style that might not age well as he moves into his 30s. Even if he averaged 130 yards per game for the rest of his career (he led the league with 126.7 during his 2,000-yard 2019 efforts), he'd need 89 more outings to pass Smith. Playing all 17 games each year, that would take him until Week 4 of the 2027 season, and he'd be in his age-33 go-round.
Sure, someone like Jonathan Taylor could come along and surprise us all. But given how much the game has changed and the number of generational backs who have had the bottom fall out both suddenly and unexpectedly, that's not a smart bet.
Gore, sheerly through his longstanding excellence, was the modern era's best shot at dethroning Smith. If he couldn't, no one will.
All stats, unless otherwise indicated, courtesy of Pro Football Reference.