Fred VanVleet Has Become the Raptors' New Kyle Lowry With All-Star Production and Strong Leadership
The end of the 2020-21 NBA season marked the end of an era for the Toronto Raptors, as Kyle Lowry elected to sign with the Miami Heat in free agency. But while arguably the greatest player in Raptors franchise history now resides in South Beach, he played a vital mentorship role for his heir apparent, Fred VanVleet.
Now, it's VanVleet who propels Toronto with his tremendous on-court production and leadership.
Fred VanVleet and Kyle Lowry shared the same backcourt for five seasons
Kyle Lowry and Fred VanVleet share a lot of similarities. Lowry wasn't selected until the No. 24 pick in the 2006 NBA Draft, while VanVleet went undrafted out of Wichita State. Both are smaller point guards unafraid to be physical with their opponents.
It's only fitting that the two spent so much time together.
Lowry and VanVleet played in the same backcourt for five seasons. They shared the floor more extensively during the Raptors' 2018-19 championship season, when VanVleet cracked the starting lineup for the first time. The partnership blossomed from there.
VanVleet started in all of his 106 combined appearances in the past two seasons, with most of those starts coming alongside Lowry. He took on a greater share of playmaking responsibilities, as his scoring jumped both seasons while his assist average hovered over 6.3 dimes.
The Raptors had already signaled VanVleet as the primary building block in their backcourt when they inked him to a four-year, $85 million contract in November 2021. He'd begun to rise under Lowry's tutelage and is now replicating the value that Mr. Raptor provided during his nine seasons in Toronto.
VanVleet is an All-Star candidate
Fred VanVleet is having plenty of success as the anchor of the Raptors backcourt, and he's doing so in a way that would surely make Lowry proud.
VanVleet is averaging 20.9 points, 6.7 assists, 5.0 rebounds, and 1.6 steals. He's shooting close to 44% from the field and 40% from beyond the arc on 8.8 triples per game. Those numbers are eerily comparable to Lowry's prime seasons in Toronto and above where he stood at VanVleet's age. In his age-27 season, Lowry averaged 17.9 points, 7.4 assists, 4.7 rebounds, and 1.5 steals.
The parallels don't stem solely from a numbers perspective, either. There are plenty of stylistic similarities.
Aside from his catch-and-shoot potential, VanVleet will hunt transition 3-pointers. Like Lowry, he also moves well without the ball and uses his physical stature to bully his way to the basket for layups.
Defensively, VanVleet sets the tone with his hustle. According to NBA.com, he is tied for the NBA lead in deflections per game and loose balls recovered per game. That's telling of his effort and heart, intangible qualities Lowry always displayed during his Raptors tenure.
The undrafted Shockers star gives juice to Toronto's backcourt and is an exemplary figure with the energy he shows on both ends. In that way, he's helping the Raptors transition into the post-Lowry era. Can he reinvigorate the franchise with a renewed sense of winning?
The Raptors are fringe playoff contenders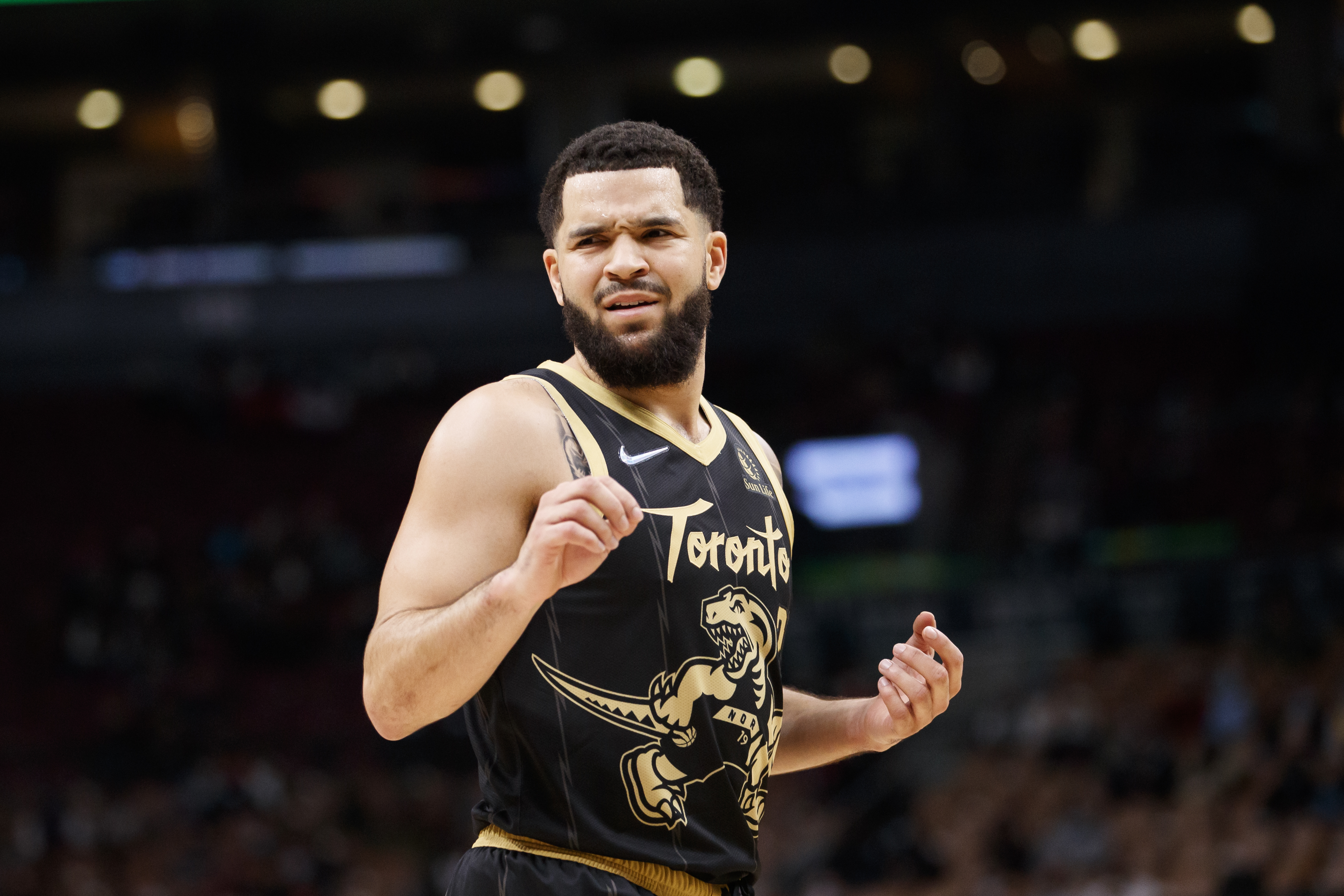 While Lowry's departure sent the Raptors into a new era, they've shown they're still capable of making the playoffs.
Aside from VanVleet, Toronto also gets solid production from backcourt mate Gary Trent Jr. Although Pascal Siakam continues to struggle from beyond the arc, the Raptors are +5.3 in offensive rating when he's on the floor. That bodes well for the future, given he's appeared in just 20 games. Similarly, OG Anunoby is posting career-best numbers but has only played in 18 games.
One of the most telling signs of Toronto's immediate and future success is the growth and production from Scottie Barnes. The No. 4 overall pick is averaging 15.5 points, 8.1 rebounds, 3.3 assists, 1.1 steals, and 1.0 blocks. He's drawn rave reviews from Kevin Durant, with his two-way upside breathing new life into the Raptors. Barnes could well be the team's best player in the near future. For now, that title probably belongs to VanVleet.
Toronto (16-17) stands a good chance of reaching at least the play-in tournament with better health. The Raptors will likely look to VanVleet to help guide them there.
Stats courtesy of Basketball Reference.