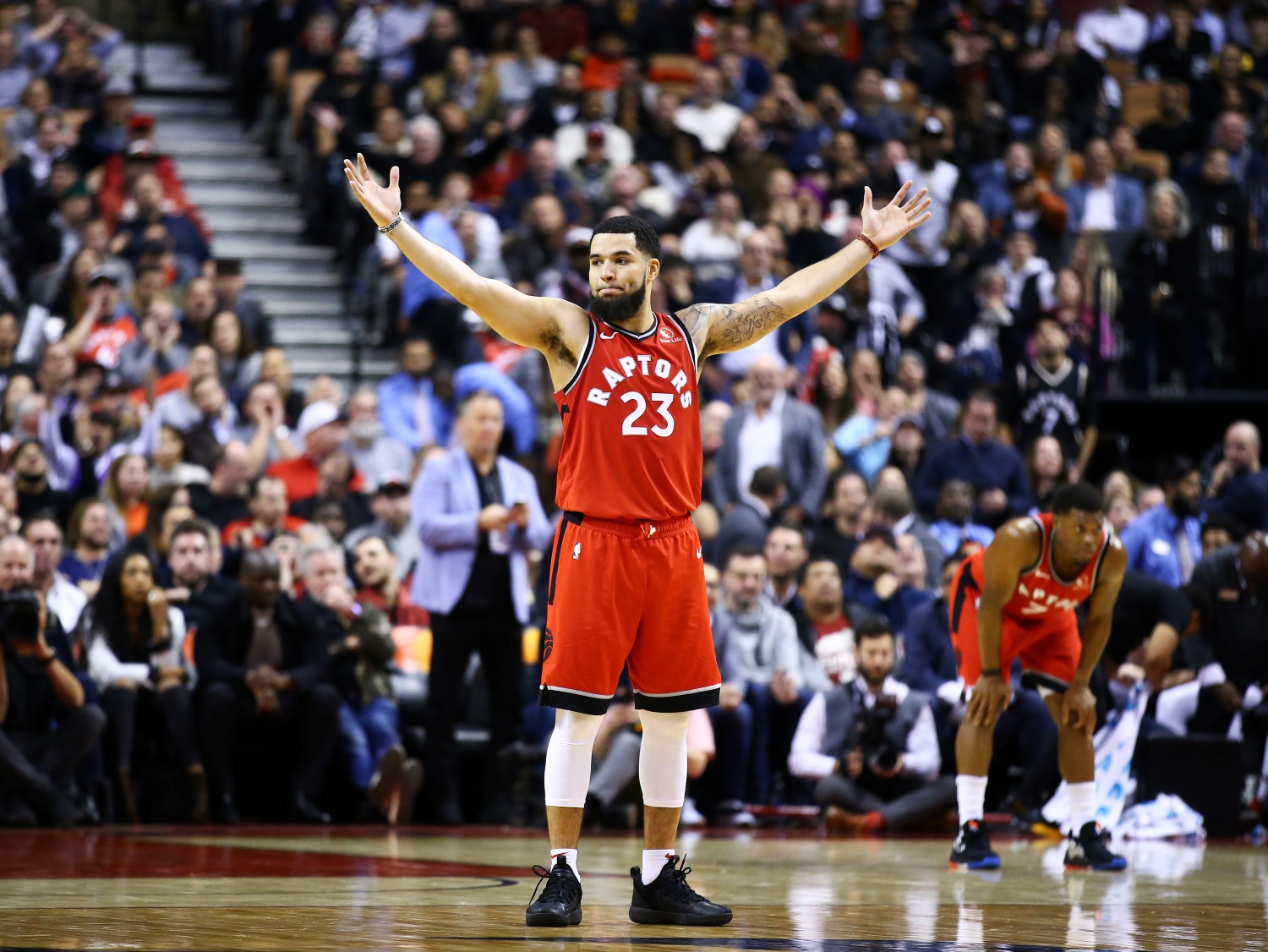 Fred VanVleet Just Scored an $85 Million Contract and a Spot in NBA History
Fred VanVleet just etched his name in NBA history by agreeing to an $85 million contract extension to stay with the Toronto Raptors.
Just four years ago, not a single NBA team was willing to use a draft pick on Fred VanVleet. Now, the Toronto Raptors have ensured that their breakout star will remain with the franchise for years to come.
And by scoring an $85 million contract, VanVleet just made NBA history.
Fred VanVleet went undrafted in 2016
An Illinois native, Fred VanVleet starred at Auburn High School before taking his talents to Wichita State University. Despite his small stature, he excelled as a three-year starter for the Shockers.
As a sophomore, he averaged 11.6 points, 5.4 assists, and 3.9 rebounds. He also demonstrated excellent shooting touch from behind the arc. VanVleet connected on 41.8% of his 3-point attempts in his first year as a starter.
In 2014-15, he and Ron Baker helped the Shooters finish first in the Missouri Valley Conference with an overall record of 30-5. VanVleet's junior season included career-high averages in points (13.6) and assists (5.2). However, his shooting percentages plummeted. He shot just 35.7 from 3-point territory and 43% from the field.
While he did bounce back with a much better 3-point shooting percentage as a senior, VanVleet watched his scoring average drop due in large part to shooting just 39% from the floor.
Ultimately, not a single team called his name during the 2016 NBA draft. But that wouldn't stop the hard-nosed point guard from achieving his dream of playing in the league.
The Toronto guard took his game to another level last season
Despite going undrafted, Fred VanVleet got a shot at making an NBA roster. And while he didn't make much noise during his first two years with the Raptors, he became a household name after the 2018-19 season.
Although his numbers didn't jump off the page, VanVleet's clutch 3-point shooting, scrappy defense, and top-notch effort helped Toronto capture an NBA title.
Last season, he ascended to the starting shooting guard position. In his fourth year in the league, VanVleet set career-highs across the board. He upped his scoring average from 11 points per game to 17.6. He led the Raptors in steals and finished second in assists.
And when the playoffs came around, the former undrafted free agent performed at an even higher level. VanVleet shot 39.1% from 3-point territory and averaged just under 20 points per game.
Although the Celtics defeated the Raptors in the Eastern Conference semifinals, it certainly wasn't because of VanVleet.
VanVleet just made NBA history with his $85 million Raptors contract
Fred VanVleet scratched and clawed his way to earn a spot on an NBA roster. He bided his time as a bench player. He hit key shots to help the Raptors win a title. And he put up big numbers in his first year as a starter.
His development has certainly been one of the most interesting stories to follow in recent years. And now, another important chapter just got added to his incredible life journey.
On Saturday, The Athletic's Shams Charania reported via Twitter that VanVleet has agreed to a four-year, $85 million deal to re-sign with Toronto. According to ESPN, the deal includes a player option in year four.
The contract extension represents a massive raise for a player who will turn 27 in February. VanVleet's rookie deal totaled just $1.44 million. He then signed a two-year, $18 million contract extension in 2018.
Now, though, his $85 million deal cements his place in NBA history.
The 6-foot-1 point guard just received the largest contract ever for a former undrafted player. Prior to VanVleet's $85 million deal, Wesley Matthews held that honor after he signed a four-year, $70.1 million deal with the Dallas Mavericks back in 2015.
Moving forward, it will be interesting to see if VanVleet can take another step forward on the offensive end of the floor. With Serge Ibaka all but gone, the Raptors will lose out on a valuable scoring option.
Can VanVleet become a guy who scores 20-plus points on a nightly basis?
That remains to be seen.
But based on everything he's done since going undrafted, who's betting against him?
All contract data courtesy of Spotrac. All statistics courtesy of Sports Reference and Basketball-Reference.