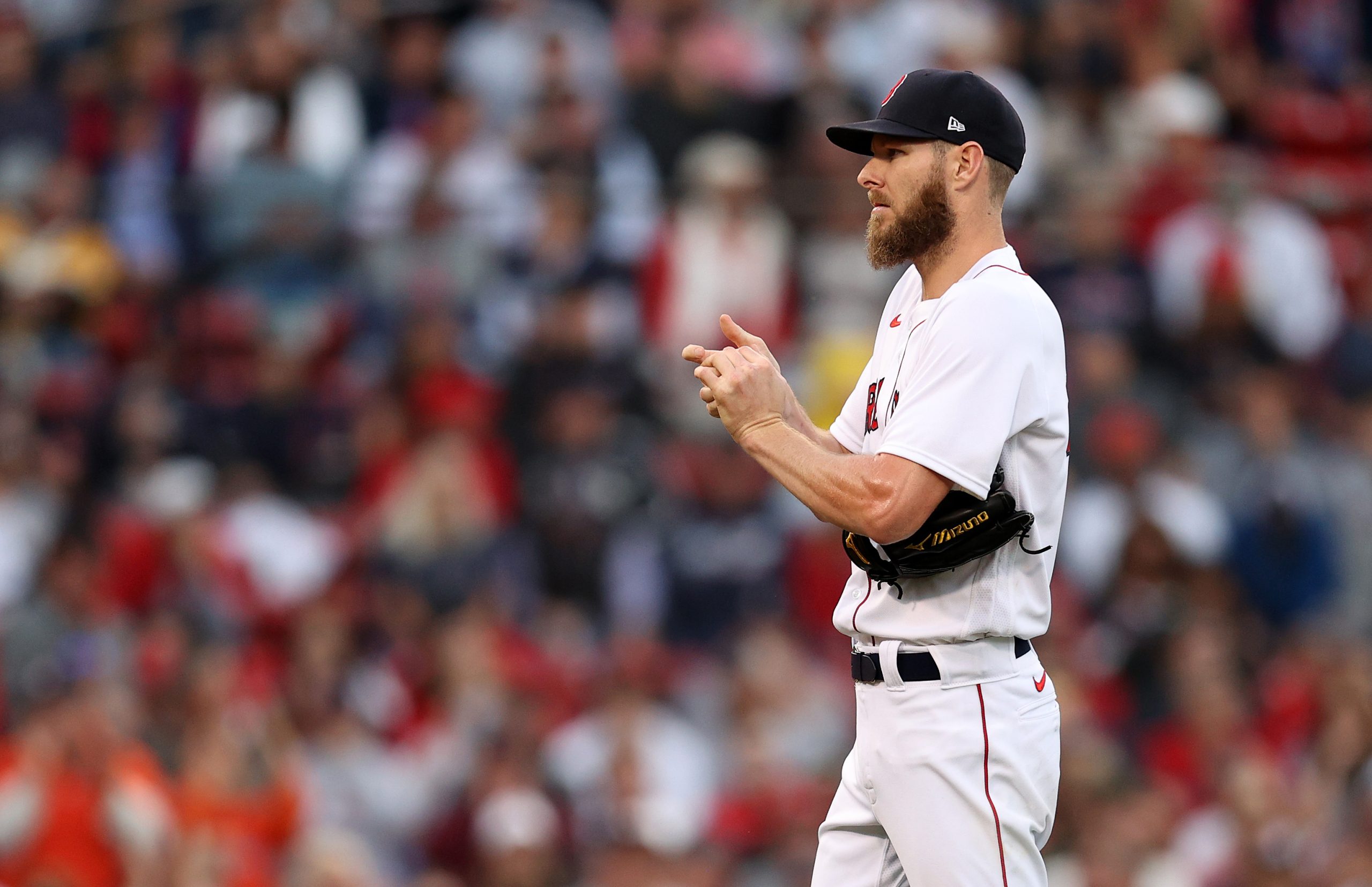 Frustrated Chris Sale Reacts to Latest Setback With Red Sox: 'I Wouldn't Like Me, Either'
Red Sox pitcher Chris Sale is out for the first few months of the season.
Chris Sale is one unhappy camper. Unhappy can also be replaced with frustrated or disappointed, but in any case, the Boston Red Sox pitcher isn't having a good time sitting on the sideline.
Sale recently spoke with reporters about opening the season on the 60-day injured list after suffering a stress fracture to his rib cage in February. Yes, the oft-injured pitcher hurt himself during Major League Baseball's lockout. Frustration has mounted from Sale himself and from Red Sox fans, to which the pitcher responded, "I wouldn't like me either."
Red Sox pitcher Chris Sale just can't get healthy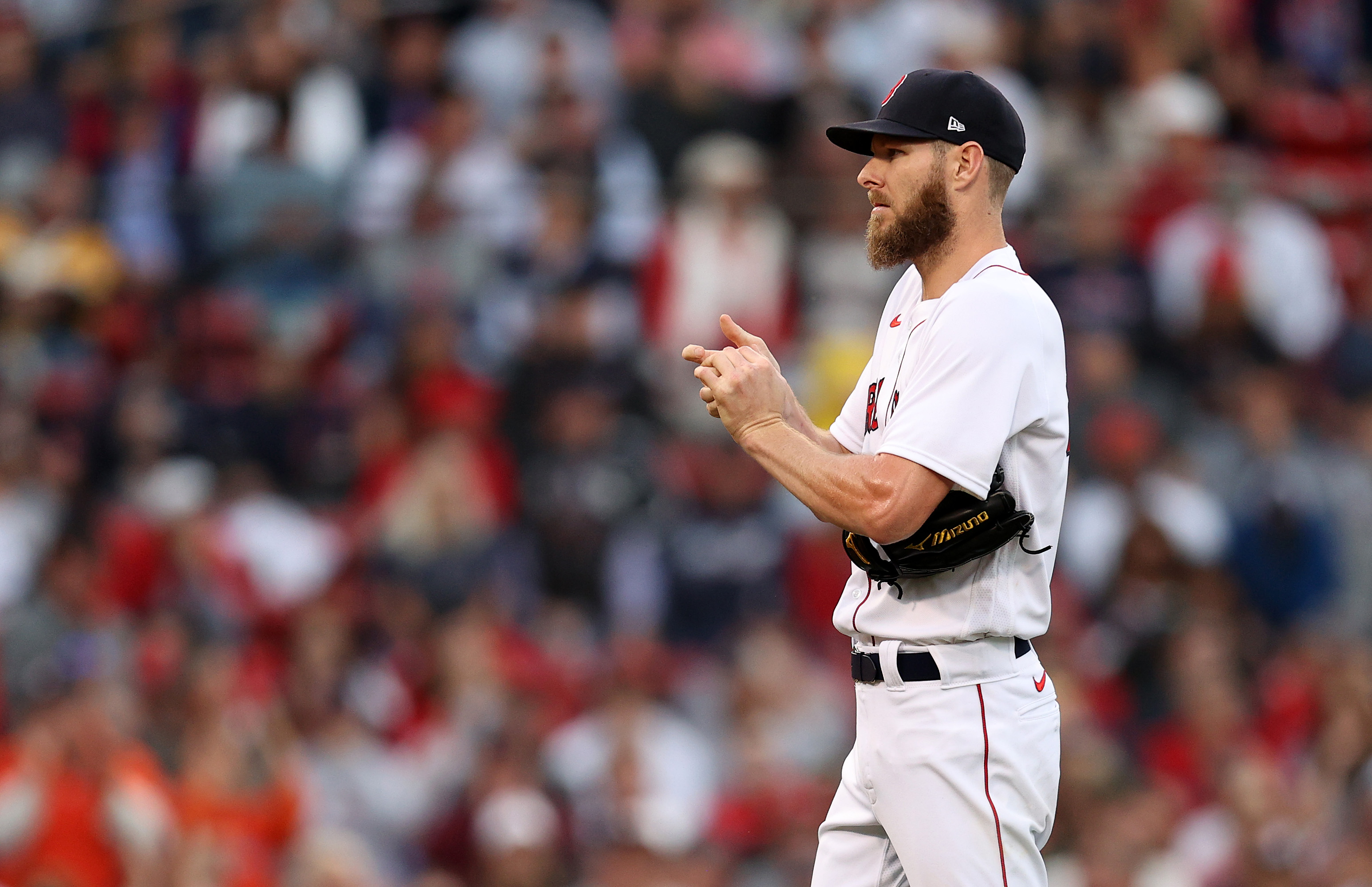 It's been a rough few years for Sale, who has shown he can be one of the best in the business when he can get himself on the mound. Sale has pitched in nine regular-season games over the last two years, and this year will have a major setback. According to Mass Live, Sale injured himself while throwing batting practice at Florida Gulf Coast University in February.
At the time, MLB locked out its players, and teams weren't supposed to have any contact with their players.
"Probably a lot of you saw the live BP that … was streaming on Instagram," Red Sox chief baseball officer Chaim Bloom said in March. "Obviously, we were not in touch with him at that time (because of the MLB lockout). Talking to him, that's when this happened. That's actually the last time that he threw. We found about it when we were able to get back in touch with him."
Sale confirmed he felt some pain after the throwing session, and it got worse.
"I was throwing a live session over at FGCU," Sale said. "It was a Thursday. After that, felt a little side discomfort. Nothing too crazy. I didn't think anything of it. Over probably the next handful of days, not only did it stick around. It felt like it got worse."
Chris Sale on frustrated Red Sox fans: 'I wouldn't like me, either'
Sox fans are frustrated that the hard-throwing southpaw won't return until mid-summer at the earliest. Rest assured, there's nobody more bothered by that than Sale.
Sale missed the entire 2020 season after undergoing Tommy John Surgery. He's also battled through a neck injury and dealt with COVID-19, limiting him to those nine regular-season games, although he did pitch in the 2021 postseason.
His frustration clearly shows. He went on a rant this weekend about his recent string of injuries.
"This is three springs in a row I'm not even a baseball player," he said, according to Alex Speier of The Boston Globe.
"I'm in a (expletive) situation. There's just no way around that. I'm hurt. And I'm supposed to not be hurt. I'm supposed to be a very big contributing factor to this team.
"I've not done my job for some freakin' time now. Think about it. I had one full year in '17. Good year. Three quarters of a year in '18, won the World Series — we'll call that one a great year. In '19, had the worst year of my career, ended up getting hurt. In '20, COVID, Tommy John, and In '21, Tommy John, pitched for a quarter of the year and the playoffs. Serviceable at best, I'll call that. And then now.
"So I've been here for six years, I've given these people one full (expletive) year. You kidding me? I wouldn't like me, either."
Despite the frustration, Sale doing his best to remain positive
Sale admits when he had his Tommy John Surgery, he wasn't well mentally. He's trying not to go there again with his latest setback.
"(Negativity) crushed me through the Tommy John stuff," he said. "That was bad. I was not in a good spot there.
"This is not close to that. But it's still eerily the same feeling that I'm not pulling my weight. But, could be worse. I know that's something that sounds like a copout from fans looking at me, but it's the truth. That's what I have to hold onto right now.
"Because if I think that I'm in the worst position in the world, I'm going to get in that mindset, I'm going to be a bad teammate, I'm going to feel sorry for myself, I'm not going to get the work done, so on and so forth."