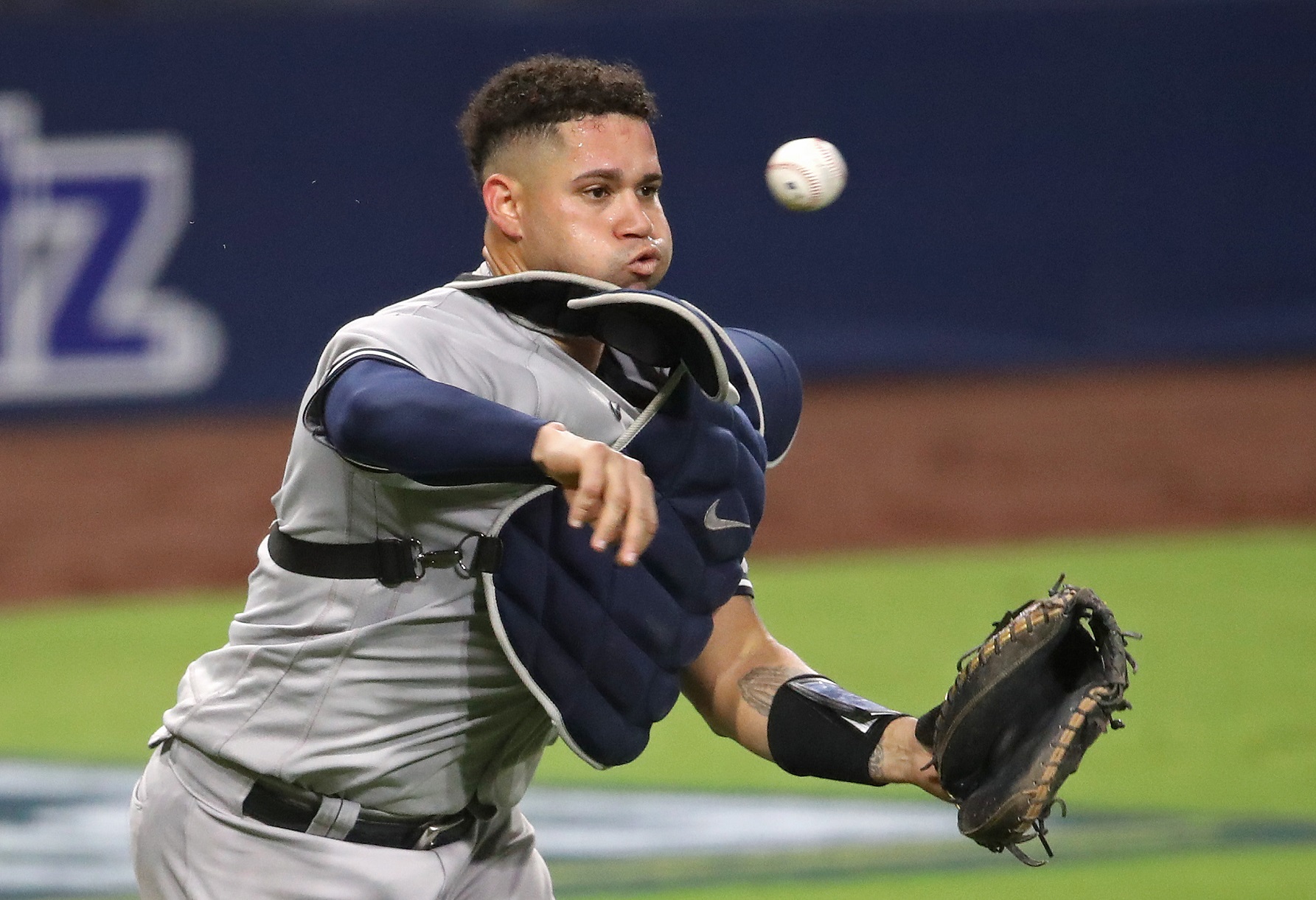 Gary Sanchez Makes a Bold Prediction About His Future as a New York Yankee
Gary Sanchez has always been a liability on defense, but the New York Yankees catcher has also experienced a sharp dropoff as a hitter.
It's going to take more than flipping the calendar from 2020 to 2021 to prove him right, but Gary Sanchez is putting himself out there with a prediction about the upcoming MLB season. If he is correct, then the New York Yankees might be back in business after a disappointing year on the diamond.
Gary Sanchez has plenty to prove to the New York Yankees
The 2020 MLB season was nothing short of a train wreck in many respects. The pandemic meant that there were no fans in the stands for a 60-game regular season with gimmicky rules like seven-inning doubleheaders and starting extra innings with a runner on second base.
Individually, there was no greater train wreck than New York Yankees catcher Gary Sanchez. Offense was down across the board, but Sanchez hit depths seldom seen by someone in his fifth major-league season – or even an overmatched rookie, for that matter.
Sanchez batted just .147, the worst average in the majors for anyone making 100 or more plate appearances. He finished with a respectable 10 home runs and 24 RBIs in 156 at-bats, but Sanchez stuck out 64 times and grounded into half a dozen double plays.
His performance continued the drastic falloff from 2016, when Sanchez batted .299 in 53 games, and 2017, when he recorded a .278 average in 122 games.
Sanchez's combined totals since the start of the 2018 season: a .200 average, 62 homers, and 154 RBIs in 244 games. It's a big dip for one of four catchers in MLB history to record a pair of 30-homer seasons before his age-27 season.
The catcher's problems go beyond offense
Gary Sanchez has never been a solid defensive presence since reaching the majors with the New York Yankees in 2016. After grading out well above average in throwing out baserunners in his first two seasons, he's hovered at the league average since. He has also led the majors in passed balls three times. Sanchez's inability to handle balls in the dirt has to affect the pitching staff, which collectively might shy away from throwing low strikes.
During the season, manager Aaron Boone made the decision to have Kyle Higashioka serve as new ace Gerrit Cole's personal catcher, a decision that Sanchez said was never explained to him.
The Yankees struggled down the stretch and finished as the No. 5 seed in the American League playoffs that were expanded in the pandemic-shortened 2020 season. After sweeping the Cleveland Indians in the best-of-three first round, New York was eliminated by the Tampa Bay Rays in a series that went the maximum five games.
Sanchez played the second game in Cleveland but then appeared in just two games against the Rays, going 0-for-4 at the plate and striking out three times.
"I didn't know why I wasn't playing, if it was my defense or because I wasn't hitting," Sanchez told ESPN. "That was what I was thinking about. So that's where you start forcing things more than you should, and that's when you make mistakes. I would have liked someone to tell me, 'This is what's happening — this and that.'"
Gary Sanchez has made a bold prediction about his future
The New York Yankees surprised some observers by tendering catcher Gary Sanchez a contract in the offseason to celebrate his 28th birthday. While they can still cut him before the 2021 opener at minimal cost, the move is a sign that the Yankees continue to have confidence in him. General manager Brian Cashman said he expects Sanchez to start most games in 2021, the New York Post reported.
Still, he's going to have to prove himself at the plate and behind it. On Jan. 2, Sanchez went online to say he's prepared to do that. He posted a picture of himself on Instagram in full catchers' gear with a simple caption:
"Happy New Year, everyone. Thank you to all that supported me. I will prove you right. #iamstillgary"
Like Sportscasting on Facebook. Follow us on Twitter @sportscasting19.