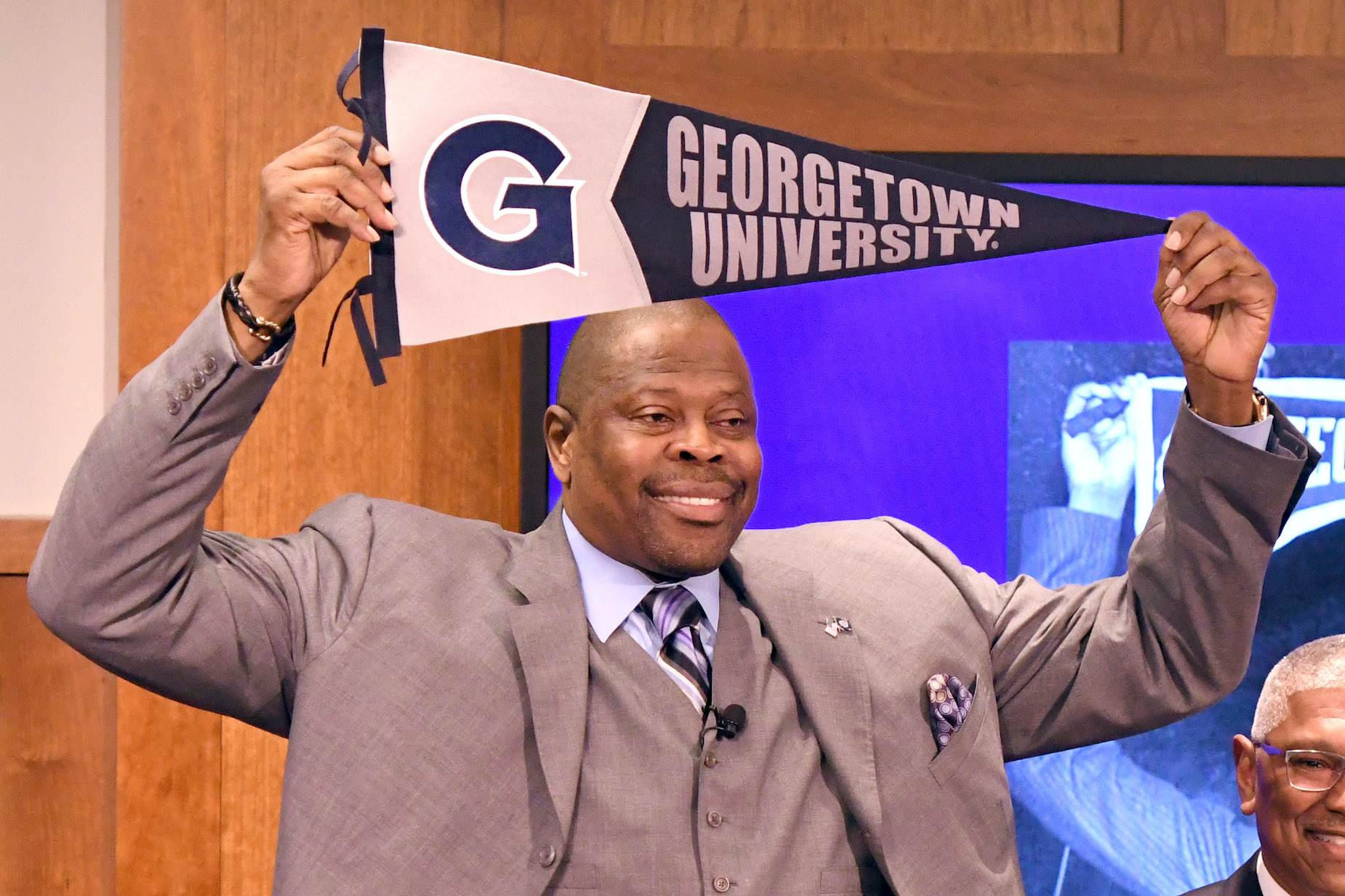 Georgetown Legend Patrick Ewing Lost Two Priceless Pieces of Gold When Burglars Robbed His House: 'Sometimes It Sucks to Be Well Known'
Fame and fortune isn't always all it's cracked up to be. Georgetown University head coach Patrick Ewing knows all about that.
Both in a literal and a figurative sense, Patrick Ewing is larger than life. During his time with the Georgetown Hoyas and the New York Knicks, the massive Jamaican proved to be quite the talent; in retirement, he's returned to his alma mater and taken over as the head coach. By and large, every basketball fan is familiar with his exploits.
While basketball success brought Patrick Ewing plenty of fame and fortune, there's also a downside to being a celebrity. The big man learned that the hard way, losing two priceless pieces of gold during a burglary.
Patrick Ewing made a name for himself at Georgetown
These days, traditional, back-to-the-basket big men have gone the way of the dinosaurs. That reality, however, shouldn't devalue everything that Patrick Ewing accomplished during his career.
After moving to the United States from his native Jamaica, Ewing picked up basketball without missing a beat. He seemed poised to commit his NCAA future to the University of North Carolina but encountered a KKK rally and some noisy crickets during a campus visit; instead of heading to Chapel Hill, he chose Georgetown.
With the Hoyas, Ewing proved to be a true talent. As a freshman, he helped the team reach the NCAA championship game, where they fell to Michael Jordan's UNC Tar Heels. Despite that early setback, the big man still went on to have quite the collegiate career.
By the time he left Georgetown, Patrick Ewing had appeared in three NCAA title games; he only won one of them, though, claiming the 1984 championship. He also dominated the Big East from an individual perspective, averaging 15.3 points, 9.2 rebounds, and 3.4 blocks per outing.
Becoming an NBA star before returning to Georgetown as head coach
Based on his time at Georgetown, Patrick Ewing seemed poised to become a dominant NBA big man. While he never managed to earn himself a championship ring, he more than covered himself in glory.
Whether you think there was a conspiracy afoot or not, Ewing joined the New York Knicks as the first-overall pick of the 1985 NBA draft. Unsurprisingly, he made an instant impact in the Big Apple, claiming 1986 Rookie of the Year Honors.
Ewing spent 15 seasons with the Knicks before seeing out his career with the Seattle SuperSonics and the Orlando Magic. Even if he never lifted the Larry O'Brien Trophy, he still proved to be one of the dominant forces of his day, averaging 21 points, 9.8 rebounds, and 2.4 blocks per game.
After his playing days came to an end, Ewing moved into coaching. He spent several seasons as an NBA head coach before returning to Georgetown to take charge of the basketball program. While the Hoyas have struggled, at least compared to the standards set under John Thompson, they did manage to qualify for the 2021 NCAA Tournament.
Patrick Ewing once had his Olympic gold medals and NCAA Championship ring stolen
Thanks to his NCAA and NBA success, Patrick Ewing has become quite the celebrity. Unfortunately for the big man, that star status made him the target of a burglary.
During a 2020 appearance on The Dan Patrick Show, Ewing admitted that both of his Olympic gold medals—one from 1984 and another from 1982—had been stolen; he also lost his Georgetown championship ring.
"I moved so many times, I couldn't find both of my gold medals," the big man explained. "I think my house got broken into in New York. At one point, I think they stole my medals. … They did take my championship ring [too], my college championship ring, but someone tried to sell it on eBay, and I was able to get that back."
While Patrick Ewing was able to get two replacement gold medals with an assist from Jerry Colangelo, it's needless to say that it wasn't a fun experience for the Georgetown head coach.
 "Sometimes it sucks to be well known," the big man added with a chuckle.
Stats courtesy of Sports-Reference and Basketball-Reference