Giannis Antetokounmpo Admitted He Was Tempted to Leave Milwaukee and Form Another Superteam Before He Re-Signed With the Bucks: 'Everybody Was Texting Me, Leave the Team'
Giannis Antetokounmpo is now an NBA champion. He led the Milwaukee Bucks to their first title in half a decade and did so in dominant fashion. He put up 50 points and added 14 rebounds and five blocks in the clinching Game 6 of the 2021 NBA Finals. He shook off his free-throw woes and went 17-of-19 from the line in that game.
Giannis was already a two-time MVP and Defensive Player of the Year. But before he added a Larry O'Brien Trophy to his resume, he was heading into the final season of a four-year, $100 million deal with Milwaukee. In the end, one of the most sought-after free agents in league history decided to re-up with the Bucks, and things worked out for all involved.
But heading into the 2020-21 season, rumblings and rumors were coming fast and furious in the NBA world. Would Giannis stay or go? As it turns out, there was a reality in which the Finals MVP left the Cream City for greener pastures and another superteam.
Giannis Antetokounpo had a freakishly huge decision to make before last season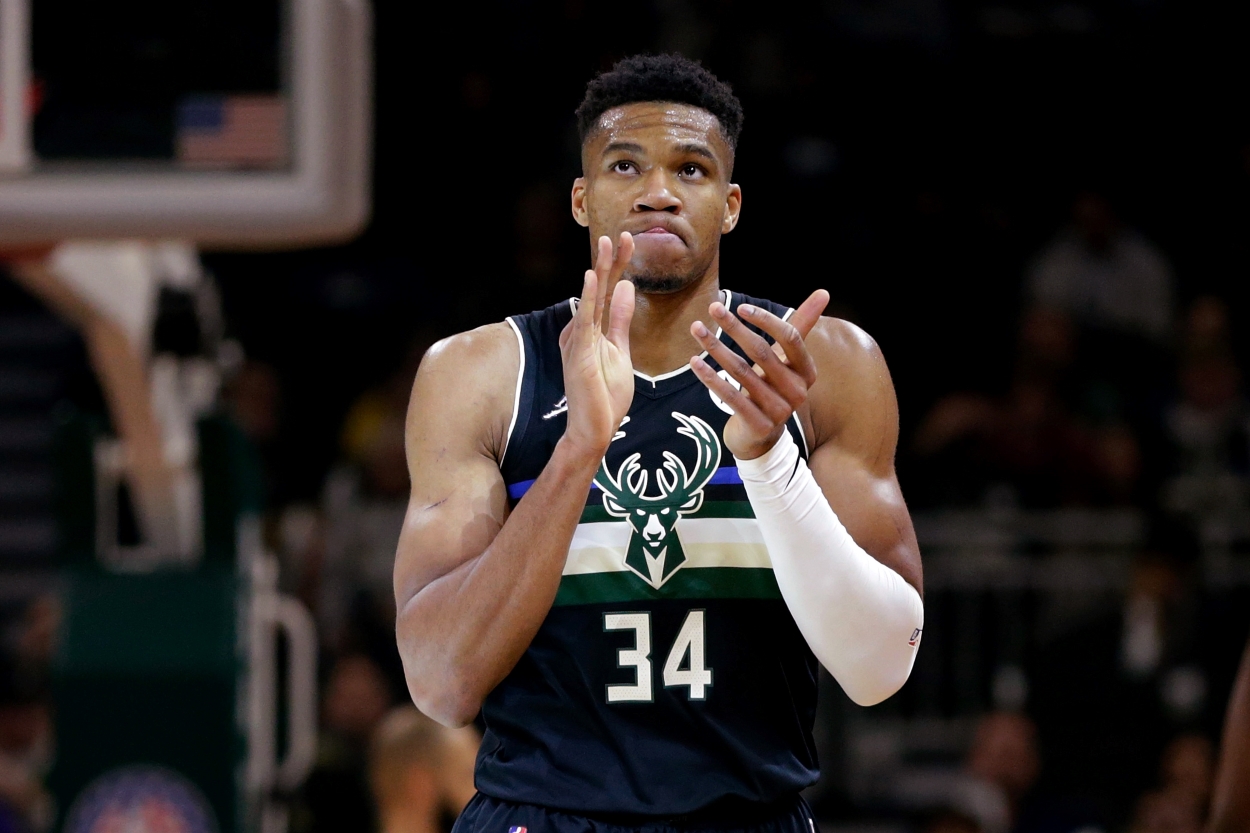 Understandably, teams were clearing cap space to make a run at a then-25-year-old coming off back-to-back MVPs. The usual suspects — the Los Angeles Lakers and New York Knicks — were lurking. The Toronto Raptors, Miami Heat, and Dallas Mavericks all had the ability to create enough room to sign Antetokounmpo.
The Bucks had to convince Giannis he could stay in Milwaukee and get what he desired most — a ring. General manager Jon Horst traded a bevy of picks to the New Orleans Pelicans for Jrue Holiday as a start.
The Bucks also acquired Bogdan Bogdanovic in a sign-and-trade deal. But then they didn't. The NBA stepped in and shut the move down because of tampering (which remains an issue around the league). That seemed a costly mistake at the time for the franchise.
In the end, though, the Greek Freak spurned the rest of the league and signed a supermax extension to stay in Milwaukee, and Giannis brought the franchise its first championship since Kareem Abdul-Jabbar was in Milwaukee (and was still Lew Alcindor).
But it wasn't always a done deal for Antetokounmpo.
Giannis admitted there was temptation to leave Milwaukee
At this point, NBA fans should be used to superstars talking to superstars with the hopes of teaming up somewhere to rule the league, win a championship, and create a dynasty.
LeBron James, Dwyane Wade, and Chris Bosh had The Heatles planned out for years. The BFFs would play together somewhere and win championships. And it worked.
Kevin Durant joined Stephen Curry and an already-loaded Golden State Warriors team. And that worked.
Naturally, then, those conversations occurred between other superstars and Giannis. It's not out of the realm of possibility some of the 26-year-old's family members were pushing for an exit out of a small-market team in brutally cold — "cold as s***," according to the man himself — winter weather.
Those messages were coming as Antetokounmpo told Zach Baron of GQ as the Greek Freak was interviewed after making the magazine's famed cover:
"Everybody was texting me: 'Leave the team. It's human. I will say I want to play with the best players; I wish KD was on my team, not against me. I wish LeBron was on my team, not against me. Steph, on my team."

Giannis Antetokounmpo on his 2021 free agency decision
In the end, though, the Alphabet decided to stay for one specific reason.
"I chose to stay here even with all the pressure because it's easier to leave. That's the easy thing to do. It's easy to leave."

Antetokounmpo on making the decision to stay in Milwaukee
So he stayed. He didn't take the easy way out. And he proved he was up to the challenge.
The next step is becoming a back-to-back champion
Giannis didn't make it to this point without overcoming a multitude of difficulties, both in life and in his basketball career. He explained later in the GQ feature that he feels the need to challenge himself. Those obstacles he had to overcome made him the successful person he is today, he said.
As a team, the Bucks have had their share of difficulties so far in 2021-22. Most of Milwaukee's starting lineup has missed more than a handful of games. Giannis's Robin, Khris Middleton, hasn't played recently after testing positive for the coronavirus (COVID-19). Brook Lopez and Jrue Holiday have missed significant time.
It's early, and there's plenty of time for Milwaukee to get healthy. And, of course, the Bucks' cornerstone has been a steadying presence. It's not time to punish the panic button quite yet.
But winning consecutive titles in the NBA is most certainly a struggle. If that's what Antetokounmpo wants, he's got it.
Like Sportscasting on Facebook. Follow us on Twitter @sportscasting19.