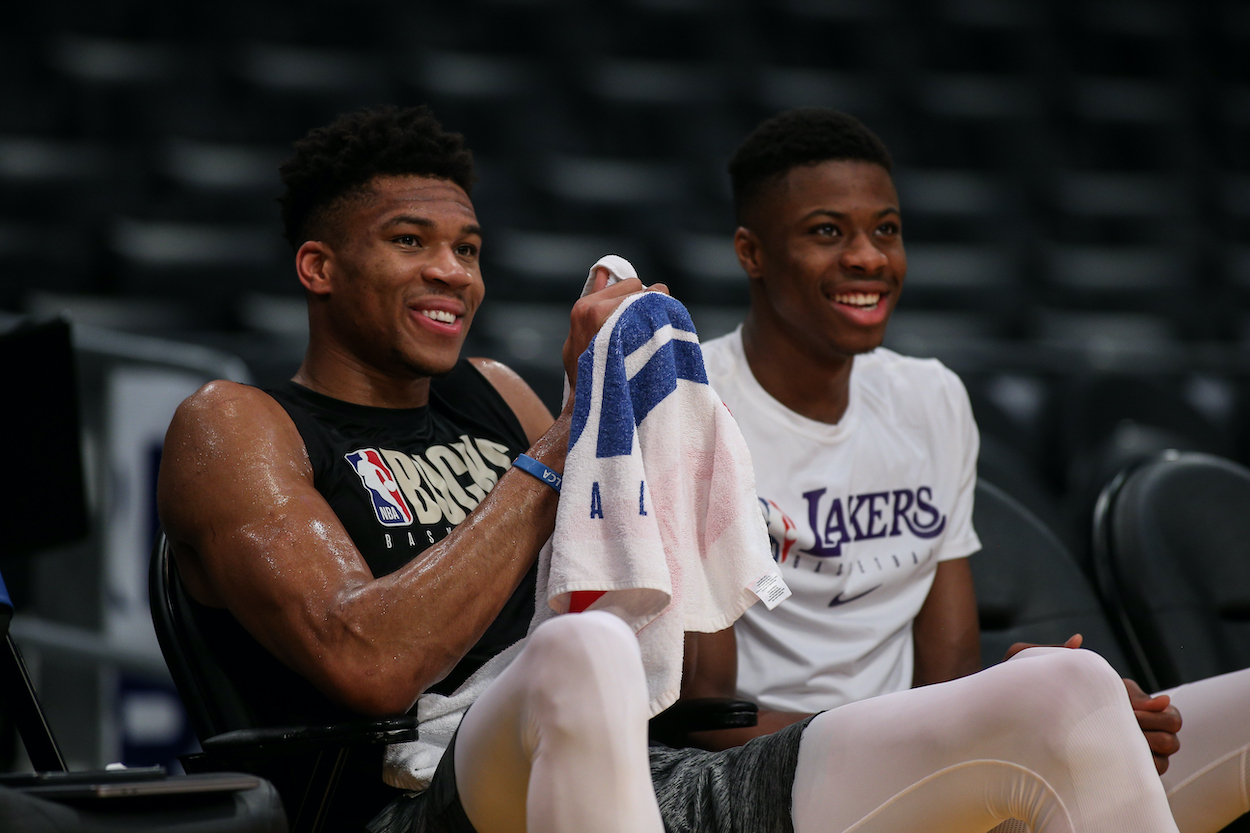 Giannis Antetokounmpo's Brother, Kostas, Receives a Second Chance in Basketball After Failed Stint With Lakers
Kostas Antetokounmpo signed with a French basketball team right before his brother won an NBA championship.
Giannis Antetokounmpo just made history by scoring 50 points in a clinching NBA Finals game to lead the Milwaukee Bucks to their first championship since 1971. But it's safe to say things aren't going as smoothly for his younger brother, Kostas, early on in his professional basketball career.
After playing the last two seasons with the Los Angeles Lakers on two-way deals, Kostas won't be returning to the team in 2021-22. However, the 23-year-old just received a second chance courtesy of French basketball club LDLC ASVEL Villeurbanne.
Giannis Antetokounmpo's brother, Kostas, hasn't panned out in the NBA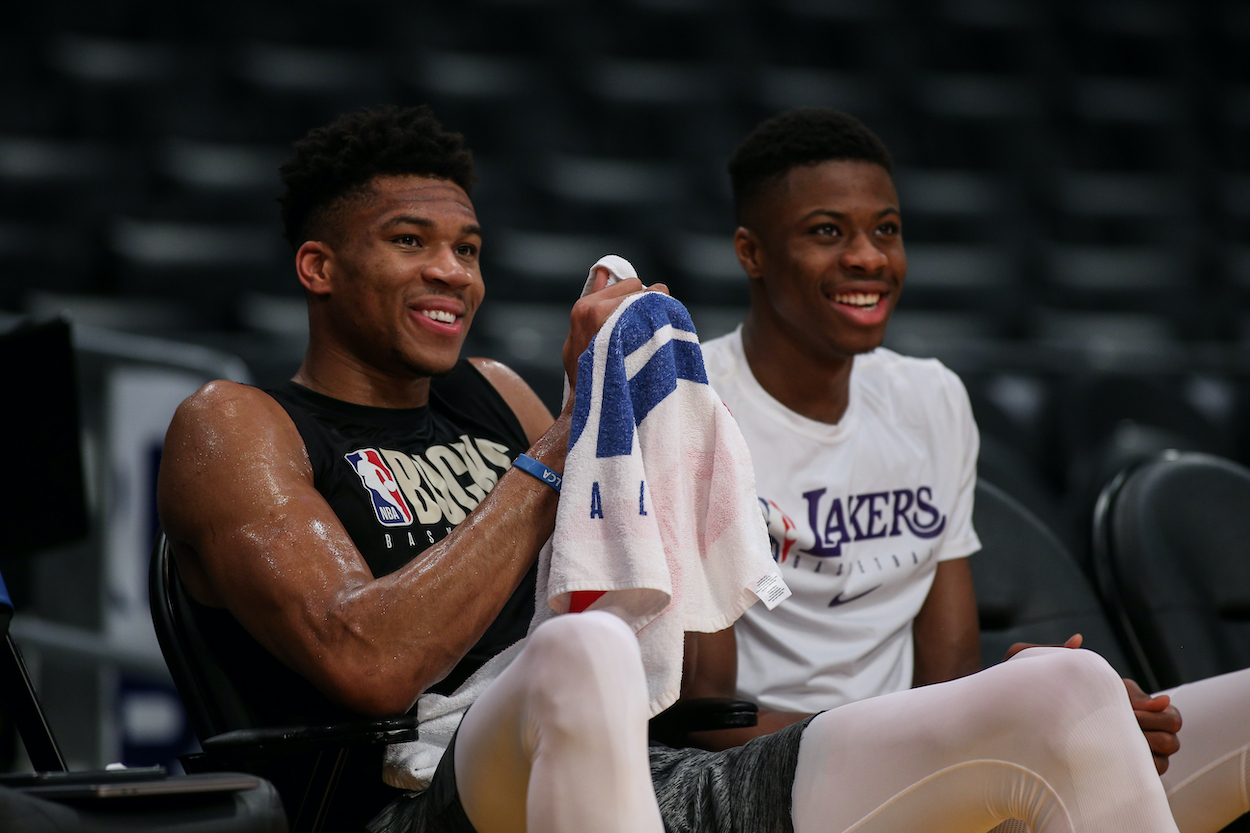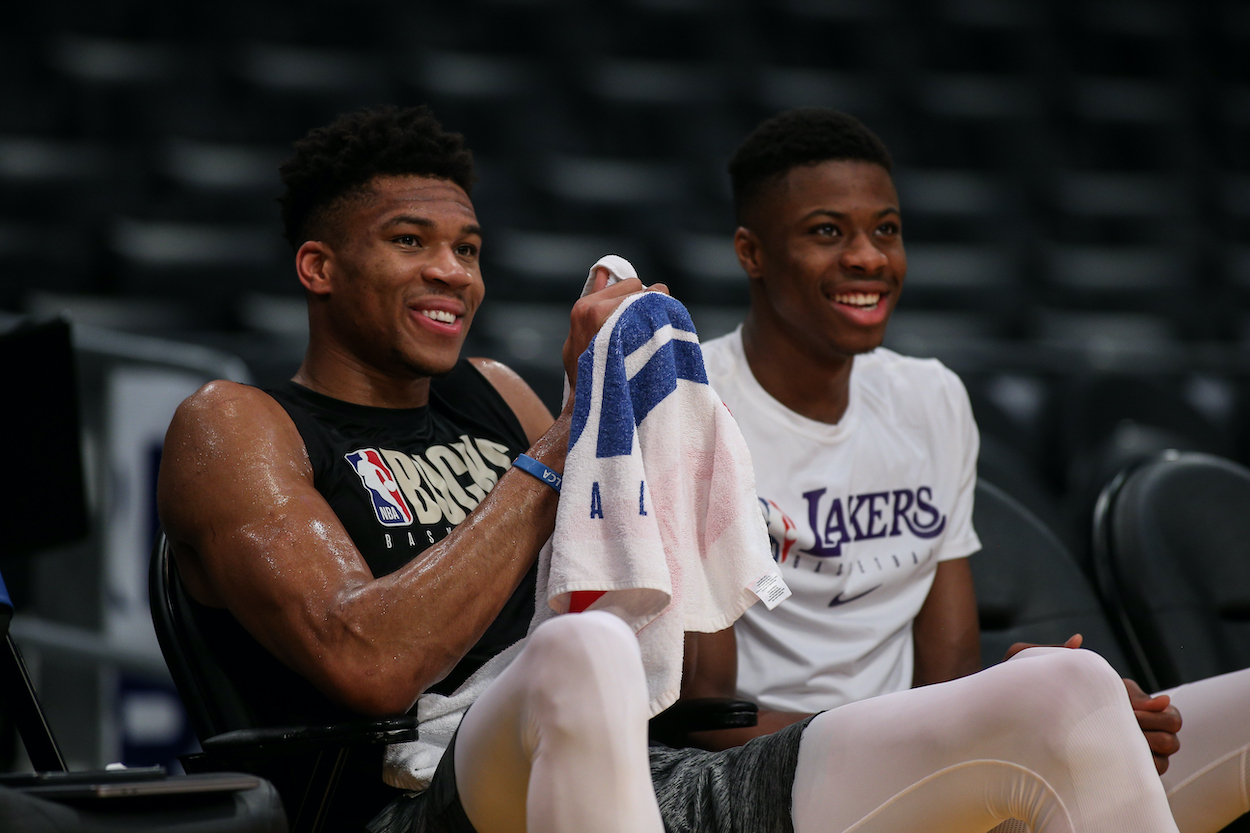 Giannis is on pace to become an NBA Hall of Famer and go down as one of the greatest players to ever live, but the game hasn't come as easy to his younger brother, Kostas, since he turned pro.
Kostas was drafted 60th overall by the Dallas Mavericks in the 2018 NBA draft. He's had a tough time staying at the NBA level, though, as he's spent most of the last three seasons playing in the G League. After one year in the Mavericks organization, Kostas spent the last two seasons on two-way deals with the Lakers. He's gone back and forth between the NBA team and their G League affiliate, the South Bay Lakers, over the last two years.
Antetokounmpo averaged 14.1 points, 7.8 rebounds, and 1.3 blocks per game for South Bay in 38 games throughout the 2019-20 season. He only appeared in five NBA games for the Lakers in the same year. Over his first three years in the NBA, Kostas has only played in 22 games and scored just 21 total points.
Kostas did win a championship ring with the Lakers last season, but he won't be returning to the team next year.
Kostas Antetokounmpo receives a second chance in France
After appearing in just 15 games for the Lakers this season, it was clear Antetokounmpo wasn't going to be given another contract for 2021-22. He didn't seem to be fielding interest from any other teams around the league, either, so his young NBA career might be over before it really even got started.
But a few days before his older brothers, Thanasis and Giannis, joined him as NBA champions, Kostas received a second chance overseas. The former Laker recently signed a two-year deal with French basketball club LDLC ASVEL Villeurbanne, the team announced last week.
Kostas will now see significant playing time over the next two seasons in France, which should help him improve his game and possibly give him a chance to return to the NBA in the near future.
Kostas will always be a part of NBA history
Whether or not Kostas is eventually given another chance to play alongside his brothers again, he will forever be a part of NBA history. When the Bucks closed out the Finals and Giannis and Thanasis became champions for the first time, the three Antetokounmpos became the first trio of brothers to win the NBA title.
And hey, maybe the three will reunite on the Bucks one day to all play on the same NBA team at the same time. What a story that would be.