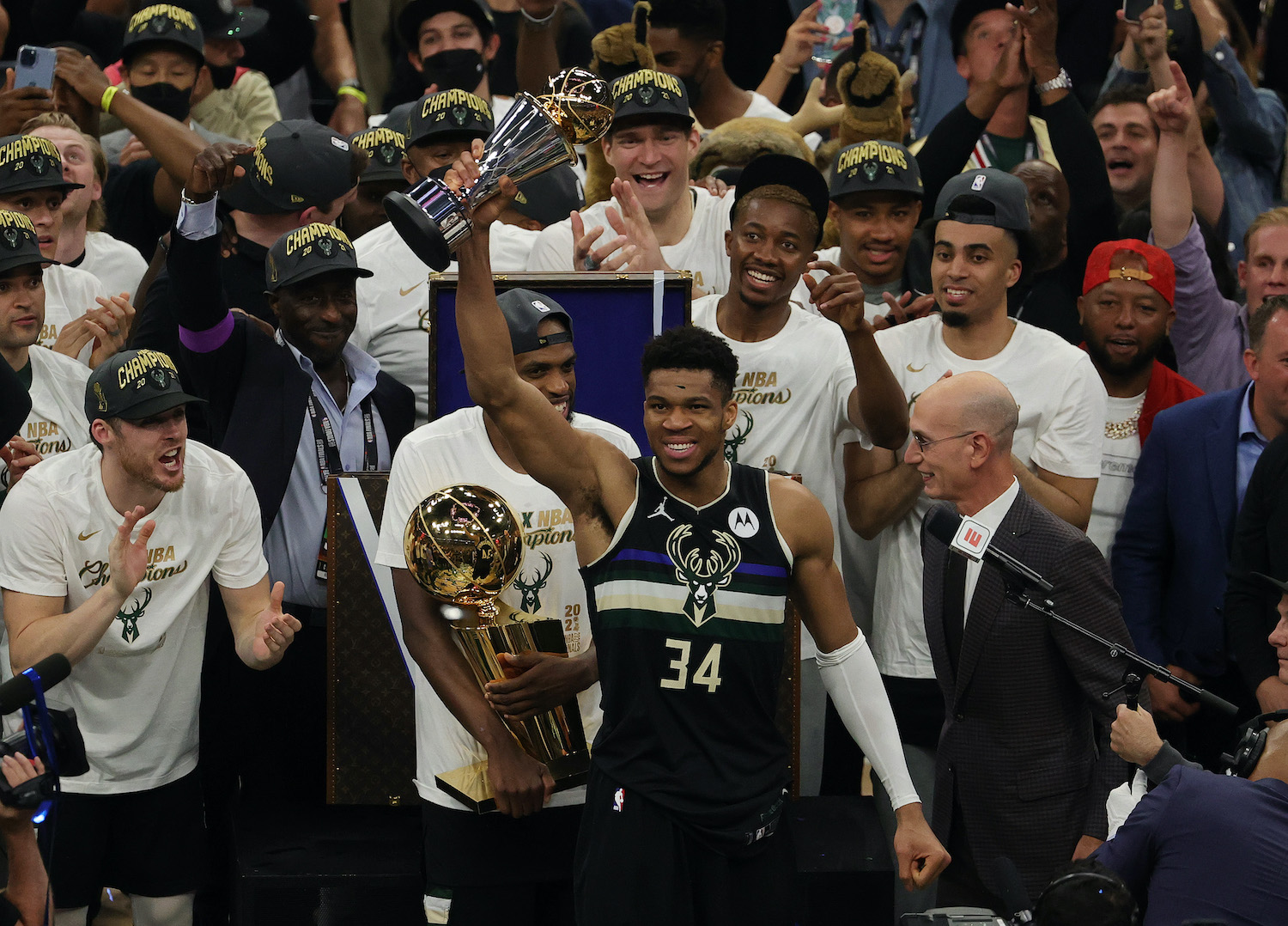 Giannis Antetokounmpo's Championship Performance Is Even More Meaningful in Light of a 2013 Conversation With His Parents
In 2013, Giannis Antetokounmpo spoke about earning a place in Milwaukee Bucks history. After leading the club to an NBA title, it's safe to say he's well on his way.
While he might not be ready to officially contend for the title of NBA GOAT, Giannis Antetokounmpo took a major leap forward on Tuesday night. The Milwaukee Bucks man had already established himself as one of basketball's elite talents. Now, the Greek Freak not only has a championship to his name but proved capable of elevating his game and carrying a franchise to the promised land. His career, quite literally, will never be the same.
Beyond the professional significance of winning an NBA title, the win had to mean a great deal to Giannis on a personal level in light of an old conversation. In 2013, a young Antetokounmpo told his parents that he hoped to one day see his jersey raised to the rafters as a Bucks legend. While that honor is still several years away, it's safe to say the forward has already assured his place in franchise history.
Giannis Antetokounmpo played masterful basketball en route to the 2021 NBA championship
While it's not exactly fair, professional athletes are usually judged on their ability to perform in the postseason and win championships. After Tuesday night's heroics, Giannis Antetokounmpo will never have to worry about that part of his legacy again.
To recap the overall narrative, the Greek Freak had proven to be an incredible talent, but he and his Bucks had struggled to make it over the hump in the postseason. With the end of their star's contract looming, Milwaukee began a full-court press, trying to build a contender in an attempt to show Anetokounmpo that they were serious about winning a championship. While there were some bumps along the way, the franchise did enough, and Giannis agreed to remain a Buck.
On the back of that commitment, Milwaukee put together a solid campaign and entered the postseason. Although one could cynically argue that the club had an assist from Lady Luck — the Brooklyn Nets were hamstrung by injuries, and the Phoenix Suns weren't anyone's preseason pick to emerge from the Western Conference — none of that matters anymore.
Antetokounmpo also did his fair share of the work, stepping up in the biggest series of his career. In addition to averaging 30.2 points and 12.8 rebounds per game for the entire postseason, he also shouldered the load during the NBA Finals. He posted 35.2 points, 13.2 rebounds, 5.0 assists, 1.2 steals, and 1.8 blocks per game during the deciding series, rightfully earning NBA Finals MVP honors.
That win follows through on a hopeful conversation from 2013
At this point, the Antetokounmpo brothers' story is fairly well known. As the sons of Nigerian immigrants to Greece, the boys didn't exactly grow up in the lap of luxury. They sold goods on the streets to help make ends meet, faced racism, and even had to share their basketball shoes.
While Giannis' NBA championship represents the culmination of that fairy tale rise to stardom, Tuesday night's victory is also significant in light of another family memory.
Ahead of Game 6, the NBA's official Twitter account shared a clip of Antetokounmpo and his parents from 2013, which was the year he made the move to North America. The family is standing on the Bucks' home court, and Giannis is showing off the franchises' retired number banners.
"All these guys that are legends because their number retired like the team in Greece. You know, how my number retired," the young Greek Freak explained. "Maybe in 15 years, 20 years, maybe my number is up there next to Kareem [Abdul-Jabbar], Oscar Robertson. I hope I'm there."
While jersey retirement will take some time, Giannis Antetokounmpo has already established himself as a Milwaukee Bucks legend
Even if he hadn't won the championship on Tuesday night, it's safe to assume that Antetokounmpo would have eventually joined Abdul-Jabbar and Robertson in the rafters. The Greek Freak, after all, was the ultimate draft pick-made-good who helped put a mediocre, Middle-America franchise back on the map. Even if that ceremony is still a few years away, though, the Greek Freak has already carved out a place for himself in Wisconsin lore.
At the risk of painting with a broad brush, most sports fans value both talent and humanity. While plenty of athletes possess the former, Giannis has the latter in spades. He pledged his future to the Bucks when he had the chance to join a super team; he enjoys smoothies, used to wire part of his paycheck back to Greece, and had to "tinkle" during an NBA Finals game. Without infantilizing or exoticizing the Greek Freak, he really does seem like a regular guy who happens to be a generational talent.
If you combine that unique personality with his on-court abilities — there's no need to recap that here, but you don't win virtually every NBA honor imaginable before turning 27 without some skills — you have the recipe for someone who's more than player. That's how stars transcend the boundaries of their own franchise and become something more, be it a fan favorite, a living legend, or the face of a league.
For immigrants, names can be a touchy subject. Coach K, for example, once spoke with Dan Patrick about how his father chose to go by Kross rather than Krzyzewski. In that context, there's something especially significant about imaging a banner hanging in Milwaukee, Wisconsin, that reads "Antetokounmpo."
On the day when that finally happens — and after Tuesday night, it almost assuredly will happen — it will be a special moment. Giannis arrived in America hoping to make a name for himself, and he's done exactly that.
Stats courtesy of Basketball-Reference