Giannis Antetokounmpo Creates Recipe From Former NBA Players That Compares to the Greek Freak
Giannis Antetokounmpo can't find the right player to compare himself to. There aren't a whole lot of NBA stars, past or present, who possess the skills of the Milwaukee Bucks star. Antetokounmpo was recently asked what player from the past would be the best comparison to himself.
The Greek Freak offered a flat-out "I don't know," but he did put together a recipe of stars that might make up the perfect comparison.
Giannis Antetokounmpo has unmatched skills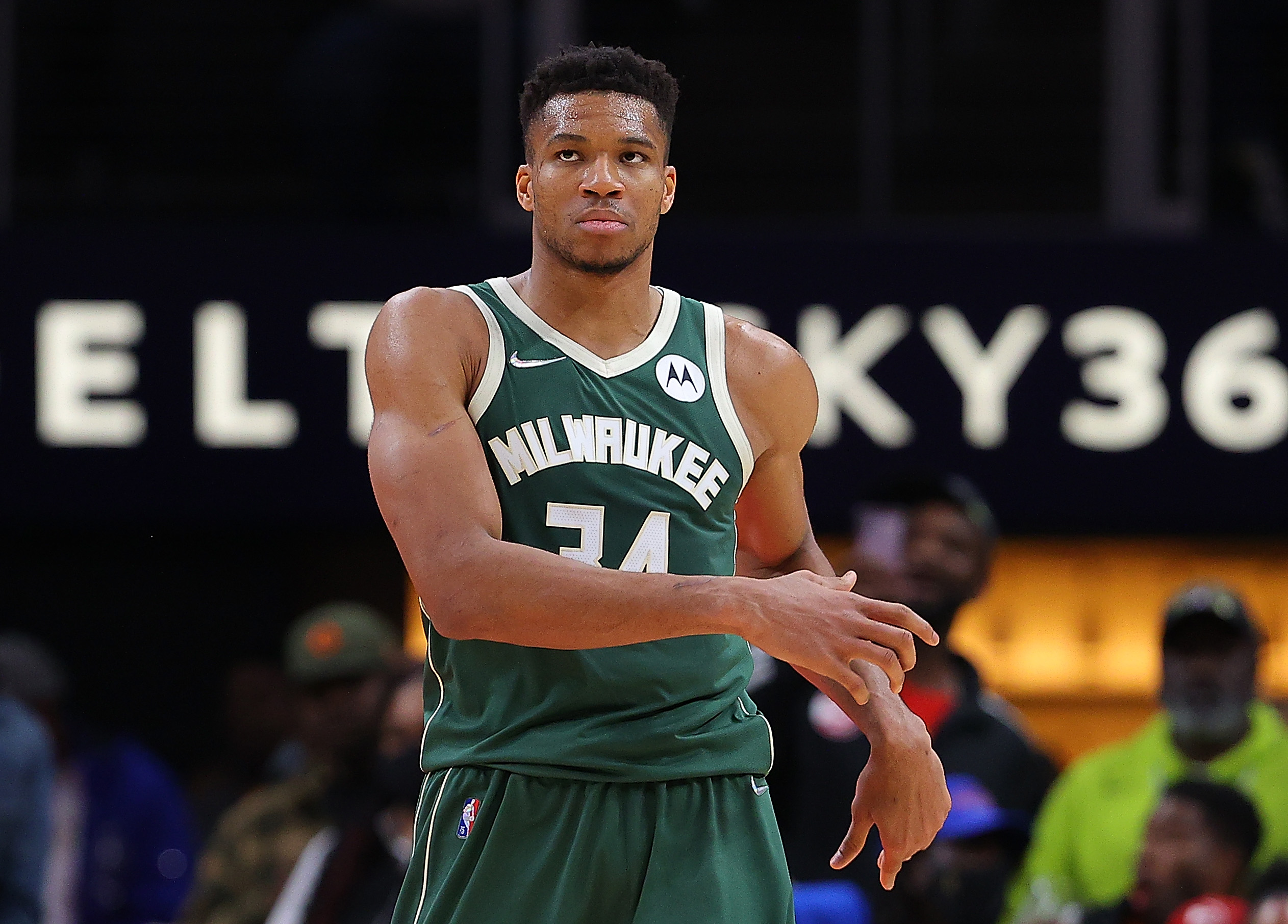 It's not often you'll see a 6-foot-11 star bringing the ball up the court as a point guard, but Antetokounmpo has done that. He's a solid 240-plus pounds of agility that makes him a difficult matchup with any opponent.
Chosen with the 15th overall pick in the 2013 NBA Draft, Antetokounmpo was a skinny kid from Greece who worked hard and eventually grew into his current 6-foot-11 frame.
"When we first drafted Giannis, we measured him at 6-foot-8½," former Bucks GM John Hammond said, per ESPN in 2016.
Then the team trainer delivered some news to Hammond during midseason of Antetokounmpo's rookie year.
"He told me, 'The kid is still growing, and I don't think he's done,'" Hammond said.
By the end of the year, the Greek Freak was 6-foot-11. His wingspan is 7-foot-3. He's combined his size and athletic ability to put together consecutive MVP seasons and helped guide the Bucks to their first NBA title since 1971 when they defeated the Phoenix Suns in six games last season.
Giannis Antetokounmpo cites the perfect mix of players who would make up the Greek Freak
In an episode of Actually Me, put out by GQ, Antetokounmpo went undercover and answered multiple questions from fans on various platforms. One fan asked him what past NBA player would be the best comparison to himself. Antetokounmpo struggled with his answer.
"I don't know," he said before putting the right mix of players together to create a comparable player.
"I'd say a little bit of Shaq," he continued. "The dominance, the getting in the paint. A little bit of Magic (Johnson), being able to come down the court, go coast to coast and find teammates and put teammates in the right spot.
"A little bit of KG (Kevin Garnett), having that edge, that toughness, that mental toughness where nothing can break you. You do whatever it takes. A little bit of Kobe, work ethic. I try to take a little bit of every player.
"To compare myself to one player, I don't really know. It's a great question. If there's a player out there that you guys think I should compare myself with, you guys let me know."
Antetokounmpo and the Bucks hanging tough despite slew of injuries
Record-wise, the Bucks are off to a disappointing start to the 2021-22 season. Through 14 games, they are 6-8 and sit outside the playoff picture in the Eastern Conference. The Bucks have been without starter Khris Middleton (COVID-19) and Brook Lopez (back). Middleton has played six games, while Lopez has appeared in one.
Jrue Holiday has also missed time, while Donte DiVincenzo hasn't suited up this year as he recovers from ankle surgery. Through it all, Antetokounmpo continues to put up big numbers.
In the 13 games he's played, he's putting up 26.5 points and 11.3 rebounds. He's also averaging a career-high 6.0 assists.
In the Actually Me video, Antetokounmpo said there is only one way to guard him.
"You build a wall," he said. "That's the only way. It's a compliment. One person or two people cannot guard me. You gotta build a wall, and the whole team has to be committed in stopping me and stopping my teammates.
"That's the greatest compliment you can ever get."