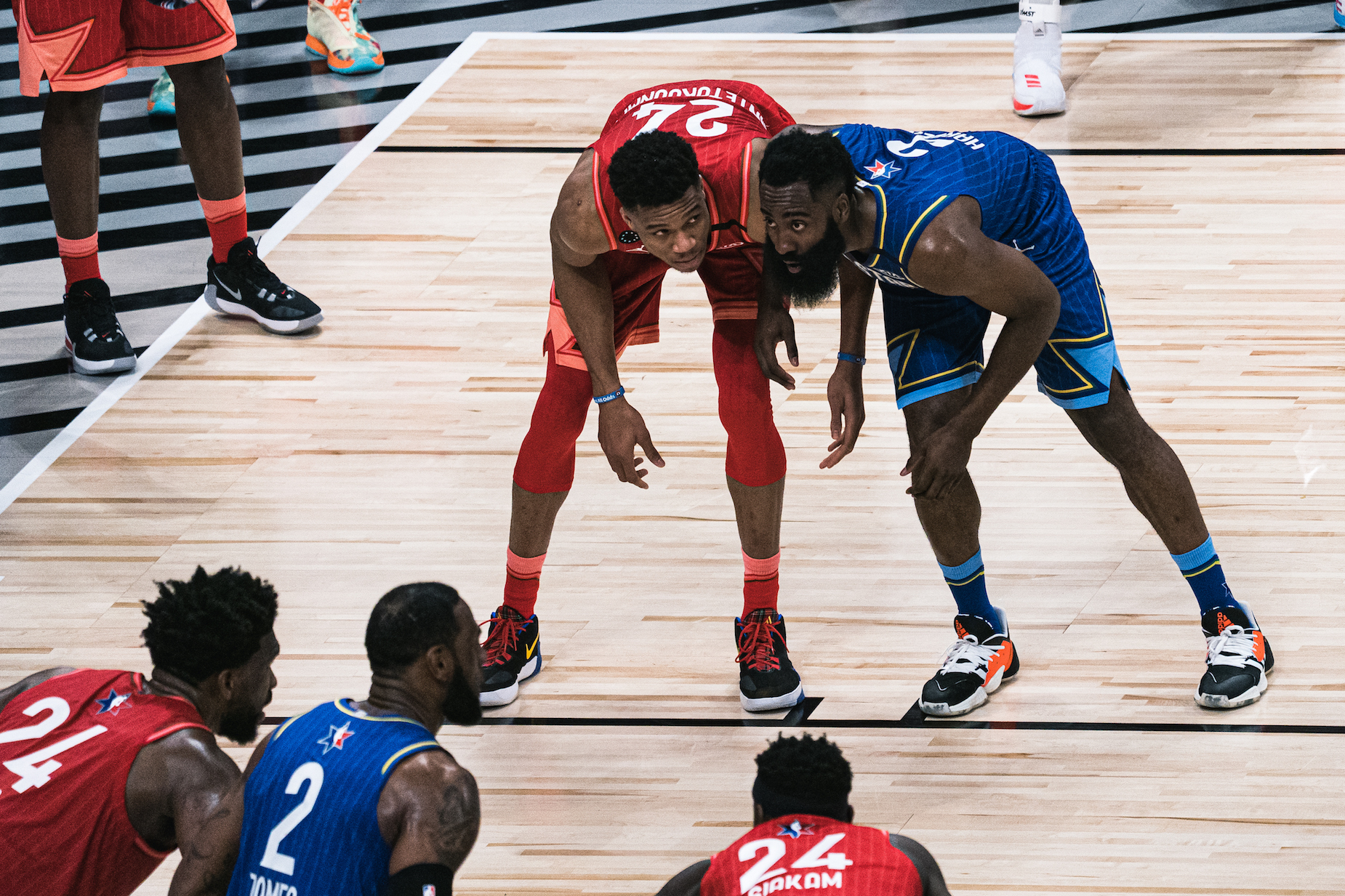 Giannis Antetokounmpo May Have Just Given James Harden Exactly What He Needed to Get Out of Houston
While Giannis Antetokounmpo's contract extension may be bad news for most of the NBA, it may have given James Harden exactly what he needed.
After a seeming eternity of speculation, Giannis Antetokounmpo announced that he's signing a new contract to remain with the Milwaukee Bucks. While that news sent reverberations around the NBA, it may have given one specific player a lifeline. That man is none other than James Harden.
At first glance, the two men may seem to be at opposite ends of the spectrum; Giannis Antetokounmpo is ready to sign a new deal, while James Harden desperately wants out of Houston. The former star's contract, however, could have changed everything for the latter.
Giannis Antetokounmpo has signed a contract extension with the Milwaukee Bucks
The NBA, more so than other professional sports, is driven by a handful of truly elite stars. In Giannis Antetokounmpo, the Milwaukee Bucks have one of the best.
The Greek Freak, of course, joined the Bucks organization as the 15th-overall pick of the 2013 NBA draft. Although the forward arrived in North America as a lanky teenager, he's developed into a legitimate talent; while he might not be the most skilled player or deadliest shooter, his blend of size and athleticism make him a force to be reckoned with in the modern, positionless NBA.
While Antetokounmpo developed into a star with the Bucks, he's yet to play in, let alone win, the NBA Finals. That led to some serious speculation that he'd leave Milwaukee to join a championship contender. Those fears, however, didn't come to pass as Giannis decided to sign a record-setting contract extension to stay in Wisconsin.
James Harden seems desperate to get out of Houston
While Giannis Antetokounmpo was happy to pledge his future to the Milwaukee Bucks, James Harden is having a much different offseason. While the guard is under contract with the Houston Rockets, he doesn't seem too keen on staying in Texas for any longer than he has to.
After the 2020 campaign ended, the Rockets parted ways with Mike D'Antonio and tapped Stephen Silas as their next head coach; Harden reportedly wanted Tyronn Lue to take charge of the team. Houston then traded away Russell Westbrook, who is Harden's friend and the team's second-biggest star.
Since then, it's become common knowledge that Harden wants to leave the Rockets; while his reported list of preferred destinations keeps growing, the underlying message is clear: Houston, we have a problem.
Giannis Antetokounmpo's contract extension just made James Harden more desirable
On paper, Giannis Antetokounmpo's contract extension probably seems like bad news for anyone outside of Milwaukee. If you're in the Eastern Conference, you'll have to deal with the Greek Freak for the foreseeable future; if you're a team like the Golden State Warriors, that's the end of your dream of landing the forward in free agency. One person who the extension does benefit, however, is James Harden.
As spelled out by Zach Kram of The Ringer, the 2021 free agency class now looks pretty bad; assuming Kawhi Leonard doesn't opt-out of his contract with the Clippers, the biggest names available will be Rudy Gobert, Kyle Lowry, and Danny Green. None of those names are franchise-altering stars like Giannis would have been.
That leaves Harden as the biggest game-changer out there. Antetokounmpo's extension could move the needle and inspire some general manager to pull the trigger on a trade; it's either that or stand pact and hope for the best.
"Harden is one of just two franchise-altering stars available in the next year," Kram explained. "As that group grows more scarce around him, Harden looks ever more appealing, and the odds tilt ever more to a blockbuster trade. And if a Harden trade is more likely today than yesterday, several front offices need to accelerate their evaluative processes on the young players who would go to Houston in such a deal. How do the Heat feel now about losing Tyler Herro for Harden? Does Daryl Morey feel more inclined to give up Ben Simmons if he thinks Miami's now a greater threat to swoop in first?"
During the 2019-20 season, Giannis Antetokounmpo and James Harden had a bit of a feud going. During the offseason, though, the former star may have given the latter exactly the boost he needs to get out of Houston.