Glen 'Big Baby' Davis Helped Launch His $33 Million Basketball Career by Body-Slamming Shaquille O'Neal as a Teenager
Over the years, the Boston Celtics have had plenty of legendary players don their iconic kelly green and white jerseys. While Glen Davis didn't quite rise to the level of an all-time great, Big Baby he did reap some rewards during his time on the professional hardwood. He spent eight seasons in the Association, lifting the Larry O'Brien Trophy and taking home a bit over $33 million in raw salary.
Before he ever reached the pros, though, the forward made an impact in a much different way. On one occasion, a teenage Big Baby found himself wrestling against Shaquille O'Neal and, believe it or not, body-slammed the NBA legend. If not for that feat of strength, Davis' basketball career could have turned out much differently.
Glen Davis wasn't an NBA star, but he still made more than $33 million playing professional basketball
As the cliche says, a rising tide lifts all boats. From a salary perspective, Glen Davis reaped the rewards of that financial reality.
As a Louisiana native, Big Baby took his talents to LSU and, during his three campaigns with the Tigers, made quite the impact. The forward averaged 16.7 points and 9.6 rebounds per outing for his collegiate career, earned 2005-06 SEC Player of the Year honors, and, in 2006, helped LSU made a run to the Final Four.
On the back of that success, Davis entered into the 2007 NBA draft and joined the Seattle SuperSonics as a second-round pick. The big man was promptly traded to Boston, though, and began his professional career with the Celtics.
Although that move meant Big Baby won a championship during his first NBA campaign, Davis never truly hit his professional stride. Over the course of eight seasons in the Association, he only averaged 8.0 points and 4.4 rebounds per contest; in total, the forward only started 121 games and averaged a shade over 21 minutes per night.
That limited role didn't hurt Davis' bottom line, though. Big Baby earned just over $33 million during his NBA career.
A teenage Big Baby once body-slammed Shaquille O'Neal
While Davis never quite turned into a dominant NBA big man, he still managed to carve out a nice living on the basketball court. If not for an impressive teenage wrestling match, though, things could have turned out quite a bit differently.
In a 2008 ESPN "Daily Dime" column, various writers penned 10 blurbs about what was happening around the NBA. One of them, however, took readers back in time for a battle of the titans.
"Ever hear about the 15-year-old who body-slammed Shaquille O'Neal?" Patrick Parker began. "In the summer of 2001, in a backyard of an academic elder's house on the campus of LSU, Davis found himself staring at the player he idolized. On a mutual whim, the two began wrestling. And the winner was clear when Davis, completely unintimidated, shocked the Diesel by lifting and slamming the 7-foot-1, 350-pounder to the ground."
For his part, Big Baby confirmed the story on the Basketball Time Machine. "When I was younger, Shaq and I were really close," Davis said. "We're eating spaghetti in our mentor's house, and [O'Neal is] like 'Let's go out and wrestle.' … So I'm trying to keep him down, next thing you know, boom, slam him. He's on the ground, I'm on top of him."
While that's quite the story, you might be wondering how it set the stage for Big Baby's basketball career. According to Parker's account, that feat of strength "helped Davis get introduced to Dale Brown, then LSU's coach." While it's impossible to know what would have happened otherwise, it's one could envision a scenario where the young forward took his talents to another program, failed to find the same NCAA success, and failed to even land an NBA job.
That wasn't the only time when Glen Davis and Shaquille O'Neal went at it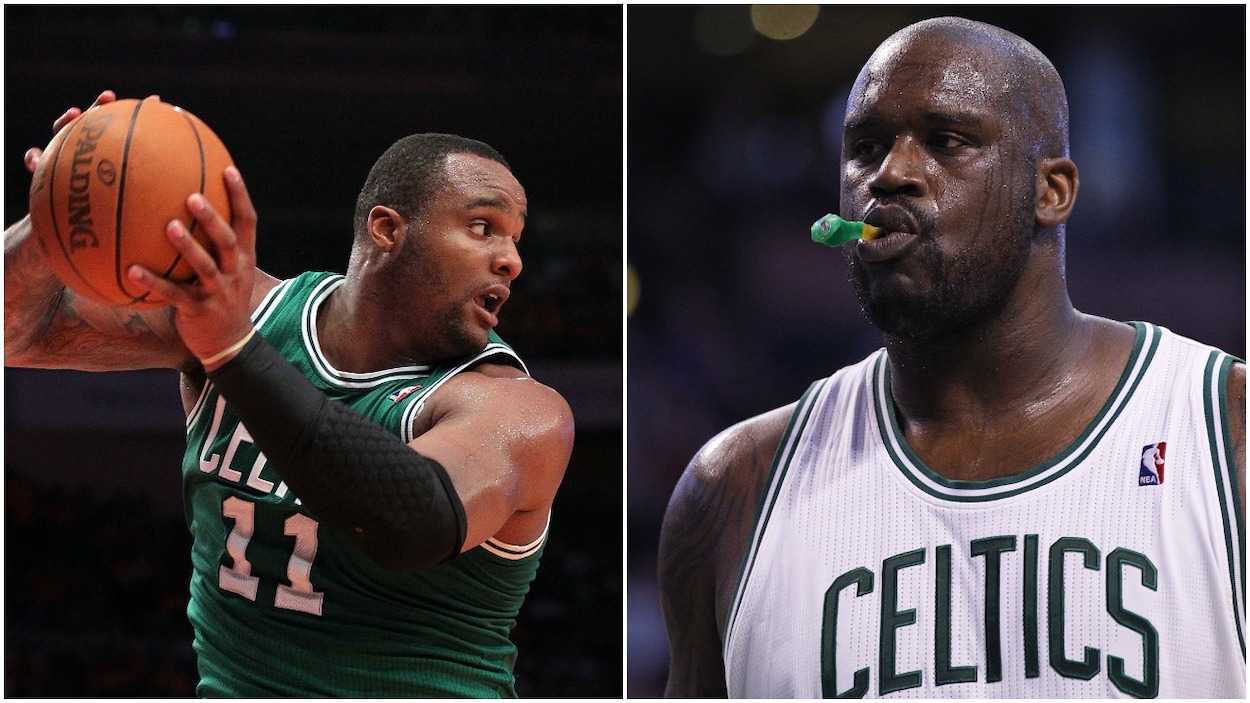 While being body-slammed by a teenager might have bruised Shaq's ego, that encounter seems to have been fairly friendly. He and Davis, however, would eventually become teammates with the Boston Celtics. There, O'Neal was prepared to throw his weight and veteran status around.
In his book, Shaq Uncut, O'Neal recounted getting frustrated with Big Baby when he failed to pass the ball into the post. "So I go up to him and say, 'If you ever miss me again I'm going to punch you in the face.' I was hot," the Big Aristotle said, according to NESN.
That threat didn't work, though. Two nights later, Davis took a similar jumper, which led to quite the tongue-lashing.
"I tell him, 'Pass the [expletive] ball inside.' He comes back at me a little bit and now I'm really heated. All hell is breaking loose," O'Neal wrote of the second encounter. "We're going back and forth. Doc [Rivers] is standing there and he's not saying a word. The message is pretty clear: Work this out yourselves. I tell Baby, 'You're a selfish player. Everyone on this team knows it.' Hey, all the fans knew it. He takes shots when he shouldn't."
On the basketball court, Shaquille O'Neal was usually the top dog. Glen Davis, however, proved to be a worthy opponent, at least when it came to wrestling.
Stats Courtesy of Sport-Reference. Financial data courtesy of Spotrac.