Gonzaga Legend Adam Morrison Received the Most Heartwarming Gift From Kobe Bryant During the Lowest Point of His Life
When fans think of Gonzaga basketball, the first name (and first hairdo) that comes to mind is Adam Morrison's. Morrison played for Gonzaga from 2003-06, and he led the Bulldogs to three straight West Coast Conference championships and four NCAA Tournament wins during his collegiate career.
Morrison was the third overall pick in the 2006 NBA draft, but he failed to live up to the hype as a pro partly due to a major knee injury. By 2010, Morrison was already out of the league.
During the college star's lowest point of his life, NBA legend and Morrison's former teammate, Kobe Bryant, sent him a heartwarming gift to cheer him up. This is just one of the many stories that show who Bryant really was off the court.
Adam Morrison played with Kobe Bryant for two seasons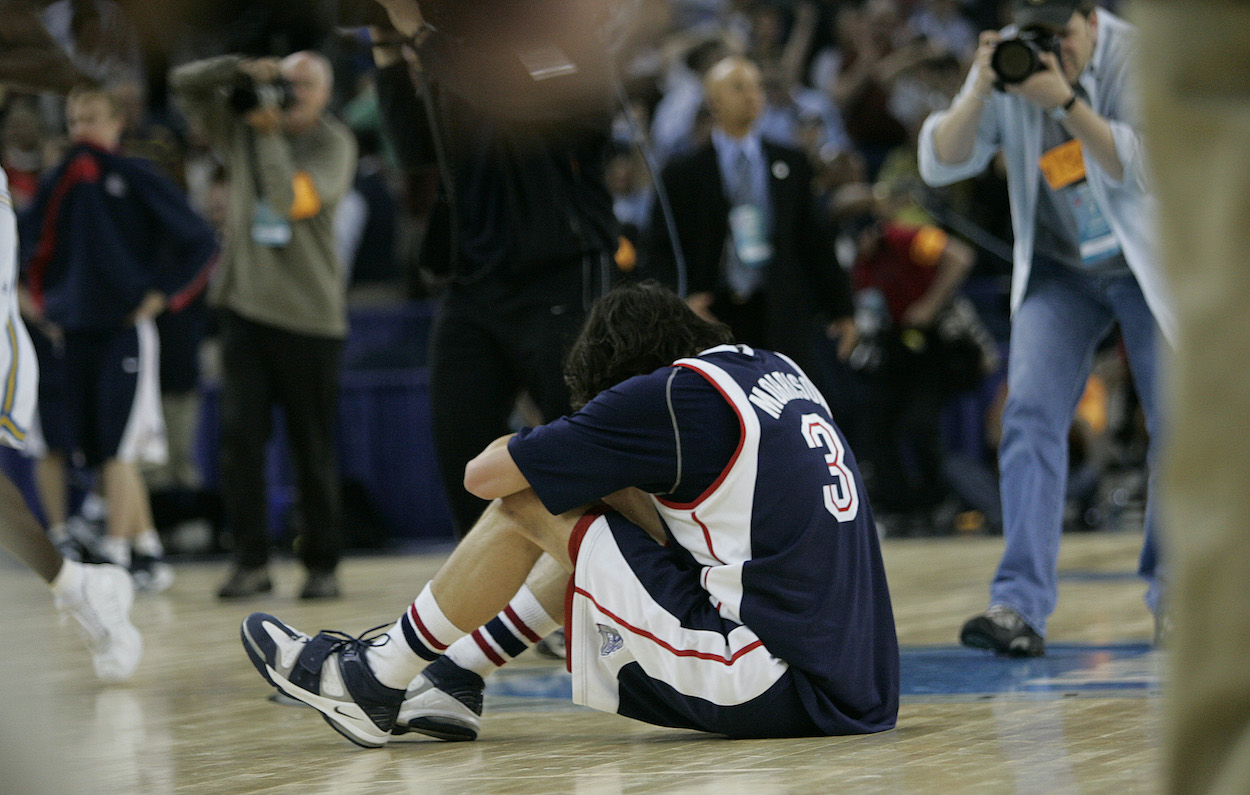 Adam Morrison was drafted No. 3 overall in 2006 with high hopes of becoming an NBA superstar in short order. He averaged 28.1 points per game as a junior at Gonzaga and was even being compared to Larry Bird by some draft experts.
Morrison had a decent rookie year with the Charlotte Hornets in which he averaged 11.8 points per game on 37.6% shooting, but a devastating knee injury in 2007 completely derailed his promising career. He returned in 2008 and averaged just 4.0 points per game for the Hornets before he was traded to the LA Lakers in the middle of the season.
Morrison played the rest of the season with the Lakers and remained with the team for one more year. He was Kobe Bryant's teammate for just a short period of time, but The Mamba's impact still affects Morrison to this day.
Morrison received a heartwarming gift from Kobe Bryant after his failed NBA career
After the 2009-10 NBA season, Morrison couldn't find another home in the league. It was clear his NBA career was most likely over, which sent the former college star into a dark period.
Even though Bryant was teammates with Morrison for only a season and a half, he went out of his way to cheer his friend up during his darkest days. Morrison appeared on the ClutchPoints Battle for LA Podcast last year and told the touching story.
"He publicly defended me numerous times. When I was out of the league, I told you I was a Chelsea fan… he knew I really liked Didier Drogba. He's one of my favorite players of all time, and so, the year after I'm not with the Lakers, Robert Lara, the security for the Lakers, texted me and said, 'What's your address?' I gave him my address. I didn't think anything of it, and I get a package in the mail, and it's an autographed game-worn Didier Drogba jersey, and on it, it says, 'Best wishes, to Adam,' and it's signed.
"I always thought Kobe made a phone call. Still cool. Still f*cking awesome! Well, that night [when Kobe passed], I'm scrolling through everything. I'm emotional reading stuff, and on Chelsea's Instagram page, it says, 'When Kobe visits Stamford Bridge,' and the first picture is him holding the f*cking jersey with Didier Drogba and if you zoom in, it says, 'To Adam.'
"So he went up to him and got it signed. I still have it. He got it signed for me. I never asked him for this, and he knew I was in a low point in my life. I was out of the league. So he sent that to me just as kind of a 'I'm thinking of you.' It's what he did for a lot of people. He understood what his aura was and so he would throw nuggets to people to pick them up."
Morrison was crushed by Bryant's death in 2020
Morrison was incredibly touched by Bryant's heartwarming gift during one of the lowest points of his life, so when he heard of Bryant's death last January, it shook him to his core.
"That day was tough because like I said he publicly defended me and he did that for me personally," Morrison said. "He didn't have to do that, and it was a very emotional day. I'm just glad that I got to be around him, to be honest."
"It was a day of reflection," he continued. "It was emotional. It was awful, obviously. I'm glad I got to know him. It's not every day you get to meet geniuses and get to be around savants and be around people that squeeze every ounce of what they have into their craft. That wasn't just basketball for him. He was a deep thinker. He wasn't into bullshit. He wasn't into stupid stuff. He was into what can I do to make myself better. What can I do to push myself? What can I do to push other people? You don't get to be around a lot of people like that in your life."