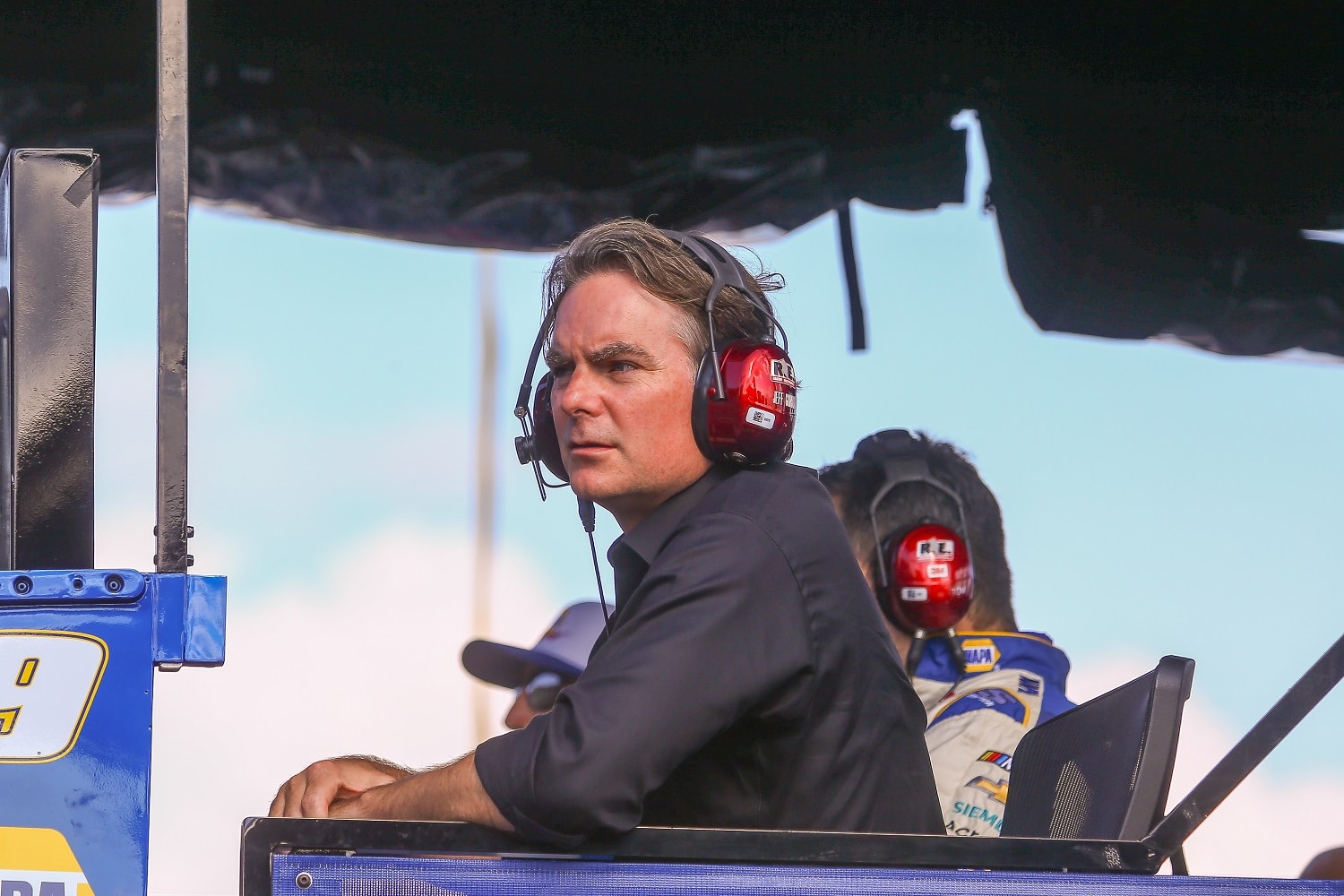 That Good Samaritan After Phoenix Raceway Closed Down Was Jeff Gordon
Jeff Gordon was on his way out of Phoenix Raceway when a female worked flagged him down. That was the start of an adventure.
Jeff Gordon was wrapping up a bad day at Phoenix Raceway on Sunday when he ran into someone who was having a worse time as the NASCAR Cup Series season concluded. Naturally, he did the most Jeff Gordon-ish thing.
Sunday wasn't Jeff Gordon's day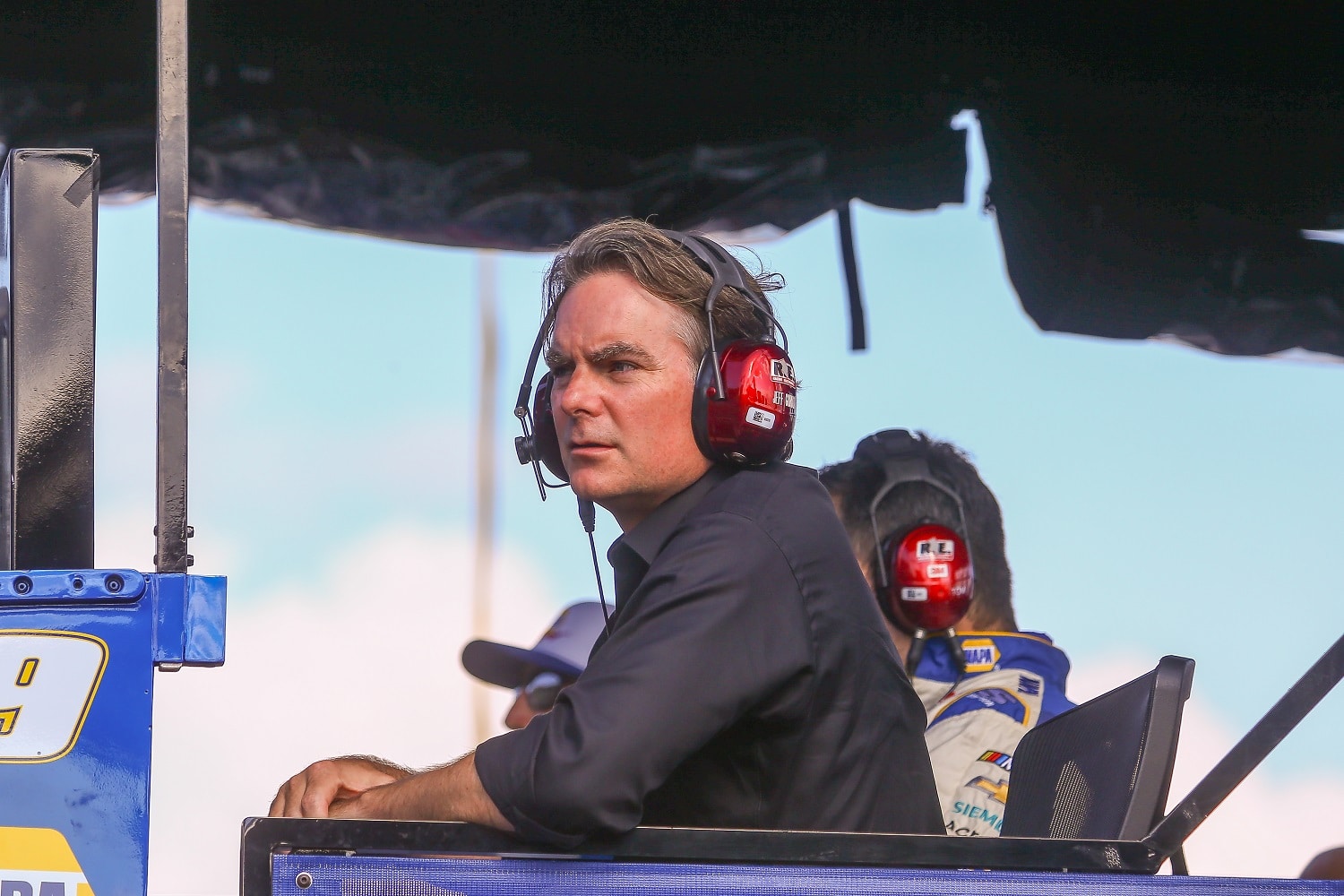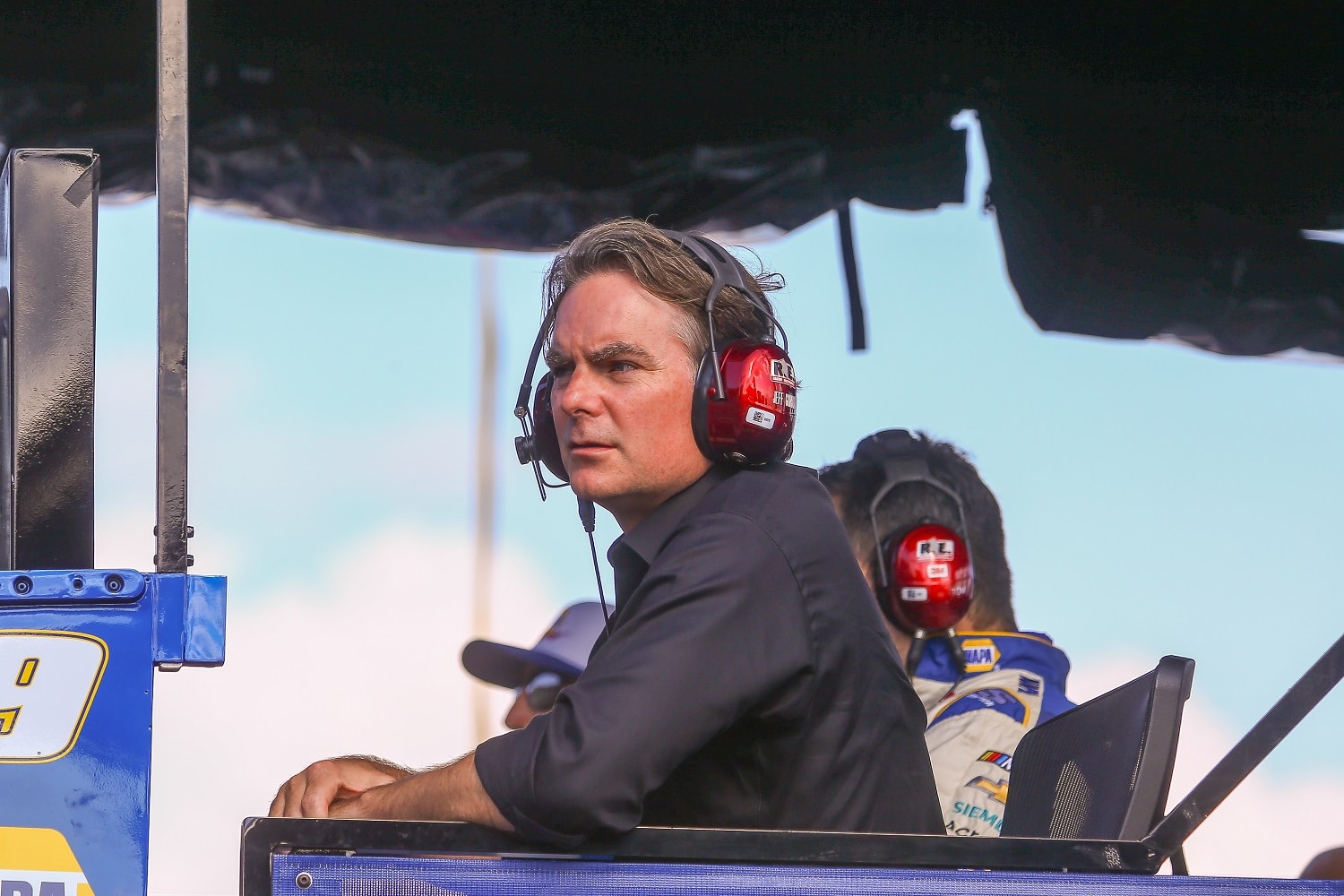 If you're not a VIP, the walk from the parking lot to the stadium on the day of a major event can feel interminable. If you've just spent all day on your feet working at the event, then the walk back to the car afterward feels even longer.
NASCAR Hall of Famer Jeff Gordon ran into someone facing exactly that kind of day and played the role of hero, with the story ending in totally funny fashion.
First, some context:
Gordon was at Phoenix Raceway on Sunday for the NASCAR Cup Series Championship 4. As vice chairman of Hendrick Motorsports, the four-time series champion was on hand as Chase Elliott pursued his second season title in three years and Kyle Larson sought to snare the owners' championship for HMS.
Unfortunately, the day was a bit of a bust for the most successful organization in Cup Series history. Larson finished ninth overall and third among the cars competing for the owners' title, which carries with it a bigger payday for the team. Elliott was never truly competitive and finished 28th, two laps behind winner Joey Logano. William Byron was a respectable sixth, but Alex Bowman's return from a concussion was marred by a wreck that left him in 34th place.
All in all, it wasn't the day Gordon or the organization hoped for heading into the offseason.
Joey Logano won the race, and a Hall of Famer saved the day
Joey Logano was well into his celebration after winning the NASCAR Cup Series championship by the time Jeff Gordon was wrapping up his day at Phoenix Raceway. It was going to be a routine trip back to the hotel or the airport until Gordon met Brandy Madrid, who shared her story on social media.
Madrid, 35, was working at the track to help raise money for her daughter's softball team. Volunteers from the school operated a concession stand to put money toward a new scoreboard at the school.
The track had largely cleared out by 5 p.m., but work remained. With Monday a workday for much of the crew, Madrid volunteered to handle the task of checking the inventory by herself. By the time she finished, it was 8 p.m., and the sun had set long ago. The tram shuttling fans to the distant lots had stopped operating.
Madrid set out for the parking lot, but the combination of darkness and fatigue kicked in, and she couldn't locate her car in one of the distant dirt lots west of the track. The full-time nurse told TobyChristie.com she returned to the track and couldn't get anyone to lend a hand.
 "I was just so tired. I called my mom, and I said I just wanted to cry," she told the website.
That's when Jeff Gordon became Madrid's best friend, even if she didn't realize it just yet.
The good samaritan's name was Jeff Gordon
Just when Brandy Madrid thought she would need to walk another mile in the dark to the parking lots, she was able to flag down a car. The driver stopped, and a grateful Madrid hopped into the back seat.
"The guy pulled up and I just started to cry," she said. "I'm not an emotional person, but I was like, 'I'm so tired, and I don't even know how far away I am from my car.'"
The driver was happy to help. He remained determined even after making a wrong turn into a campground and later reaching a dead end at a riverbank. After still more riding around, Madrid finally spotted her car.
Grateful and relieved, she wanted to repay her accidental chauffeur. She offered to send him money through an online service and give him the NASCAR shirt she was given for volunteering. The man wouldn't hear of it. He was happy to help.
When he turned to look at her in the back seat, something suddenly clicked in Madrid's mind. She grew up in a racing family (Rusty Wallace was her favorite driver), and the man looked familiar.
"Oh my God, it's dark and I can only see the side of you," Madrid told him, "but has anybody ever told you that you look just like Jeff Gordon?"
The man turned more and looked directly at Madrid. "I am Jeff Gordon," he said.
"I felt like such an idiot," Madrid said, laughing.
Got a question or observation about racing? Sportscasting's John Moriello does a mailbag column each Friday. Write to him at [email protected].