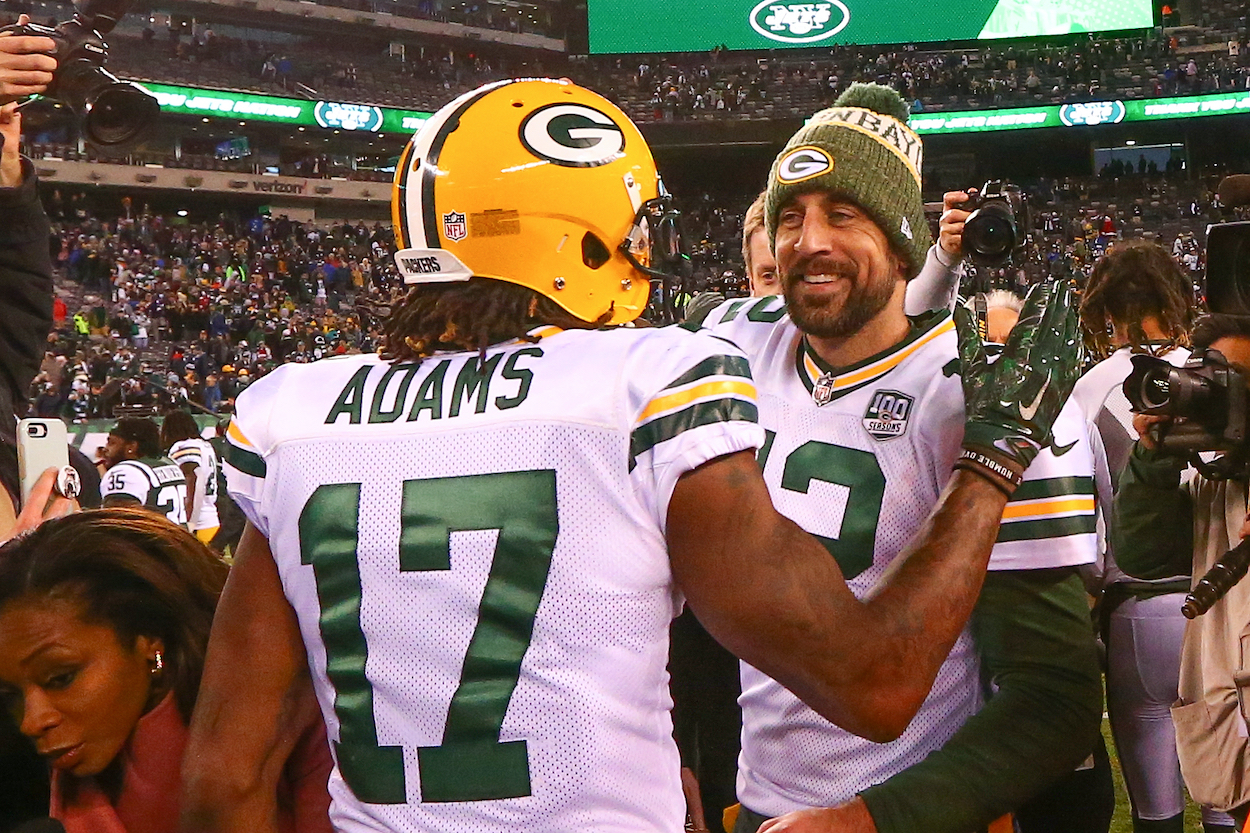 The Green Bay Packers Are Facing a Crucial $25 Million Decision Unrelated to Aaron Rodgers
The Packers are still trying to do damage control with the Aaron Rodgers situation, but they have another $25 million decision to make soon.
All the talk up in Green Bay right now is centered on Aaron Rodgers, and rightfully so. The reigning NFL MVP demanded a trade earlier this offseason, and there's still no sign of him at Packers' minicamp. It's safe to say the developing situation with No. 12 is of the utmost importance for general manager Brian Gutekunst.
However, the Packers are also facing a crucial $25 million decision facing their second-biggest star: Davante Adams.
Adams is due for a new deal soon, as his current contract is set to expire after the 2021-22 season. If Green Bay can't get an extension done in the next few months, the franchise runs the risk of losing both Rodgers and Adams in the same offseason.
Boy, would that be a disaster for Cheeseheads everywhere.
The Packers need to win Aaron Rodgers back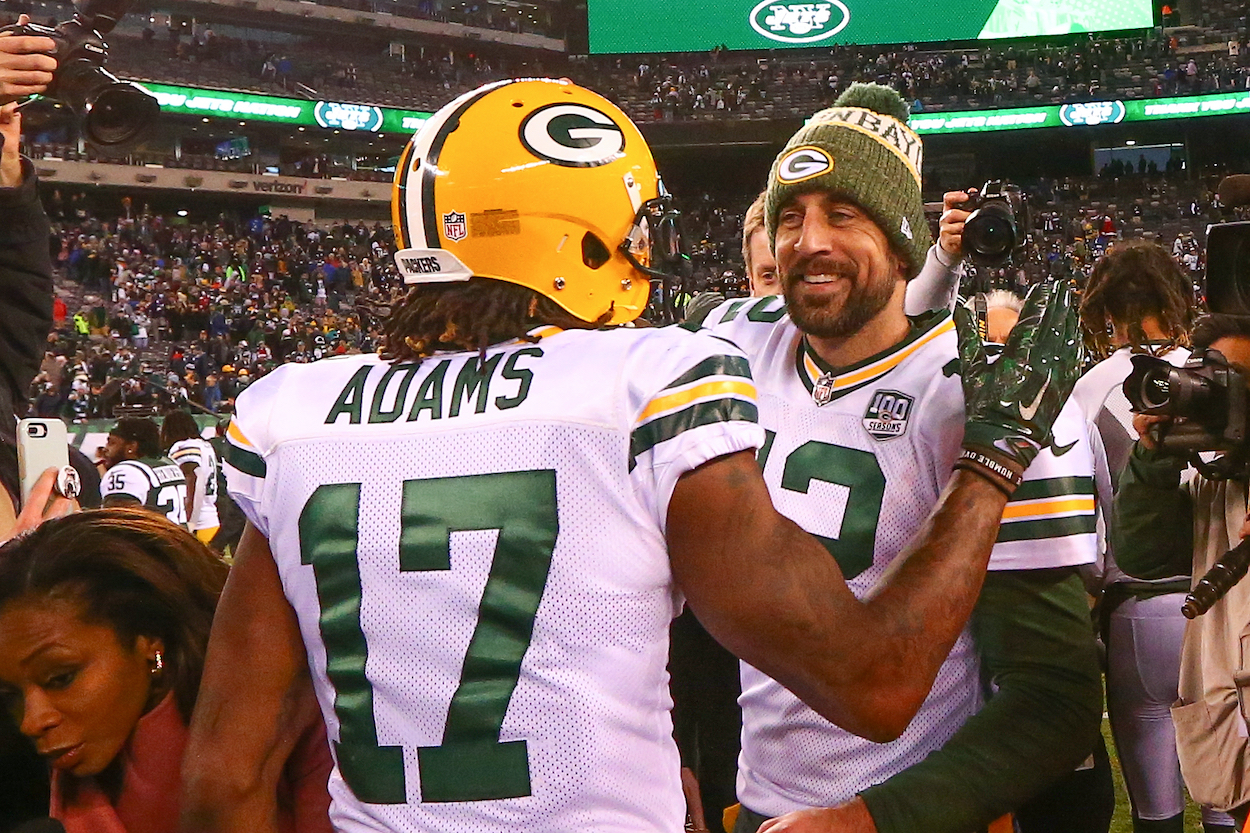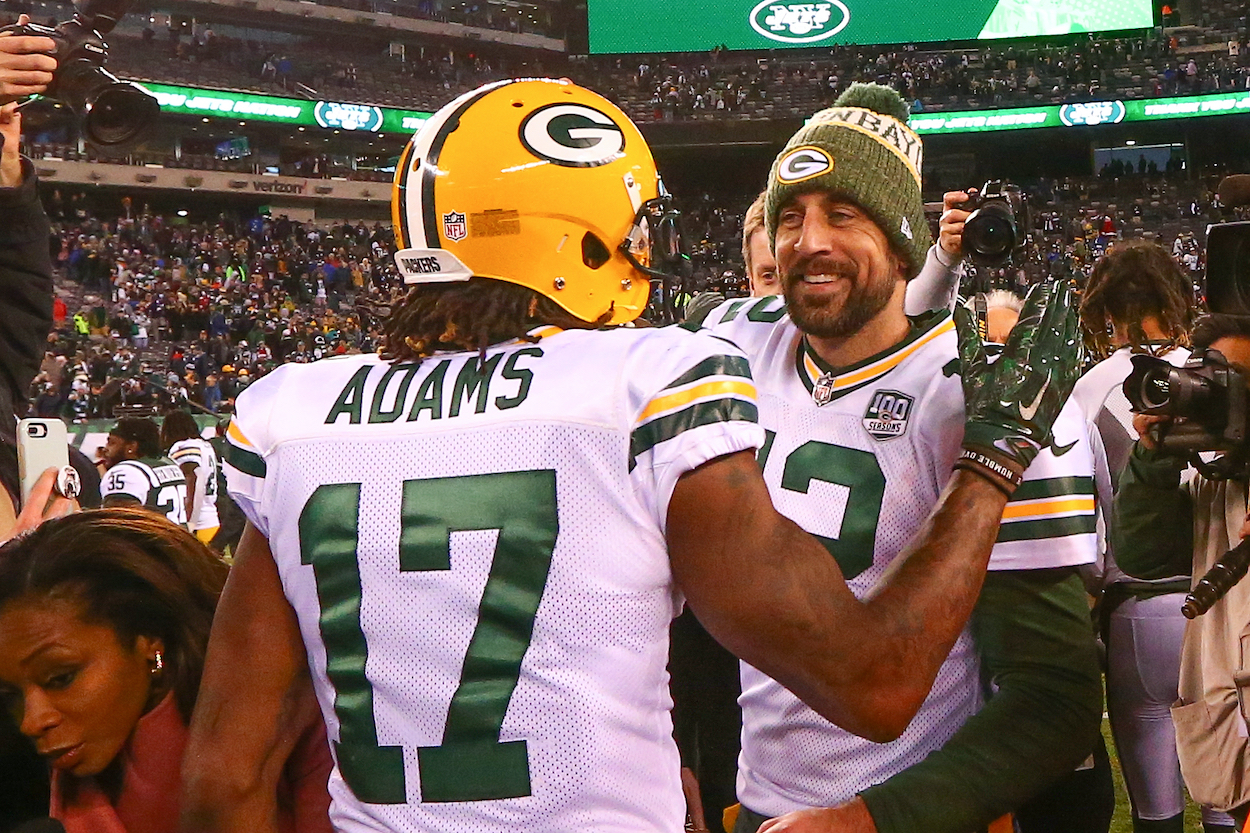 It's not very often a star quarterback still in the prime of his career wins the MVP, reaches a conference championship game in the same season, then goes on strike a few months later. But that's exactly what we have here with Rodgers in Green Bay.
After one of the best statistical seasons of his career, Rodgers decided he no longer wants to be a Packer. He demanded a trade earlier this year, and he's been a no-show for every team activity this offseason. It's become a lengthy staring contest between Rodgers and Gutekunst, and no one's blinking.
"It's just kind of about a philosophy and maybe forgetting it is about the people that make the thing go. It's about character. It's about culture. It's about doing the things the right way," Rodgers told ESPN's Kenny Mayne on SportsCenter last month. "A lot this was put in motion last year. The wrench was just kind of throw into it when I won MVP and played the way I played last year. This is just kind of the spill out of all that. But, look, it's about the people and that's the most important thing. Green Bay has always been about the people."
Rodgers is clearly fed up with the entire Packers organization, and he doesn't seem to have any interest in playing another snap for the team. It's up to Gutekunst, team president Mark Murphy, and the rest of the front office to win him back before the start of the season.
That's been the Packers' No. 1 priority this summer, but it doesn't seem as if they're gaining any ground.
Packers face crucial $25 million decision with Davante Adams
The Packers are understandably focused on bringing Rodgers back above all else, but there are still 52 other players on the roster they need to worry about. None of those players are more important than Adams, who's arguably the best wide receiver in the NFL today.
Adams is 28 years old and heading into the final year of his four-year, $58 million contract. He's due for a massive pay raise next offseason, and he'll have 31 other suitors if he doesn't want to stay with Green Bay.
That's why the Packers need to act fast and get Adams to put pen to paper before the 2021 season begins. The projected price of a new contract extension? Just about $25 million, according to Spotrac.
Spotrac predicts Adams' current market value to be $24.9 million, which would make him the second-highest-paid WR in the NFL. A four-year deal worth close to $100 million would be the asking price for the four-time Pro Bowler.
And with the uncertainty surrounding Rodgers' return to Green Bay, the Packers will want to lock Adams into a new contract sooner than later. If Rodgers is traded or sits out the entire season in hopes of joining a new team in 2022, it's likely Adams won't want to stick around past next season, either.
A complicated cap crunch
The Packers are under immense pressure to sign Adams to a contract extension this offseason, but doing so would only complicate their already undesirable cap space situation looking forward. Green Bay already has $238 million in cap commitments for 2022, which is the highest figure in the NFL right now.
Four players — Rodgers, Za'Darius Smith, David Bakhtiari, and Kenny Clark — carry a cap hit of over $20 million next season. Adams would make five.
As it stands today, the Packers are $29.9 million over the 2022 salary cap ceiling of $208.2 million. Obviously, getting rid of Rodgers and his $39.8 million cap hit next season would be the easiest fix, especially considering he doesn't even want to be there.
But if they're able to keep Rodgers, it's hard to imagine Adams gets the contract extension he deserves this summer.