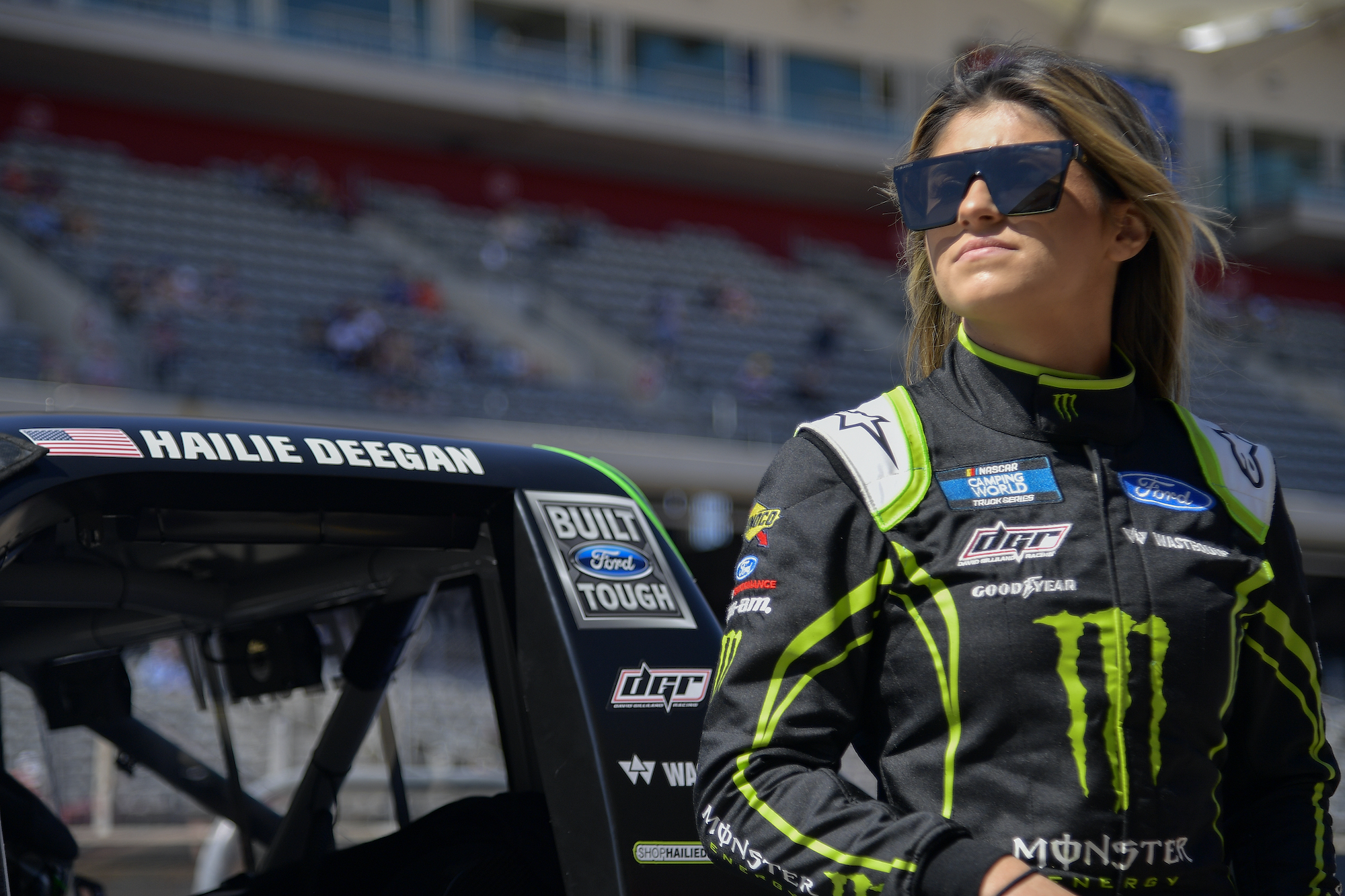 Hailie Deegan Surprisingly Reveals How Dale Earnhardt Jr. Is Connected to Protecting Her and Boyfriend Against Stalker
Hailie Deegan revealed on her YouTube channel how Dale Earnhardt Jr. is connected to the protection she and her boyfriend are receiving from a stalker.
Earlier this month, NASCAR Truck Series driver Hailie Deegan revealed that there were concerns for the safety of her and her boyfriend due to a stalker who had sent numerous threatening messages. She indicated her home was under police surveillance, and they had contacted the FBI and NASCAR security.
In a more recent video, the 20-year-old offered an update on the frightening situation. Interestingly, she mentioned how Dale Earnhardt Jr. is connected to providing her protection.
Hailie Deegan dealing with stalker
Hailie Deegan is a social media superstar with millions of fans on the various platforms. Unfortunately, one of those followers started harassing the driver and her 25-year-old boyfriend Chase Cabre after being duped by an Instagram user posing as Deegan. 
Deegan revealed in a YouTube video that the obsessed fan had sent an eight-page letter to her race team, suggesting that he had dated her for months and was her soulmate. She said that the person sends a minimum of 100 messages a day. One particular communication from the individual alarmed the driver.  
"I would keep kind of an eye on his posts because of the stalker situations I've dealt with in the past. The day that it pretty much changed was a few days ago when he posted stuff saying he was practically going to come kill Chase," Deegan admitted. "His exact words were not going to kill Chase, but he's going to come and he is going to be the last thing Chase ever sees."
Authorities determined through their investigation that the individual lives nearby, and police indicated filing charges against him might provoke him to act out on his threats.
In addition to contacting the FBI and NASCAR's security team, the couple's house is under police surveillance.
Deegan reveals how Dale Earnhardt Jr. is connected to her protection
In a follow-up video, Deegan first thanked her fans for their support, then briefly addressed the situation and indicated how "it has gotten worse," but they were taking every precautionary measure to be safe. She said one of the ways they are doing that is thanks, in part, to Dale Earnhardt Jr. 
"TJ (Majors), my spotter, who spotted for Dale Jr. back when he raced Cup, actually reached out," she said. "Got us in contact with who is Dale Jr.'s security team. They've been great just keeping us safe every night in our own home."
Struggling in second Truck Series season
Unfortunately for Deegan, in addition to the concerns about her personal safety, she's also dealing with the struggles of her sophomore season. 
Through the first six races, her best finish is 17th at the season-opening race in Daytona. She has posted three DNFs this season. She had just three her entire rookie season.
In the next month, the David Gilliland Racing driver could turn her season around with races on some of her better tracks, including Kansas and Charlotte, where last year she finished 13th, respectively, and Knoxville, where she posted her best finish of 2021 and her lone top 10 of the season at seventh. 
Like Sportscasting on Facebook. Follow us on Twitter @sportscasting19.