Harrison Burton Isn't Doing Himself Any Favors in a Contract Year
Harrison Burton skyrocketed through the NASCAR developmental levels with only three full seasons before his first full-time Cup Series campaign a year ago. But his dearth of positive results at the sport's top level could quickly bring his initial Cup Series opportunity to a close.
Burton, 22, is the son of former Cup Series driver and current NASCAR on NBC broadcaster Jeff Burton. He ran his first full season in a NASCAR national series in 2018 when he piloted the No. 18 truck for Kyle Busch Motorsports in the Truck Series.
The younger Burton was only 18 years old at the time and did not win a race. He did manage seven top-five finishes but missed the Truck Series playoffs and wound up 12th in the final points standings.
Harrison Burton had his only four career NASCAR national series wins in 2020
He still received a promotion to the Xfinity Series the following year, however. He took over the No. 20 car for Joe Gibbs Racing and suddenly produced a season that established him as a legitimate Cup Series prospect. Burton won four races with 22 top-10 results, which tied for fourth in the series. He ultimately ended the year eighth in the points standings.
Burton remained in the No. 20 car for the 2021 season, and the same magic did not exist. He again tallied 22 top-10 finishes and was once again eighth in the points standings, but he failed to win a race.
Regardless, Burton received a promotion to the Cup Series to drive the No. 21 car for Wood Brothers Racing after that organization parted ways with Matt DiBenedetto. The Wood Brothers returned to full-time competition in 2016 and had finished inside the top 20 in the points standings in each of the next six seasons, including playoff appearances with Ryan Blaney in 2017 and DiBenedetto in 2020, all while having a technical alliance with Ford-backed Team Penske.
Burton jumped into the car in 2022 and managed only one top-five with a third-place result at the Indianapolis Motor Speedway road course. His only other top-10 was a 10th-place run in the July race at Atlanta Motor Speedway. He ended the year 27th in the points standings.
The start to his 2023 season has not been any better. Burton finished 26th in the Daytona 500, 15th the following week at Auto Club Speedway, and two laps down in 26th again last week at Las Vegas Motor Speedway. He is currently 25th in the points standings.
Sure, 39 races of a Cup Series career is a small sample size, but Burton does not have a guaranteed contract with the Wood Brothers beyond the end of this season. He does bring DEX Imaging sponsorship money and has a famous last name, but his dreadful performances might outweigh those other factors by the end of the season.
Burton has consistently languished behind his Ford teammates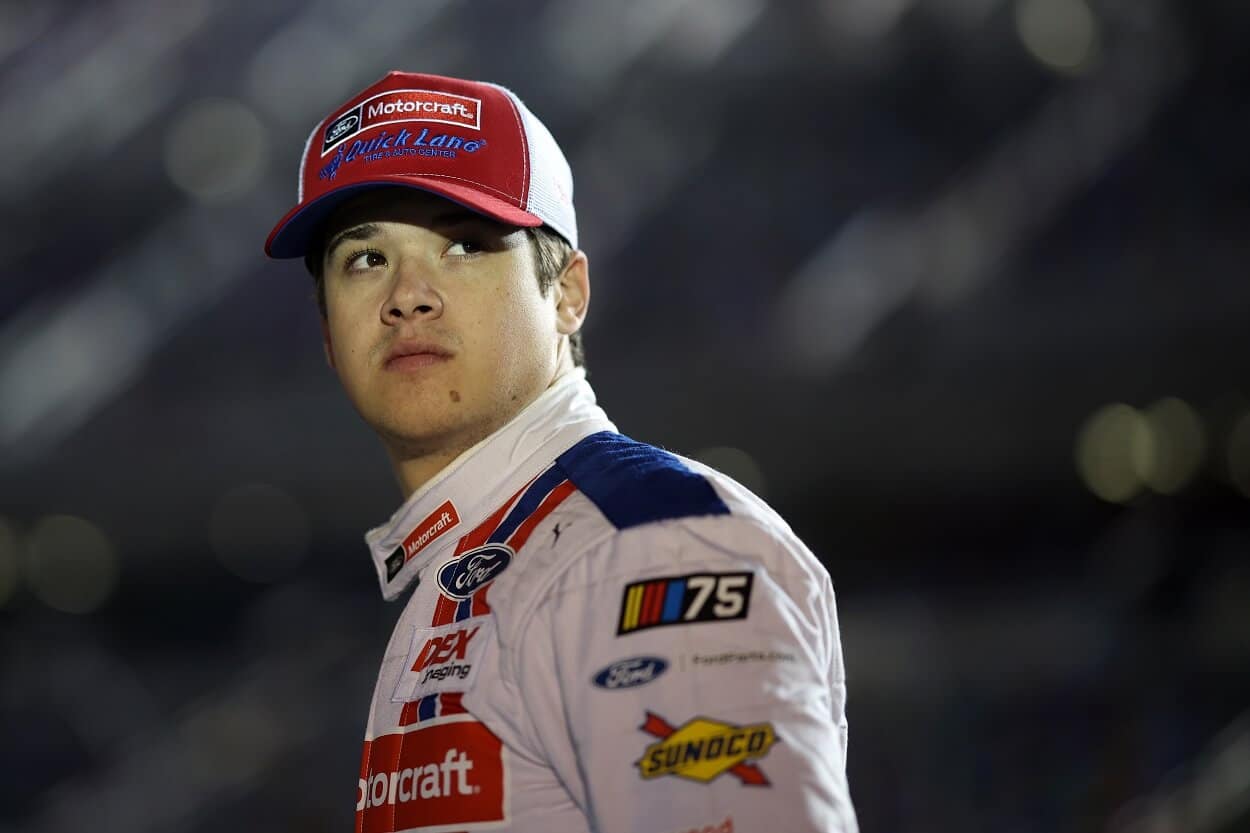 It doesn't help that each of the last three Wood Brothers drivers has fared significantly better, as have all three Team Penske drivers the last two seasons. Team Penske placed all three of its in-house cars in the playoffs last year, and they are all 17th or better through the first three events of this season.
Yes, Burton is still only 22 years old, but the leash for young drivers can be quite short if they don't produce positive results. Todd Gilliland, who finished one spot behind Burton in the points standings and well behind Daytona 500 champ Austin Cindric for top rookie honors, has already learned that lesson.
Front Row Motorsports dropped Gilliland from his full-time schedule to make way for reigning Truck Series champion Zane Smith in six races this year. Gilliland had a season very similar to Burton in 2022. His only top five was a fourth-place run at the IMS road course, and his only other top-10 result was at a superspeedway when he finished seventh in the fall race at Talladega.
Gilliland does not bring along sponsorship the way Burton does, but it is a cautionary tale for how short the leash can be on young drivers who do not run up near the front at least somewhat consistently.
Burton also has a steep hill to climb, given Ford's lack of overall success early in the season. Chevrolet has won each of the first three races, and Ford's only top-five result outside of Daytona was Kevin Harvick's fifth-place finish at Fontana.
Ford appears to be behind Chevrolet and Toyota in terms of overall speed early this season, which is something drivers potentially on the hot seat, such as Burton, cannot afford.
If Burton is not going to run markedly better on intermediate or short tracks, he is going to have to take some big gambles to try and win a superspeedway race where the entire field runs in a large pack. Or he can try a unique strategy call at a road-course event that could get him out front and sneak him into the playoffs with a win.
If not, Harrison Burton's first journey into the Cup Series could come to an abrupt end.