Has a Driver Ever Swept All 3 NASCAR Races in 1 Weekend?
He was the big story last weekend at Auto Club Speedway, and now Kyle Busch could be triple the fun at Las Vegas Speedway. The question is whether the internet is big enough to deal with an "all Kyle, all weekend" show in NASCAR.
Busch is driving in all three Las Vegas races (for three different teams) and arrives with momentum. One victory would keep him in the headlines, two would dominate the weekend news cycle, and three would be a replay of something that only the winningest driver in NASCAR history has pulled off.
Kyle Busch has a full NASCAR weekend booked in Las Vegas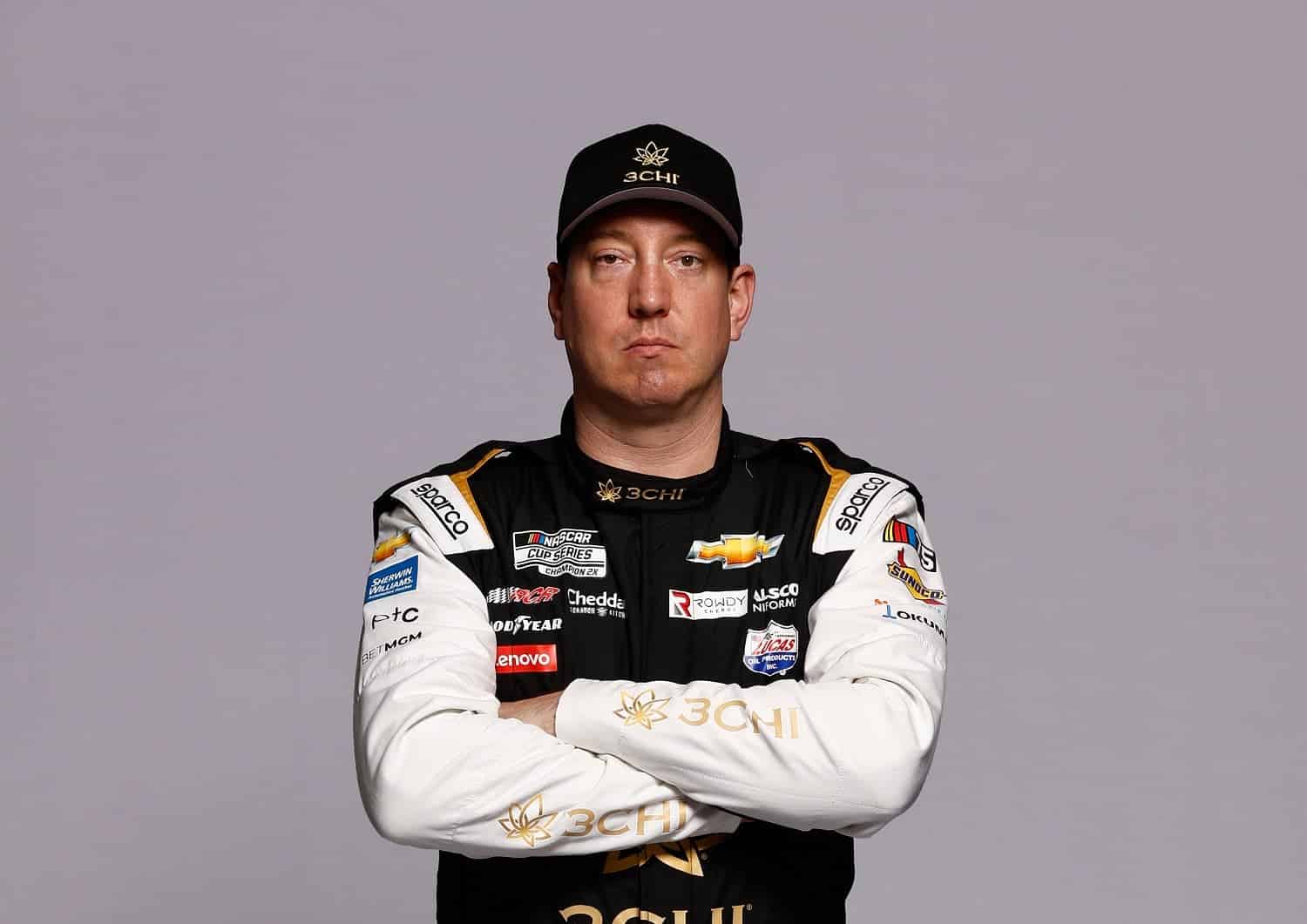 It's commonplace for NASCAR drivers to tackle two races in the same weekend. In fact, Austin Dillon, Tyler Reddick, and Ross Chastain raced twice on the same day when the weather in Fontana, California, forced NASCAR to stack the Xfinity race on top of the Cup Series race an hour apart last Sunday.
Pulling off a Friday-through-Sunday tripleheader is a trickier proposition. While the Xfinity Series and Cup Series schedules are nearly in lockstep, the Craftsman Truck Series schedule contains fewer races. In addition, the trucks compete at some tracks not on the Cup Series schedule. The commute alone could make it impractical.
The final wrinkle is that drivers don't always have the connections or resources to drive in all three series. When you're a NASCAR veteran – and a superstar, to boot – like Kyle Busch, it's not an issue. That's how Busch will drive one of his trucks Friday in the Victoria's Voice Foundation 200 on Friday, a Kaulig Racing Xfinity Series car on Saturday in the Alsco Uniforms 300, and the Richard Childress Racing No. 8 Chevy in the Cup Series on Sunday for the Pennzoil 400.
In 2021, Busch won all five starts in JGR's preposterously good No. 54 Xfinity Toyota, then "retired" from that series with 102 wins. He'll be making some appearances for Kaulig this season after Landon Cassill couldn't get his car fully sponsored. It's also likely a sign of appreciation by the driver after Kaulig made a serious run at signing him during negotiations last fall.
"Being with a new team and a new group of guys, (it's great to have) the chance to go out there and help their program and develop them a little bit and give them some of my expertise," he said, according to NASCAR.com.
Has a driver ever swept all three NASCAR races in a weekend?
In light of his scoring more than 60 victories in each of the three NASCAR national series, it should surprise no one that Kyle Busch was the first to pull off a weekend trifecta. However, it came a long time ago.
On Aug. 18, 2010, the Las Vegas native raced one of his trucks at Bristol Motor Speedway. It was a scheduled 200-lap event on the 0.533-mile track, and he took the lead for the first time on Lap 91 and stayed there until the checkered flag dropped on Lap 206 because a wreck on the original white-flag lap extended the festivities. Aric Almirola placed second and Brad Keselowski seventh.
The next night, Busch drove a Joe Gibbs Racing Toyota to victory in the 250-lap Xfinity Series race. This time, he led 116 laps, including the final 32. Jason Leffler finished second, and the top 10 was stacked with the likes of Dale Earnhardt Jr., Carl Edwards, Clint Bowyer, and Joey Logano.
On Sunday of the same weekend, Busch completed his sweep in the Irwin Tools Night Race, a 500-lap Cup Series event. This time, he led a dominating 283 laps in his JGR car, including the final 72 while holding off David Reutimann for the win.
When Busch repeated the feat in 2017, also at Bristol, it was over the span of four days, culminating with a Saturday night Cup race.
The 2010 season was a Kyle Busch tour de force
Kyle Busch had the right idea by going for a trifecta at Bristol. Not that 956 laps and 510 miles should be discounted as child's play, but the combination of the short track and the fact he was a young pup of just 25 years old in 2010 made it a bit easier. And, lest we forget, he was driving pretty good equipment.
That season as a whole kind of sums up how the victory last weekend at Fontana came to be No. 225 in his NASCAR career. Aside from going full-time in the Cup Series in 2005, the future Hall of Fames has made 362 Xfinity Series starts and 165 in trucks.
In 2010, he won three of 36 starts in the Cup Series, 13 of 29 in Xfinity cars, and eight of 16 in trucks for a combined 29.6% success rate. Aside from the 24 wins, there were 21 other appearances in the top five and 33 in the top 10, a remarkable effort over a long season.
Got a question or observation about racing? Sportscasting's John Moriello does a mailbag column each Friday. Write to him at [email protected]