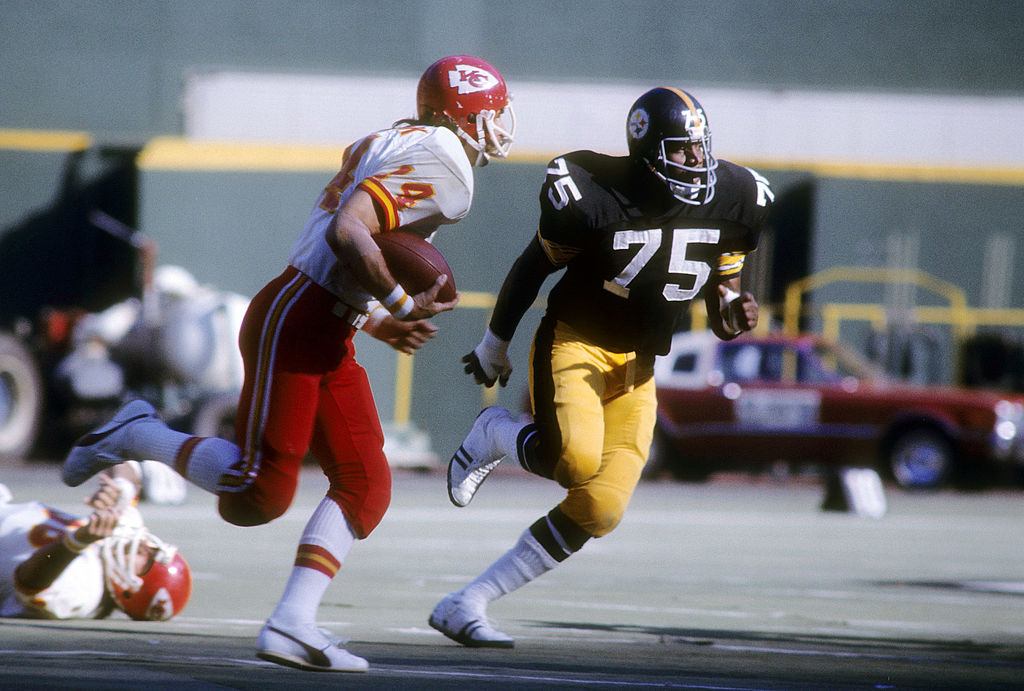 'Hey Kid, Catch.' — Mean Joe Greene's Iconic Coke Commercial 40 Years Later
Mean Joe Greene is a four-time Super Bowl winner and Hall of Famer. Forty years after his playing days, he's remembered most for his iconic Coke commercial.
"Mean" Joe Greene had a distinguished career playing all 13 of his NFL seasons with the Pittsburgh Steelers. He won four Super Bowls. He's in the Hall of Fame. While sports fans might remember him for his dominating play on the field, everyone remembers him for three words—"Hey kid, catch." 
Green's fame exploded in 1979 when he uttered that phrase in a Coca-Cola television commercial, which would become one of the most popular ads in television history. How did it all happen? And who was the little kid in the commercial? 
'Mean' Joe Greene, the football player
"Mean" Joe Greene was a cornerstone of the feared Pittsburgh Steelers "Steel Curtain" defense. Greene, along with defensive stars Jack Ham and L.C. Greenwood, regularly wreaked havoc and dismantled opposing offenses.
That Steelers defense, combined with an offense that included Terry Bradshaw, Franco Harris, and Lynn Swann, ascended to prominence in the mid-1970s, winning a pair of Super Bowls in 1975 and 1976. 
After a two-year hiatus, the Steelers returned to the top of the NFL hierarchy earning titles again in 1979 and 1980. As is often the case when a team achieves success, the offensive stars traditionally receive the bulk of the media coverage. The same was true of the Steelers clubhouse with Bradshaw, Harris, and Swann getting most of the publicity.
Greene didn't mind. He didn't worry about television appearances. He didn't care about getting exposure. He only cared about destroying his opponent on Sundays. That all changed in 1979.
The making of the commercial
When advertising writer Penny Hawkey heard the names Roger Staubach, Terry Bradshaw, Lynn Swann, Tony Dorsett, and "Mean" Joe Greene, she didn't give it a second thought. A football player with a nickname like mean won the role by default.
Greene initially turned down the offer, fearing he didn't have any acting experience. His agent tried to convince him it was a great opportunity with one of the biggest brands in the world. The player eventually relented and agreed to do it.
Greene's co-star, nine-year-old Tommy Okon, got fortunate with the commercial. His father, who worked for an ad agency as a producer and director of commercials, would sometimes use his son when convenient. Okon had appeared in ads before but never with a player from one of his favorite teams. It was a dream come true for the youngster.
When the crew worked on set design during the initial stages of the production, Okon and Greene killed time practicing their lines or throwing a football with each other. They developed a friendship. With that bond, Okon would joke that Greene "fumbled" when he messed up a line.
And Greene messed up more than a few lines. One line, in particular, happened after he chugged the bottle of soda for the umpteenth time. Instead of finishing his line, Greene released an enormous burp, an outtake that has been immortalized on blooper shows for years. 
During filming, Green consumed about 18 16-ounce bottles or 2.25 gallons of Coke, four times the recommended amount of water consumption each day for an adult. When asked why he didn't spit it out, Greene indicated he was "supposed to like" the product and didn't feel comfortable doing that. 
The commercial lives on 
The commercial's popularity continues still today, and it's due in large part to the numerous parodies and homages made over the years. The first happened in 1983 in a Newhart episode when a limping Boston Celtics player throws his basketball shoes to Bob Newhart on his way to the locker room.  
Since then, there have been numerous tributes to the commercial on shows, including Sesame Street, The Simpsons, Family Guy, and Frasier. In 2012, Greene starred in a Downy parody that ends when he tosses his jersey to actress Amy Sedaris, who takes a whiff and hands it right back. 
The commercial has withstood the test of time. Fortunately, so has the relationship between Greene and Okon.
The friendship today
Okon acted briefly as a youngster but never pursued a career in show business. Today, the 49-year-old lifelong New Yorker is married with four kids and a small business owner in the Bronx. 
Despite living in different regions of the country, the two communicate through phone or text. Generally, every few years, the pair get together and reminisce at events commemorating their legendary commercial. 
Greene told Yahoo Sports one of the more memorable get-togethers happened in 2009 when the two were presented with an award at Heinz Field. "They showed Tommy's family on the giant jumbotron. At that time, Tommy's oldest son was pointing at Tommy in the commercial and they looked so much alike. It was pretty cool to see."
And the commercial's legacy carries on into another generation. Pretty impressive considering the main star initially turned the opportunity down only to later accept it and have it become such a defining moment he's remembered more for that than his 13-year Hall of Fame career.