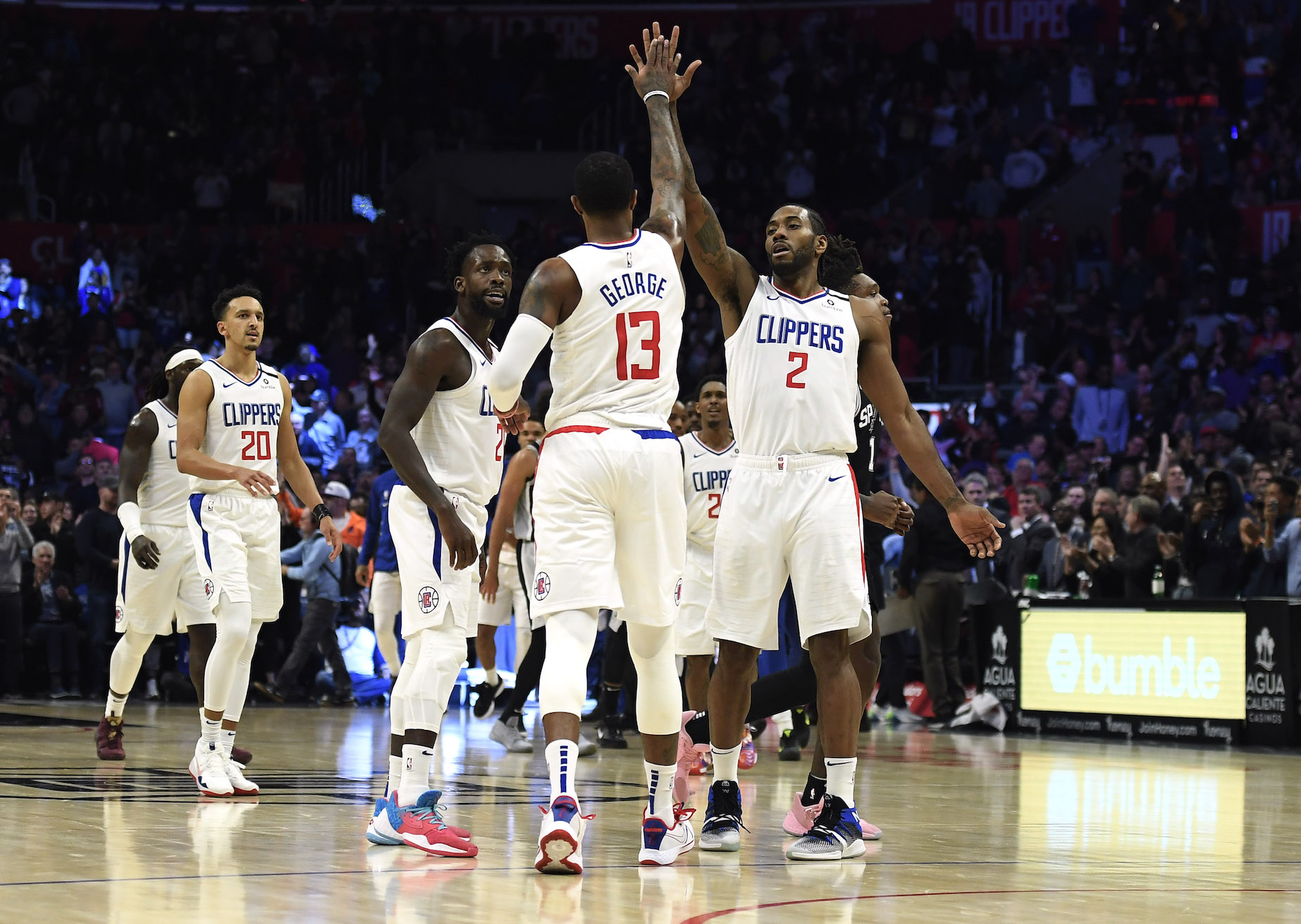 How Does Kawhi Leonard's Net Worth Compare to Paul George's?
Kawhi Leonard and Paul George are both playing on max contracts with the Los Angeles Clippers. Which one of them has the larger net worth?
While the Los Angeles Clippers have traditionally been the number two team in Hollywood, they took a major step toward the relevance during the 2019 offseason. The club signed Kawhi Leonard and traded for Paul George; those big-money acquisitions have helped them close the gap on the Lakers in the Western Conference.
Landing two star players, however, doesn't come cheap. How does Kawhi Leonard's net worth compare to Paul George's fortune?
Kawhi Leonard has grown into a legitimate NBA star
These days, Kawhi Leonard looks like the perfect fit for the modern, positionless NBA. As the forward was coming through the ranks, though, no one was quite sure what to make of him.
Leonard played his college basketball at San Diego State University and spent two seasons with the Aztecs; he proved to be a solid offensive threat and a tenacious rebounder. While NBA scouts weren't sure what to make of him—the forward had all the physical tools to succeed, but didn't seem to have the skill set or make-up to be a future star—the San Antonio Spurs believed in him.
The Pacers selected Leonard with the 15th overall pick if the 2011 NBA draft but promptly traded him to San Antonio. As documented in an old Sports Illustrated feature, Gregg Popovich challenged Kawhi to become "the best defender in the league," and "Bruce Bowen times 10."
Leonard complied, earning playing time with his defensive effort and reliable rebounding. With each passing season, though, he added more offense to his game. The forward claimed NBA Finals MVP honors 2014, followed by Defensive Player of the Year honors in 2015 and 2016. He then headed to Toronto and proved he was capable of leading a franchise to the NBA title before hitting free agency and joining the Clippers.
Paul George has also grown into one of basketball's top talents
Over his time in the NBA, Kawhi Leonard slowly added more and more offensive to his game. While Paul George started out as more of a natural scorer, he had a similar rise to stardom.
George spent his college years at Fresno State and showed plenty of talent during his two seasons with the Bulldogs. He quickly made a name for himself as an entertaining player capable of doing virtually everything on the hardwood; he averaged 15.5 points, 6.7 rebounds, 2.4 assists, and 2 steals per outing during his NCAA career.
When the 2010 NBA draft rolled around, the Indiana Pacers made George the 1oth overall pick. While he didn't make much of an impact as a rookie—the guard only averaged 7.8 points per game—his talent was obvious. After a position change, however, he put everything together.
While George improved in 2011-12, he still lined up as a shooting guard; the following season, though, an injury to Danny Granger allowed him to slot in as a small forward. That move proved to make all the difference; he promptly averaged 17.4 points, 7.6 rebounds, and 4.1 assists per contest, claiming the NBA's Most Improved Player award.
Barring some injury issues, Paul George's star has continued to rise. While he may not garner headlines like the likes of LeBron James or Steph Curry, the forward has grown in a similar way to Kawhi Leonard. Both men are capable of scoring, handling the ball, and defending on the perimeter with equal ease; in the modern age of positionless basketball, they're a deadly one-two punch.
Paul George has a larger net worth and salary than Kawhi Leonard
Since they're both on max contracts, both Paul George and Kawhi Leonard are making plenty of money with the Clippers. On the financial front, though, George has a bit of an advantage over his teammate.
According to Spotrac's financial numbers, George has made a little more than $144 million during his time in the pros; by the end of his time in Los Angeles, he'll have taken home almost $218 million in salary. Kawhi Leonard, on the other hand, has earned a hair under $117 million to date, with another $70 million coming over the next two seasons.
George also has the overall edge based on CelebrityNetWorth's figures. His total fortune clocks in at $80 million; Leonard is worth approximately $35 million.
At the end of the day, though, it's unlikely that Paul George and Kawhi Leonard are too invested in their financial differences. Right now, their main concern is helping the Clippers lift the Larry O'Brien Trophy.
All stats courtesy of Sports-Reference and Basketball-Reference. Contract data courtesy of Spotrac; net worth figures courtesy of CelebrityNetWorth.