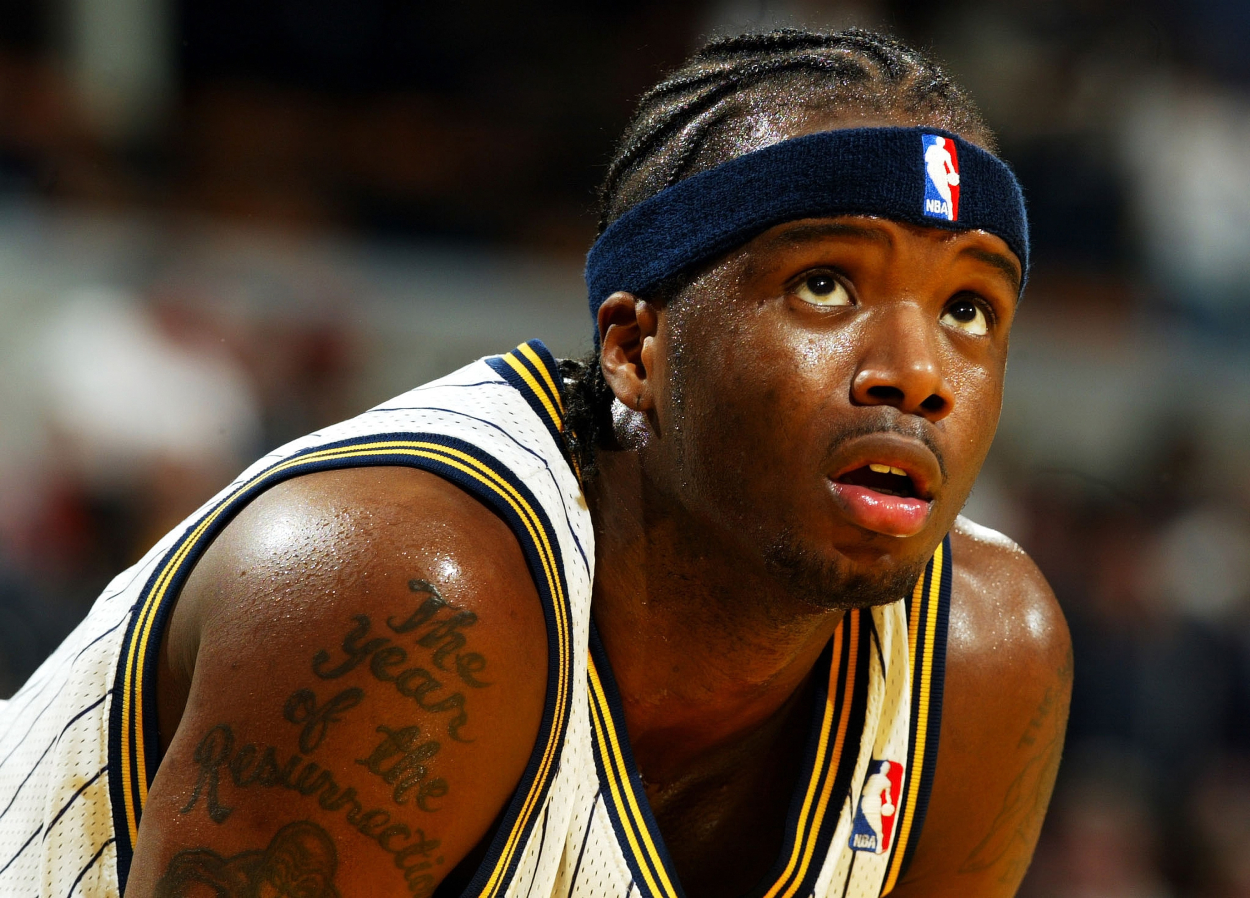 How Good Was Jermaine O'Neal During His NBA Career?
Former Indiana Pacers star Jermaine O'Neal saw his NBA career stained by the Malice at the Palace, as people often bring up that night whenever they discuss him. But O'Neal actually had a decent amount of success in the league. So, how good was he throughout his pro hoops career?
During the early 2000s, the Indiana Pacers had some great teams, but the infamous Malice at the Palace brawl between them and the Detroit Pistons (as well as Pistons fans) overshadowed their success. Due to that awful night, many people have seemingly forgotten just how good some of those players were, so we took a look back at former Pacers star Jermaine O'Neal's NBA career and how much success he really had.
Jermaine O'Neal started his NBA career with the Trail Blazers
O'Neal entered the NBA straight out of high school when he went to the Portland Trail Blazers with the No. 17 overall pick in the 1996 NBA Draft.
He played sparingly during his first few years, averaging 3.9 points and 3.1 rebounds in 11.5 minutes per game over four seasons with the Blazers. But in August 2000, Portland traded O'Neal to the Indiana Pacers, who had just lost to the Los Angeles Lakers in the NBA Finals the season before.
The 6-foot-11-inch big man improved his averages to 12.9 points and 9.8 rebounds in his first season in Indiana. During his second year in 2001-02, though, O'Neal became an absolute superstar.
Jermaine O'Neal became a six-time NBA All-Star on the Pacers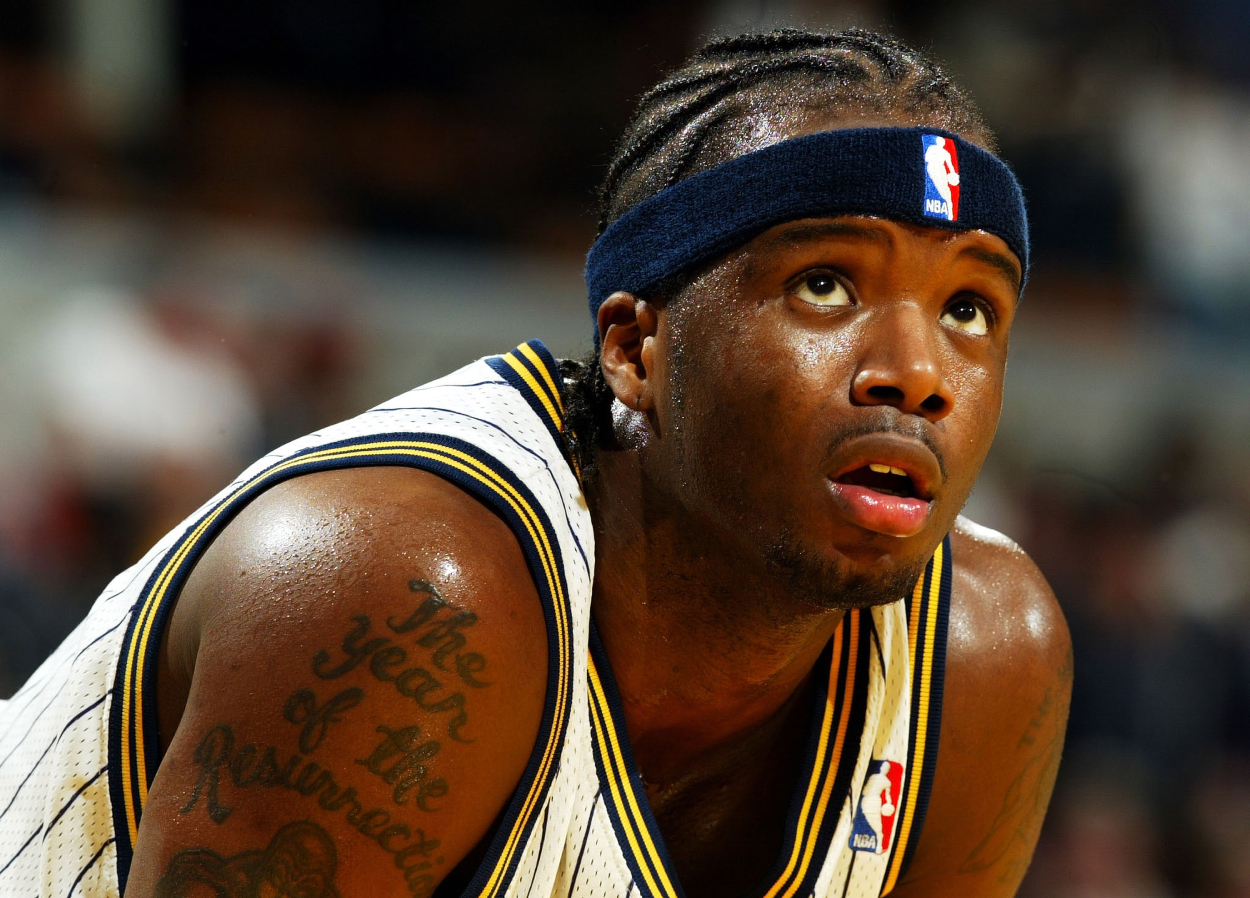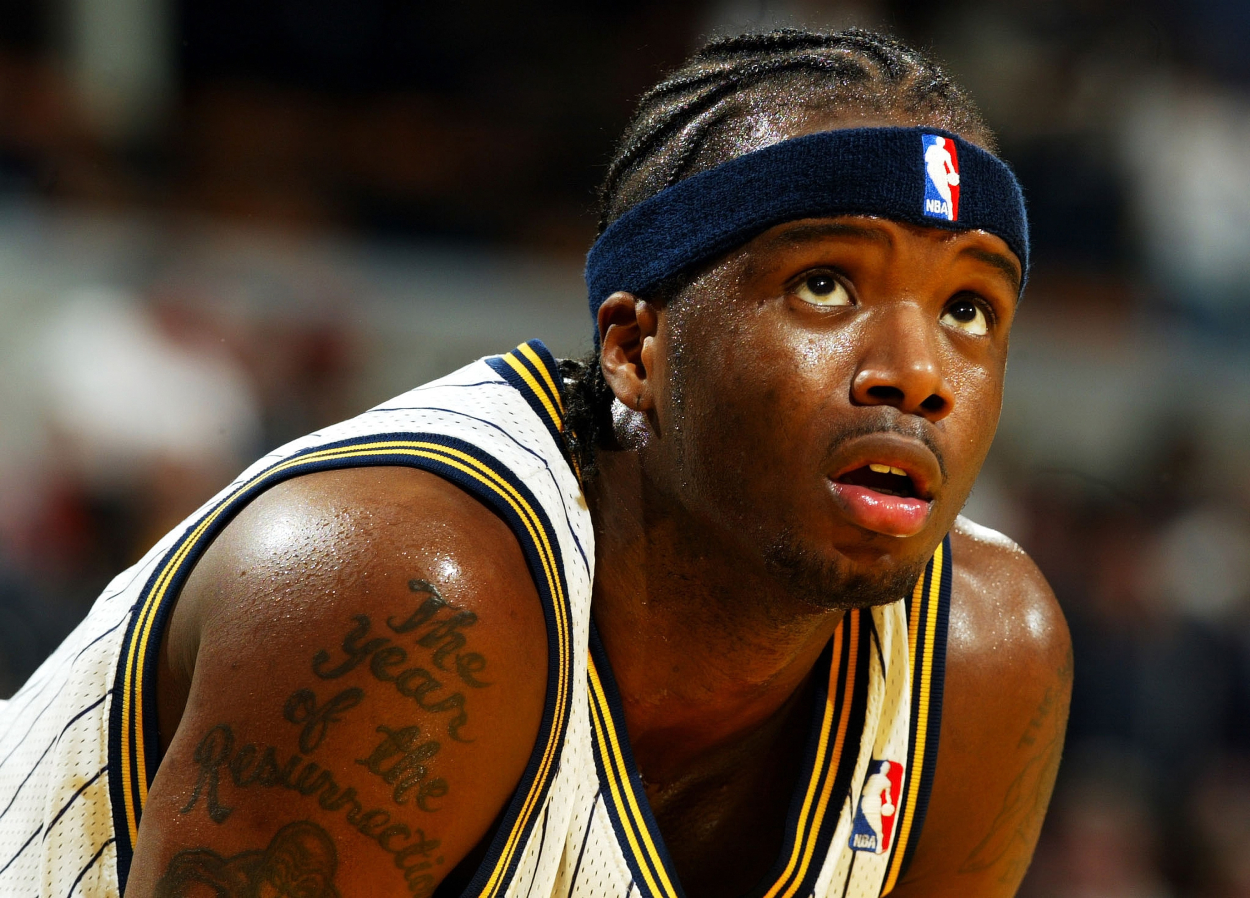 Starting in that 2001-02 season, O'Neal went on a dominant run that led to him becoming one of the best big men in the NBA.
He earned his first of six straight All-Star selections that year by averaging 19.0 points, 10.5 rebounds, and 2.3 blocks per game. His performance also helped him win the Most Improved Player award and earned him one of his three straight All-NBA selections.
O'Neal then recorded just over 20.0 points and 10.0 rebounds per game each of the next two seasons, and in 2003-04, he helped lead the Pacers to the Eastern Conference Finals. But the best season of his career from a scoring perspective came in 2004-05 when O'Neal averaged 24.3 points, 8.8 rebounds, and 2.0 blocks.
The big man then continued putting up nice numbers each of the next two seasons, recording around 20.0 points, 9.5 rebounds, and 2.5 blocks in those years.
However, in 2007-08, his production began dropping off. O'Neal played for the Pacers, Toronto Raptors, Miami Heat, Boston Celtics, Phoenix Suns, and Golden State Warriors between 2007-08 and 2013-14; he averaged a combined 10.6 points and 6.0 rebounds in those seasons. The 2013-14 campaign, though, was his final one in the league. Overall for his career, O'Neal averaged 13.2 points, 7.2 rebounds, and 1.8 blocks.
So, to answer the question about how good O'Neal was: When he was at his best, he was one of the top big men in the NBA, but his prime was somewhat short-lived, only lasting six seasons.
The Malice at the Palace stained his career
Had the Malice at the Palace never happened during the 2004-05 season, the Pacers could have won a championship with O'Neal, Ron Artest (also known as Metta World Peace and Metta Sandiford-Artest), Stephen Jackson, and Reggie Miller.  O'Neal would have then had a career celebrated by many, but instead, the brawl — which got him suspended for 15 games — stained it.
"I've never really tried to use the word regret but it's a part of me that has always bothered me," O'Neal said in Untold: Malice at the Palace, per the IndyStar. "…I didn't want to talk to anybody. I just wanted to move on with my life. I've never been able to get away from it though."
Jermaine O'Neal was a talented player throughout his NBA career, but that one night made him one of the most underrated stars in league history. It overshadowed all the success he actually had.
Stats courtesy of Basketball Reference