Kobe Bryant's Relentlessness Had Metta World Peace 'Kicking' Himself 'in the Head': 'This Is Why You're Not a Champion'
If you follow the NBA, there's almost a 100% chance that you've heard stories about Kobe Bryant's relentless work ethic during his legendary career with the Los Angeles Lakers. He was determined to be the very best, and — even when he was the top player in the league — Bryant played with a chip on his shoulder.
In fact, the five-time champion even surprised some of the NBA's hardest workers, including his former Lakers teammate, Metta World Peace.
Kobe Bryant had a relentless work ethic
Bryant's drive to be the best was only comparable to one other person's mindset: Michael Jordan's. Both stars wanted to win at all costs and expected a lot out of their teammates, given how much effort they put into the game themselves.
In fact, Bryant often showed up to practice early and stayed late, even as a young star.
"I would always have to come to practice early to get my treatment and get ready for practice being the elder statesman," Bryant's former teammate and coach Byron Scott told Business Insider in 2017.
Scott was 35 when he played with Bryant, who was an 18-year-old rookie.
"I came in one time … and I heard the ball bouncing. No lights were on. Practice was at about 11, it was probably about 9, 9:30," Scott said, per Business Insider. "And I go out to the court and I look, and there's Kobe Bryant. He's out there shooting in the dark. And I stood there for probably about 10 seconds, and I said, 'This kid is gonna be great.'"
Once practice started, though, the future Hall of Famer treated every day like it was Game 7 in the playoffs.
"We get ready to scrimmage, right? We're on the second team, and he was going after Eddie Jones every day to show coach Del Harris, 'No, this is my job; I don't know why this guy's starting.'" Jon Barry, who was Bryant's teammate during his second season in the NBA, said on The Dan Patrick Show earlier this year. "Literally, every day was Game 7 when we started scrimmaging. The guy was as driven as any guy I've ever known."
Kobe Bryant's work ethic even shocked Metta World Peace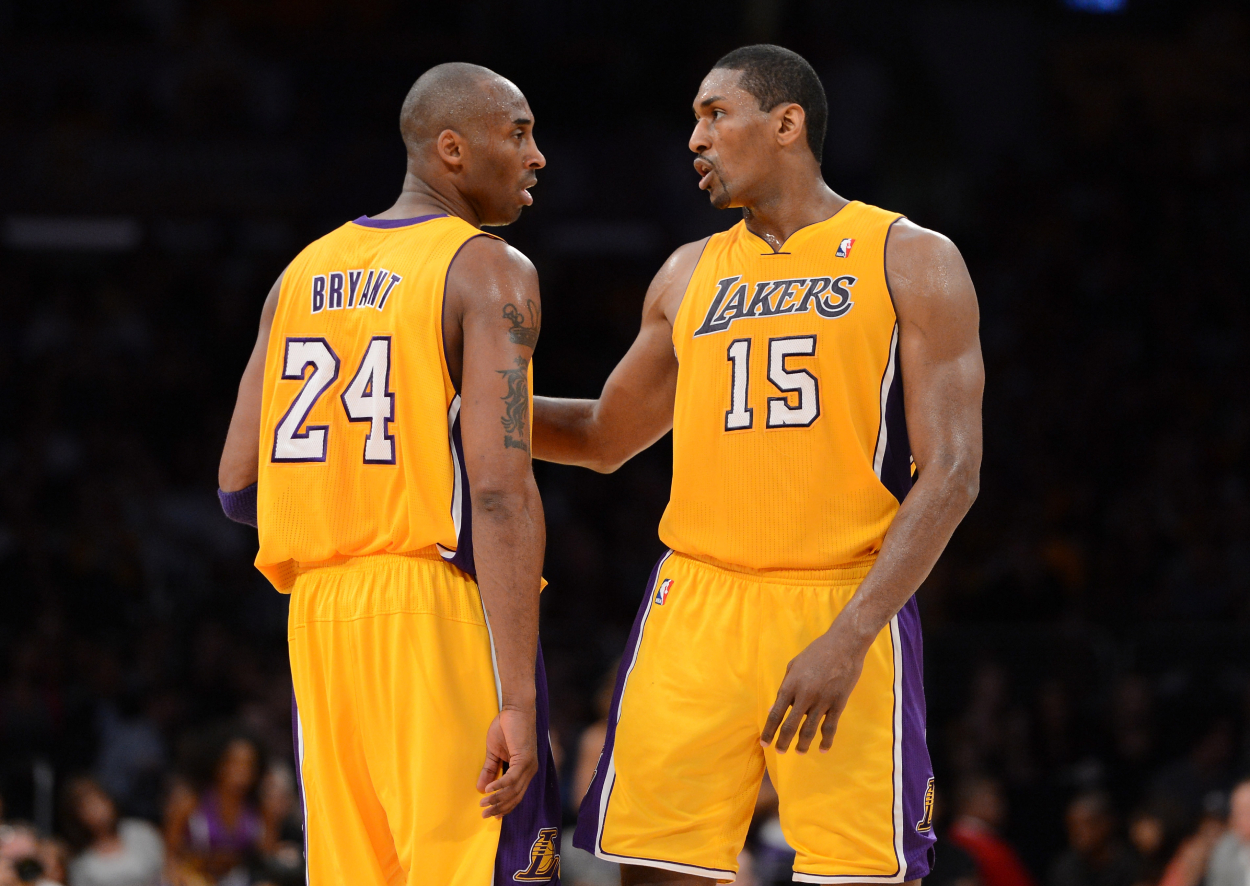 Metta World Peace, also known as Ron Artest and Metta Sandiford-Artest, played with some great players during his career. He shared teams with guys like Reggie Miller, Yao Ming, and Tracy McGrady. But World Peace recently told Shannon Sharpe on Club Shay Shay that not many players had a better work ethic than he did.
"I don't know of many people that worked harder than me," the 2003-04 Defensive Player of the Year said on the Aug. 9 episode. "It wasn't just working on the game; it was working on your defense; cardio. Like when I was guarding guys, it was mostly cardio. I was just outlasting guys."
World Peace, though, played with Kobe Bryant on the Lakers from 2009-10 through 2012-13 and again in 2015-16. And he said the 18-time All-Star was a different story.
"Kobe was probably one of the only guys that I've seen work as hard as me," he said to Sharpe. "When I seen Kobe work, I was kicking myself in the head. I'm like, 'You let this guy outwork you?' I'm like, 'This guy is working extremely hard. This is crazy.' He's up at 5:30 in the morning, in the gym. And I'm like, 'This is why you're not a champion. This is why you're not a champion. Get in the gym at 5:30.'"
The hard work paid off for Kobe and Metta World Peace
As you probably know, Kobe Bryant's hard work paid off; he became one of the greatest players in NBA history while on the Lakers.
It, however, also paid off for World Peace.
The St. John's product was already a former Defensive Player of the Year and a one-time All-Star by the time he got to LA with Bryant in 2009-10. But on the Lakers, World Peace got that championship he longed for, as he helped Bryant win one of his five NBA titles in 2010.
In fact, during the NBA Finals that season, World Peace made a 3-pointer with 1:01 left in Game 7 against the Boston Celtics to stretch the Lakers' lead from three points to six. It then became a free throw game after that, and LA won 83-79. His shot is ultimately a big reason why Bryant finished his career with five rings.
Kobe Bryant was one of the hardest workers in NBA history, but Metta World Peace was no slouch. Together, their relentlessness helped the Lakers win the 2010 NBA championship.
Stats courtesy of Basketball Reference