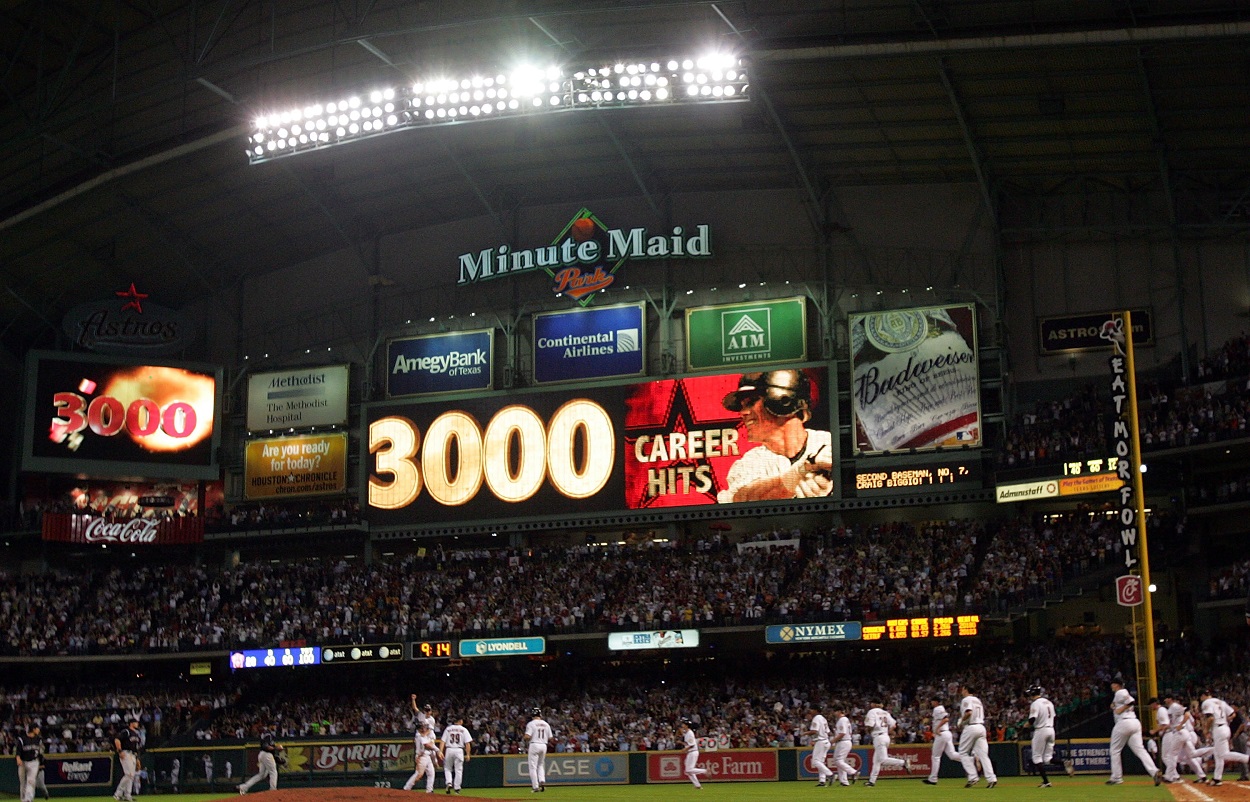 How Many MLB Players Have 3,000 Hits?
A look at the all the Major League Baseball players who have recorded at least 3,000 career hits.
Major League Baseball's 3,000 hits club is easily one of the most elite clubs in all of sports. An accomplishment many believe is even more impressive than reaching 500 career home runs, getting 3,000 hits certainly isn't an easy thing to do. Two hundred hits in a single MLB season is considered a great year, correct? Simple math obviously tells us that someone would need to do that for 15 years straight to get to 3,000 hits.
That's a long stretch of playing at an elite level, which is why all but two eligible members of the club have been inducted into the National Baseball Hall of Fame, the lone exceptions being Rafael Palmeiro and Alex Rodriguez. MLB's all-time hits leader, Pete Rose, became ineligible after being banned from baseball in 1989.
There are currently 33 members in the 3,000 hits club. Rose, of course, tops the list, while Roberto Clemente, who was sitting on exactly 3,000 when he was tragically killed in a plane crash on New Year's Eve in 1972, serves as the other bookend.
Of the 33 members in the club, 18 were right-handed, 13 were left-handed, and two were switch hitters. Ty Cobb holds the highest career batting average among those in the club (.366), while Cal Ripken Jr. has the lowest (.276).
Cap Anson was the first MLB player to reach 3,000 hits
While his actual hit total has been disputed for decades, the first member of the 3,000 hits club was Cap Anson, who played 27 seasons of professional baseball from 1871 to 1897 and recorded 3,435 hits.
The dispute comes from the fact that Anson played his first five seasons in the National Association, which some don't consider an official "major league." He recorded 423 hits in those five seasons. Take those away, and his total drops to 3,012. There's also the matter of the 1887 season in which walks were counted as hits. Add the 60 walks he took that year, and his total obviously rises.
But as Anson's bio on the National Baseball Hall of Fame's website lists his hit total at 3,435, which includes the NA hits but eliminates the 1887 walks, we're just going to stick with that number. Given that total, he reached 3,000 hits in 1894, his 19th season with the Chicago Cubs franchise, then known as the Chicago Colts.
There are 33 members in MLB's 3,000 hits club
Here's a quick look at every member of the MLB 3,000 hits club.
Pete Rose: 4,256
Ty Cobb: 4,189
Hank Aaron: 3,771
Stan Musial: 3,630
Tris Speaker: 3,514
Derek Jeter: 3,465
Cap Anson: 3,435
Honus Wagner: 3,420
Carl Yastrzemski: 3,419
Albert Pujols: 3,384
Paul Molitor: 3,319
Eddie Collins: 3,315
Willie Mays: 3,293
Eddie Murray: 3,255
Nap Lajoie: 3,243
Cal Ripken Jr.: 3,184
Adrian Beltre: 3,166
George Brett: 3,154
Paul Waner: 3,152
Robin Yount: 3,142
Tony Gwynn: 3,141
Alex Rodriguez: 3,115
Dave Winfield: 3,110
Miguel Cabrera: 3,103
Ichiro Suzuki: 3,089
Craig Biggio: 3,060
Rickey Henderson: 3,055
Rod Carew: 3,053
Lou Brock: 3,023
Rafael Palmeiro: 3,020
Wade Boggs: 3,010
Al Kaline: 3,007
Roberto Clemente: 3,000
Miguel Cabrera is the most recent member of the club
The newest member of the 3,000-hit club is Miguel Cabrera, who joined the group at the age of 39 on April 23, 2022. The future Hall of Famer is considered by many to be one of the greatest right-hand hitters of his generation. And there's certainly plenty of evidence to back that up.
Also the newest member of the 500 home run club, Cabrera holds a .310 career average and is a four-time batting champ, an 11-time MLB All-Star, a two-time AL MVP, a seven-time Silver Slugger Award winner, and a Triple Crown winner.