How Much Does It Cost to Play Pebble Beach?
First opened in 1919, Pebble Beach Golf Links is easily one of the most famous golf courses on the planet. It's been an annual stop on the PGA Tour since 1947 and has hosted the U.S. Open on six occasions, with two more already scheduled (2027, 2032). It also served as the host of the 1977 PGA Championship, the 1988 Tour Championship, and will host the U.S. Women's Open for the first time in July 2023.
Originally designed by Douglas Grant and Jack Neville, Pebble Beach has undergone several changes over the years, the most notable being the unveiling of an all-new fifth hole along the Pacific coastline in 1998, which Jack Nicklaus designed.
Nicklaus is also one of the many legends to have won a tournament at Pebble Beach, a list that also includes the likes of Ben Hogan, Johnny Miller, Tom Watson, Tom Kite, Hale Irwin, Payne Stewart, Phil Mickelson, Dustin Johnson, Jordan Spieth, and, of course, Tiger Woods.
But unlike many other courses with similar lists, the beautiful thing about Pebble Beach — besides the incredible scenery — is that anyone can play it. But it'll certainly cost you a pretty penny.
How much does it cost to play Pebble Beach?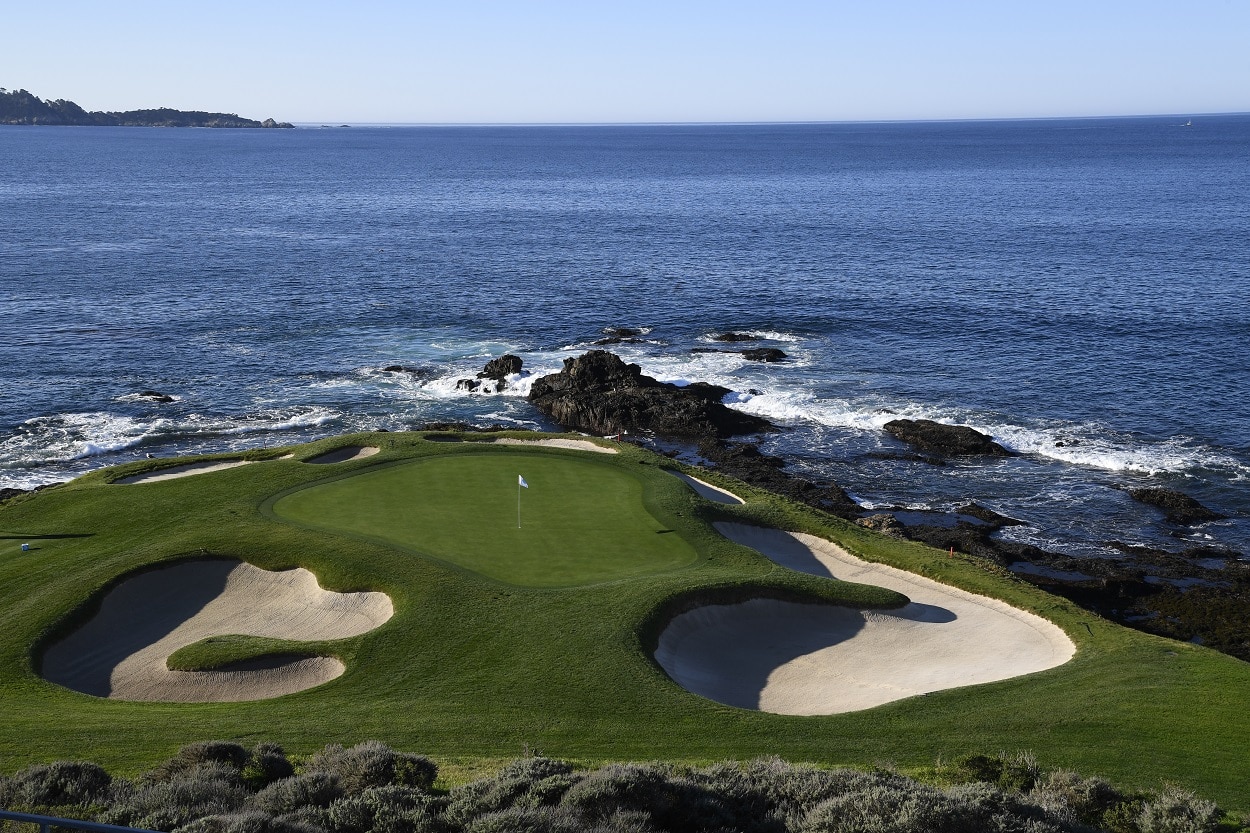 While undoubtedly one of the best public courses in the world, as is its sister course, Spyglass Hill, Pebble Beach is also one of the most expensive. But the price certainly doesn't keep the crowds away, as tee times are always in high demand.
Greens fees are currently $595, but the rate increases to $625 on April 1. There's also the matter of a $50 cart fee. However, that fee is waived if you're a guest at one of the three on-site resorts.
For those opting to walk, you can rent a pull cart for $15 or pay for a caddie. A single bag costs $150 (rises to $155 on April 1), and a double bag runs $200 (rises to $210 on April 1). A forecaddie is also available for $50 per person (minimum three players), and that fee increases to $52.50 on April 1.
As far as landing a tee time goes, your best bet is to stay at one of the resorts, which certainly aren't cheap and require at least a two-night stay. Non-guests only have a 24-hour window to reserve a tee time or can take their chances for one of the few walk-on spots each day.
For more info, check out the official Pebble Beach website.