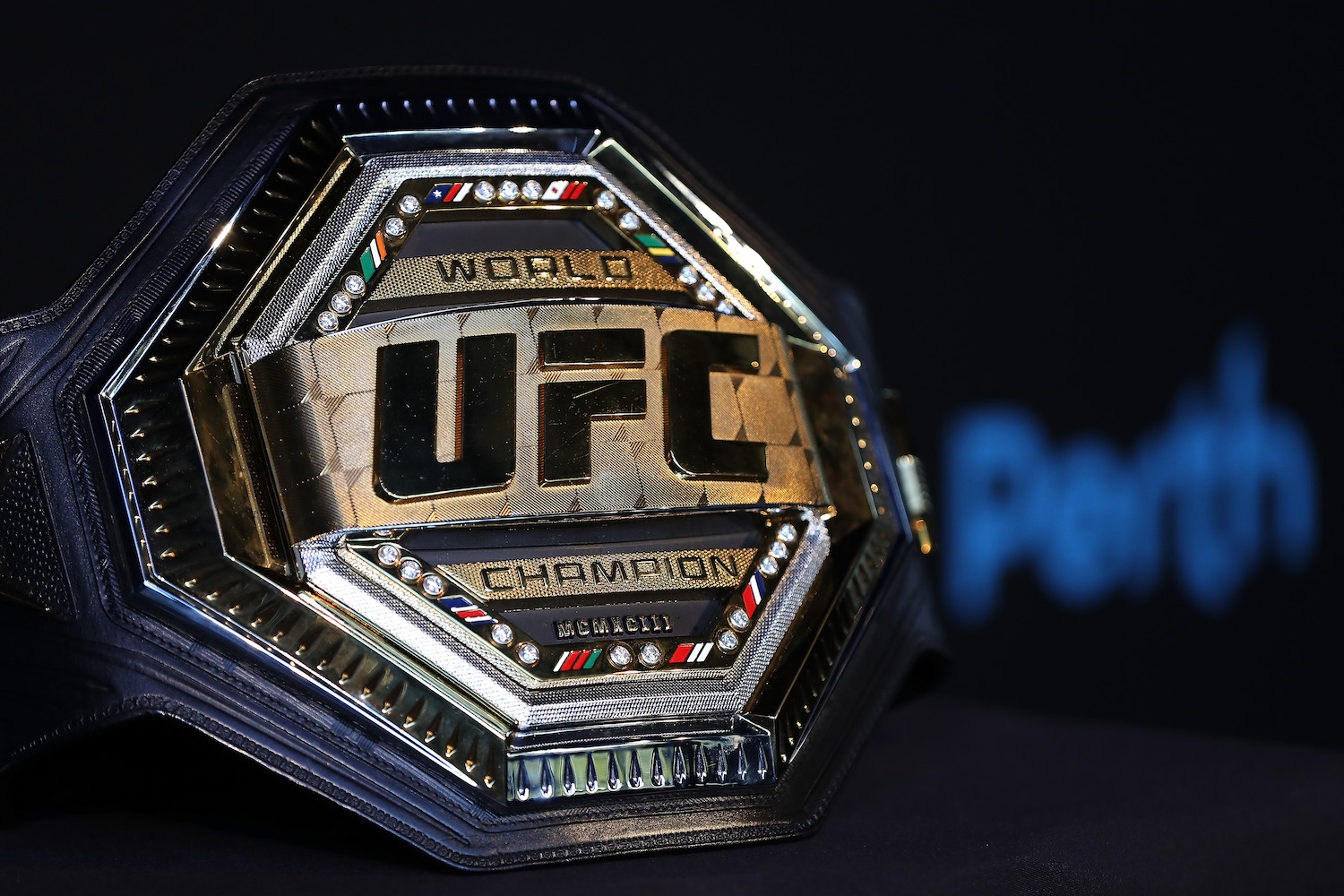 How Much Is a UFC Belt Worth?
UFC fighters battle for pride, money, and a chance to hoist and wear the championship belt. Have you ever wondered – how much is a UFC belt worth? Here's the shocking answer.
The awarding of a UFC title belt identifies to the world the best fighter in that respective division. UFC fighters dream and train for years with the hopes of one day clutching the oversized shiny gold belt, holding it over their head, and then having it wrapped around their waist. When a fighter learns how much a belt is worth, their feelings suddenly shift. It's no longer just a prized possession. It's a prized possession with a hefty price tag attached to it. How much is a UFC title belt worth?  
UFC started with the Classic belt
Since the launch of the UFC, just like any combat sport, a title belt is on the line during each championship fight. After the fight's conclusion, the victor receives and keeps the championship belt. That's always been the standard practice.
The UFC, however, has always been different. In addition to earning what the UFC called a Classic belt for each championship victory, titleholders have also received a new belt each time they successfully defended their title. For someone like former UFC Bantamweight champion TJ Dillashaw, he had five belts.
The top-caliber fighters, understandably, loved that system because multiple successful title defenses resulted in a nice collection of straps. However, that system came under scrutiny in 2017.
Controversy with Demetrious Johnson and his belts
In 2012, Demetrious Johnson defeated Joseph Benavidez at UFC 152 in the finale of the four-man tournament for the inaugural flyweight championship. For his efforts, Johnson was awarded the first-ever UFC Flyweight Championship title belt. 
For five years, Johnson defended his title successfully one fight after another. Then, he did the improbable. He broke the once-believed unbreakable record of Anderson Silva defending his title an impressive 11 times. However, throughout Johnson's record-setting run of title defenses, the flyweight champ noticed something odd. Unlike other UFC champions who would receive new belts each time they defended a title, Johnson saw no such reward. In 2017, Johnson called out the UFC and president Dana White. 
"I'm getting pissed off about that. I saw Daniel Cormier get three damn belts, so Dana White, WME-IMG, whoever writes the checks, give me eight damn belts please," Johnson said before his April 2017 fight and 10th title defense against Wilson Reis, which he won. "I'm going to start collecting these belts. Michael Bisping has two belts and I'm just a nice guy, just a company man, I come here and fight and then they take the belt away from me and I'm like, 'alright, peace. Call me when you want me to come fight again.' And that's it. But now I'm seeing these guys with three belts, and I'm like, I only got one belt and have to share it with two of my kids."  
A month later, Johnson received all his belts. 
How much is a UFC belt worth?
At the beginning of 2019, the UFC made a change. The organization unveiled a redesigned UFC championship strap called the Legacy Belt and announced a new reward system. Similar to the previous system in place, a first-time champion is crowned with a new belt. That's where the similarities end.
On a successful title defense, the champion fighter returns the belt's plate to the UFC, then the organization adds a ruby, which has the date and location of their title defense engraved on it. There are no more new belts for each title defense. 
According to various fighters, each gold belt has a shocking reported value of more than $300,000. "Rashad Evans, former champion, has a belt at home," former UFC middleweight champion Michael Bisping said during his "Believe You Me" podcast. "He was having a conversation with Dana White, Dana White told him that the old belts, the ones that we have are worth $300,000 each. That's what Dana White told Rashad Evans."
While it's hard to believe the belts are worth more than the paychecks many of the fighters see, it's also not too far-fetched when you consider two things — there are a limited number of champions and the UFC generated an estimated $1 billion in revenue in 2019.
In other words, in the grand scheme of things, it's not very expensive for the UFC. For the fighters, however, the belt itself, no matter its monetary value, will always have a special value because it is associated with that memorable moment in which it was earned. And that moment of victory is priceless.