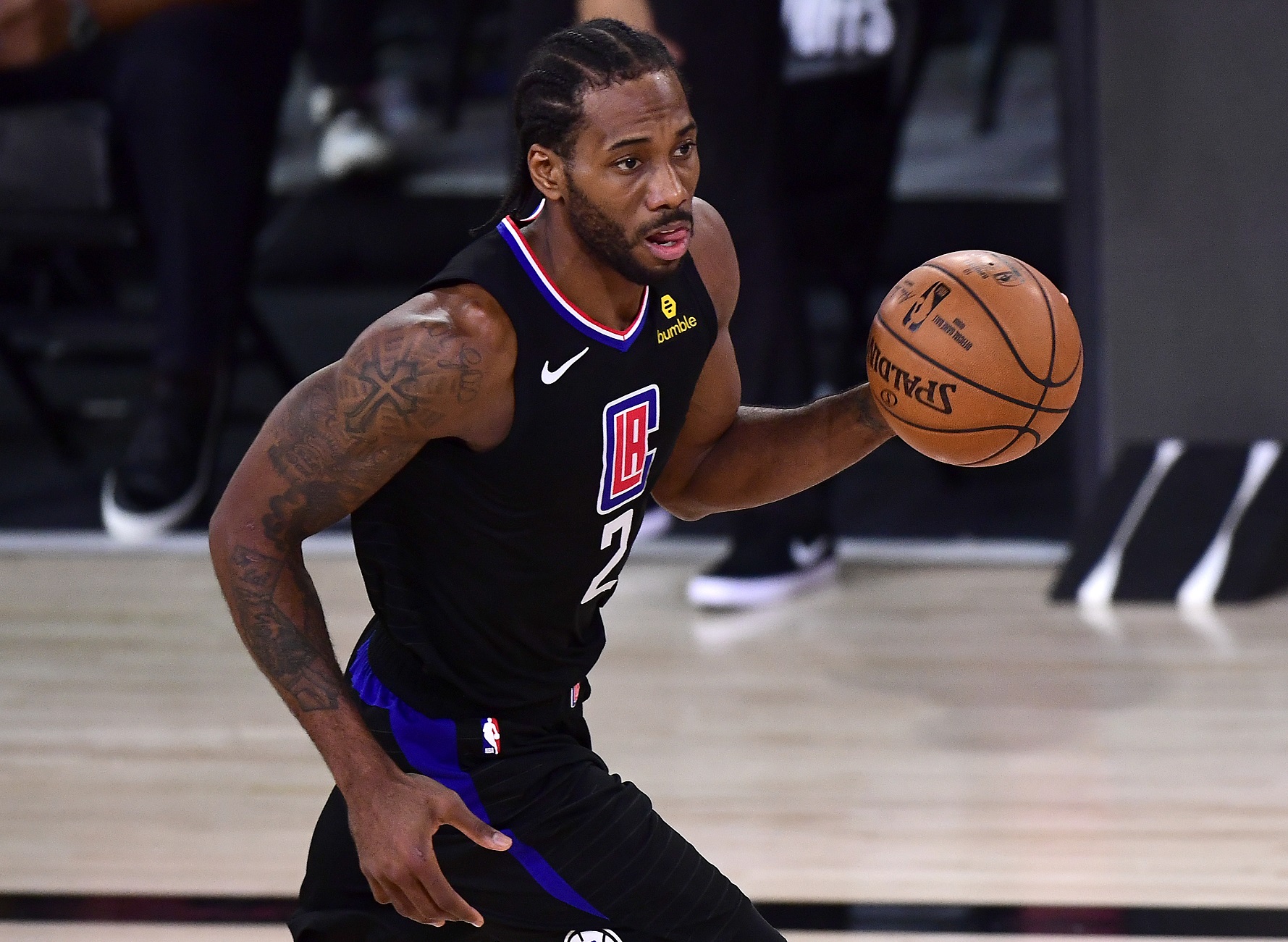 How Much Money Can Kawhi Leonard Make?
Los Angeles Clippers star Kawhi Leonard is in a position to score a massive contract as an NBA free agent next summer.
The names scratched from the list in the past week are a who's who of NBA greats, including Giannis Antetokounmpo and Paul George. Each time a big-name star commits to a new contract this year, Kawhi Leonard becomes a larger attraction in next year's free-agent market.
Leonard is gambling on himself this year, but he's done it in wise fashion while eyeing a blockbuster contract that will make him the envy of NBA free agents.
LeBron James, Giannis Antetokounmpo are off the table
LeBron James was the first big name to take himself off the list of potential 2021 NBA free agents by signing a two-year extension that just about assures he'll finish his career with the Los Angeles Lakers. Giannis Antetokounmpo, who would have been the target of every team with cap space next summer, took the five-year, $228.2 million supermax extension to stay with the Milwaukee Bucks.
Anthony Davis (five years, $190 million) has security with the Los Angeles Lakers, Paul George (four years, $190 million) is staying with the Los Angeles Clippers, and Rudy Gobert (five years, $205 million) will remain with the Utah Jazz.
And just like that, the most spectacular free-agent frenzy in NBA history won't be happening next summer. Jrue Holiday, Victor Oladipo, and DeMar DeRozan will potentially be available following the season, but none can boast of a past and a future to match Kawhi Leonard.
Kawhi Leonard is at the top of his game
Kawhi Leonard is only 29 years old and already possesses two NBA championships – earning the playoff MVP honor each time – and has been selected the league's Defensive Player of the Year twice. His one-and-done season with the Toronto Raptors in leading them to the championship was his best season yet, and then he outdid himself with the Los Angeles Clippers this past season.
Leonard averaged 27.1 points a game in his Clippers debut, boosting his career average to 18.7. He's also a 38.3% shooter from beyond the arc and 49.1% overall.
He doesn't lack confidence in himself, either. Leonard was in line for a five-year, $221 million extension had he stayed with the San Antonio Spurs. Their bad breakup resulted in Leonard going to the Toronto Raptors, where he turned down $190 million in order to go the free-agent route.
Even then, Leonard passed up maximum money by settling for $103.1 million over three years. The third year, however, is a player option that gives Leonard security in case something goes horribly wrong in the 2020-21 season.
Otherwise, Leonard is all but certain to opt out of the deal and become the most coveted of NBA free agents.
How much money can Kawhi Leonard make?
Kawhi Leonard has already done just fine for himself on payday. The $34.3 million he's making this season will push him over $150 million for the first 10 years of his career. It adds up to him not having to make decisions based upon money.
Leonard was born in Los Angeles, played high school ball in nearby Riverside, and prepared for the NBA with two seasons at San Diego State. It's a strong indication that his stay on the list of NBA free agents will be brief and he'll remain alongside Paul George with the Los Angeles Clippers.
As a 10-year veteran, Leonard will qualify for the supermax contract that will pay $39.2 million in the first year (assuming a $112 million salary cap) and a total of $227.3 million over five years, according to Forbes.
All stats courtesy of Basketball Reference.