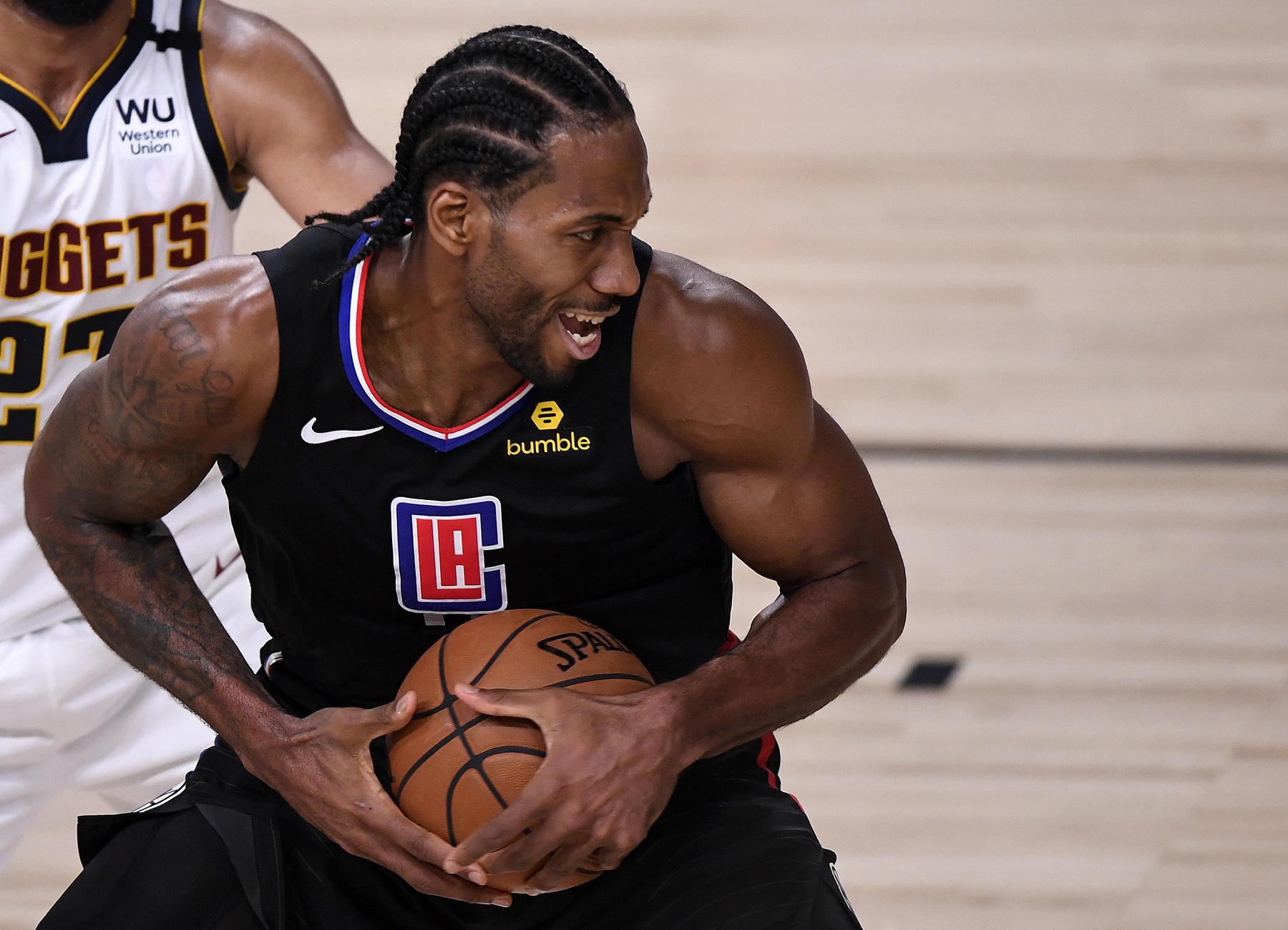 Kawhi Leonard Recruited Serge Ibaka To the Los Angeles Clippers With 3 Words
Kawhi Leonard recruited Serge Ibaka to the Los Angeles Clippers. However, the high-scoring forward did it in his typical low-key way.
Kawhi Leonard is occasionally described as enigmatic. The Los Angeles Clippers star is exciting on the basketball court but goes out of his way to keep a relatively low profile off it by generally staying out of the media. He may be a man of few words, but he makes them count if a story shared by NBA veteran Serge Ibaka is any indication.
Kawhi Leonard was a great acquisition for the Los Angeles Clippers
It seems like a lifetime ago that Kawhi Leonard and the San Antonio Spurs went through a bad breakup. Leonard had entered the NBA in 2015 as the No. 15 overall draft pick by the Indiana Pacers, who turned around and traded him to San Antonio the same night.
The 6-foot-7 forward wasn't a huge-impact player in his first three seasons, but he didn't need to be because of the Spurs' wealth of talent that led to the league title in 2014. It was in the following season that Leonard began to emerge, averaging 16.5 points and 7.2 rebounds a game. He also led the NBA in steals per game and captured the first of back-to-back Defensive Player of the Year awards.
That earned Leonard a five-year, $94.3 million contract with the Spurs, and he grew his scoring and assists numbers the following two seasons. All seemed great until the 2017-18 season. Leonard missed the first 27 games with a right quadriceps injury. He returned in mid-December to appear in eight of 13 contests, but Leonard benched himself over concerns of lingering discomfort from the injury.
Despite pleas from teammates, Leonard did not play the final 38 regular-season games or in the Western Conference quarterfinals vs. the Golden State Warriors. San Antonio subsequently traded Leonard, and he helped the Toronto Raptors to the 2019 NBA championship. After the season, he signed with the Los Angeles Clippers for three years and $103.14 million.
Leonard averaged career highs of 27.1 points and 4.9 assists to go along with 7.1 rebounds a game in the regular season for LA. He was one of the stars of the pandemic-delayed playoffs, averaging 28.2 points and 9.3 boards.
The Los Angeles Clippers have added Serge Ibaka
Veteran center Serge Ibaka just agreed to a two-year, $18.98 million contract with the Los Angeles Clippers and shapes up as a great addition at both ends of the court. Ibaka, who arrived in the NBA in 2009 with the Oklahoma City Thunder, is one of the most remarkably consistent producers in the NBA. Ibaka, three times a first-team All-NBA Defensive Player, has averaged between 12.6 and 15.1 points a game every year since the 2012-13 season.
The Thunder traded him to Orlando in June 2016, and the Magic dealt Ibaka to the Toronto Raptors eight months after that.
In three-plus seasons as a Raptor, Ibaka averaged 14.2 points and 7.4 rebounds a game. Playing just 20 minutes a night in the postseason, he still averaged 9.4 points and 6.0 rebounds in Toronto's championship run.
Kawhi Leonard reeled in Serge Ibaka with just three words
Kawhi Leonard played one season and won an NBA title alongside Serge Ibaka with the Toronto Raptors before opting out and signing with the Los Angeles Clippers. When Ibaka became a free agent this fall, Leonard reached out. However, he did so in Leonard's typically understated fashion, according to Ibaka.
"You guys know him, right?" Ibaka asked the Los Angeles media. "'Hey, what's up?' That's what Kawhi text(ed) me. I said, 'What's up bro? I'm on vacation.' 'Ah cool.'"
Leonard sensed that perhaps Ibaka wasn't getting the message. In his mind, "Hey, what's up?" was shorthand for "Please come play for the Clippers."
Impatient, Leonard followed up by asking, "Bro, are you coming or no?" It made Ibaka laugh. The original message got through loud and clear, Larry Brown Sports reported.
"I know him, so that's how always we communicate," Ibaka said. "When he says, 'What's up?' I already know what he means."
All stats courtesy of Basketball Reference.