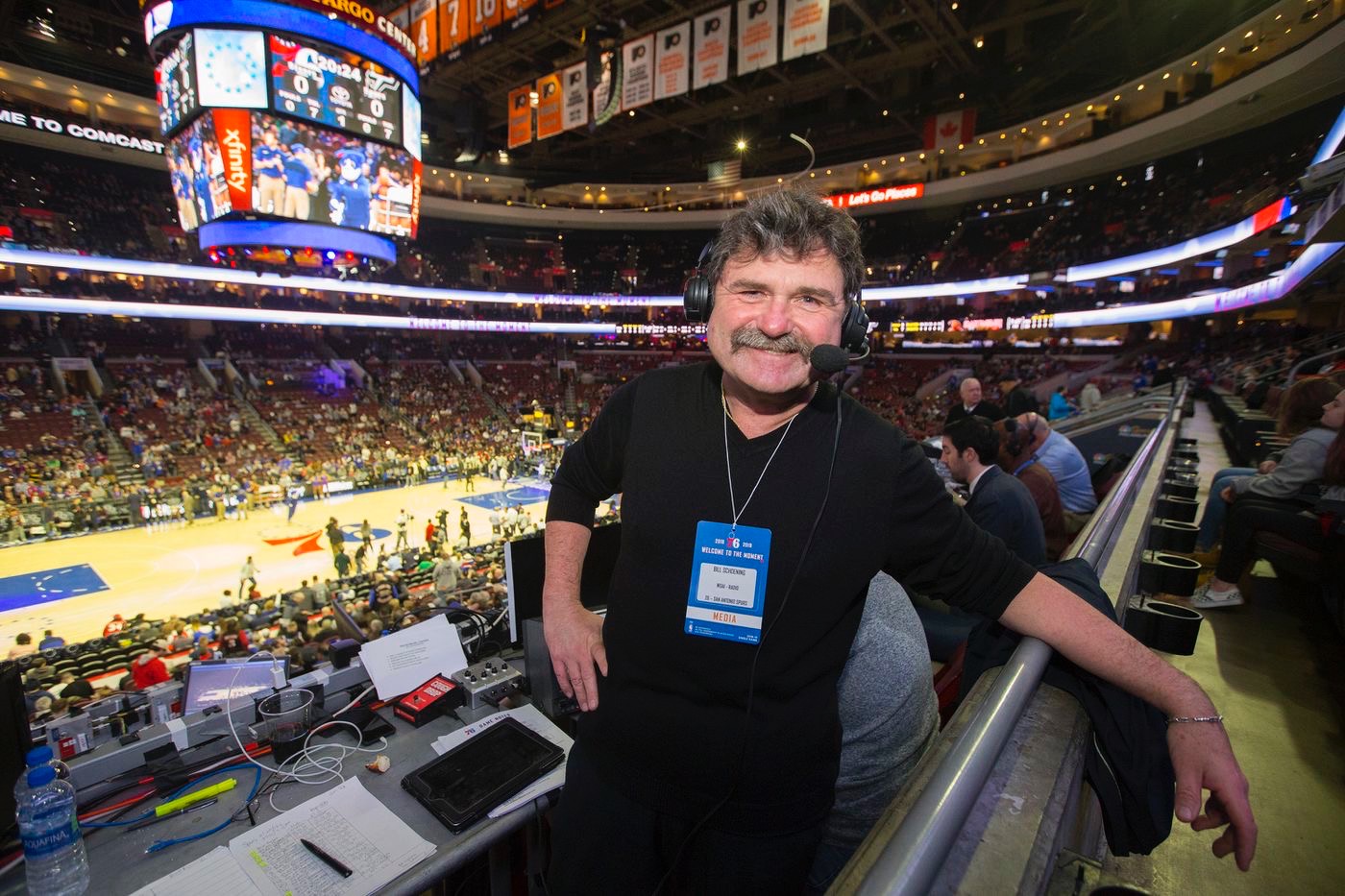 San Antonio Spurs Announcer Witnessed Dozens of Executions in Previous Job
Bill Schoening has been the voice of the San Antonio Spurs for 19 seasons. It's a long way from one of his earlier jobs where he covered executions on Texas Death Row.
By his own admission, Bill Schoening has had a blessed career in radio broadcasting. For years he was the voice of the Texas Longhorns and covered greats, including Ricky Williams and his run to the Heisman Trophy. In 2001, he took the job as voice of the San Antonio Spurs and was court-side each game during the club's last four NBA-title winning seasons. 
Before Schoening ever made it to Austin or San Antonio, he was working his way up the ranks working at various small-town radio stations, where it's common practice to wear multiple hats. One stop along the way was in Huntsville, Texas, home of Texas Death Row. As a reporter, Schoening covered dozens of executions.   
Bill Schoening with the San Antonio Spurs
When Bill Schoening took the job with the San Antonio Spurs in 2001, the team had won the organization's first NBA championship three years earlier, but was coming off a sweep at the hands of the LA Lakers in the Western Conference Finals the year before. Never in his wildest dreams could he imagine the run the team was about to embark on, and he'd be sitting there court-side for each game along that magical journey.
Schoening was there for Tony Parker's rookie season in 2001. He was there a year later for Manu Ginobili's first game. He was there a year later when the Spurs won their second title in 2003, defeating the New Jersey Nets in six games. A couple of years later Schoening called the Spurs hard-fought victory in seven games over the Detroit Pistons.
Two more championships followed in 2007 and 2014. Schoening never missed a game and described every single play to Spurs fans listening on the radio. This year, the extended pandemic season, is Schoening's 19th and he's yet to cover a Spurs team that hasn't made the playoffs. 
Working as voice of the Longhorns
Prior to joining the Spurs, Bill Schoening was the voice of the University of Texas sports. Unlike the Spurs, where it's just one sport, at Texas, Schoening covered everything including football, baseball, and men's basketball. 
When he started in 1989, Schoening did play-by-play for Texas baseball games and color commentary for Texas football and men's basketball. A few years in and after the two lead broadcasters departed, Schoening moved over into the play-by-play chair for those sports where he covered every snap of Ricky Williams' career in the burnt orange. 
In addition to his time broadcasting sports, Schoening also hosted an afternoon sports radio talk show where he would cover the day's topics, with a focus mainly on all things Longhorn. While he wore multiple hats working in Austin, that was nothing new. He had years of cross-training in multiple jobs while working at smaller-market stations around the country. 
Bill Schoening covering death row
When Bill Schoening was hired to work at the University of Texas in 1989, he had worked in Huntsville, Texas the previous six years, broadcasting Sam Houston State University sports, including football, basketball, and some baseball.
Working in a small market, Schoening, who was 23 years old when he started, also served as a reporter where he covered the Texas prison system. One of his responsibilities included covering death row and executions. In his time in Huntsville, he witnessed 29 executions. For a man who has a gift of using words, he said it's an experience that's difficult to describe.
"It's strange because when you go cover an execution, in the same area are the victim's families and then the family of the man who is being executed. So it's a real tense kind of time. A very awkward kind of time. But as a reporter, you have to almost remove yourself from any emotions that you might have about that particular topic."
Schoening said despite trying to disconnect as best he could, he couldn't help but feel for all those involved. 
"As you get to interview some of these death row guys and you realize, okay, they did some bad things, but they had a lot of different circumstances in their life. I had a loving family. I had a great childhood. We didn't have a lot of money, but we had a lot of love in our family. You interview some of these inmates, and they did not. They were behind the eight-ball before they ever got started."
While it would be easy to understand if Schoening took success for granted considering the Spurs have won four NBA titles and made the playoffs in each of his 19 seasons behind the mic, his time in Huntsville won't allow that to happen. He understands you can't take life for granted because he's watched it end right before his own eyes on more than a few occasions.