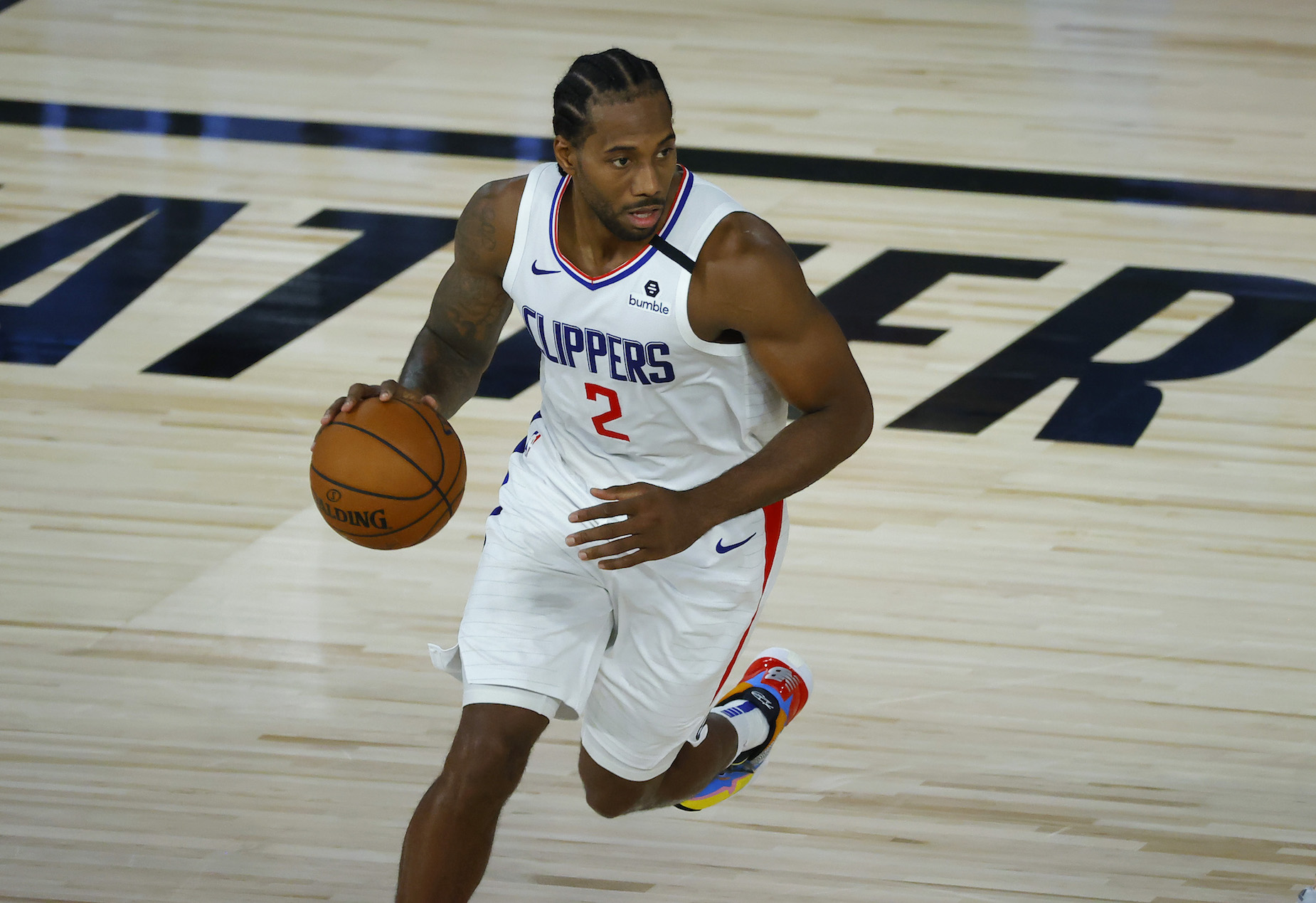 Kawhi Leonard May Be a 'Fun Guy,' But His Trash Talk Sounds Pretty Boring
Depending on who you ask, Kawhi Leonard is either a "fun guy" or pretty boring. His trash talk, however, fits firmly in the latter category.
For the most part, the NBA's biggest stars also have prominent personalities. Kawhi Leonard, however, does things a bit differently. While the LA Clippers forward possesses plenty of talent, he's not the most outspoken man; despite his claims that he's "a fun guy," his interests seem to begin and end with basketball.
Even when he's showing some personality on the court, though, Leonard apparently keeps things pretty close to his chest. According to some former teammates, even the forward's trash talk is pretty boring.
Kawhi Leonard is the perfect player for the modern NBA
Over the years, the template of a 'perfect player' has changed. In the modern, positionless NBA, Kawhi Leonard seems pretty ideal.
After making a name for himself on the California basketball scene in high school, Leonard enrolled at San Diego State. With the Aztecs, the forward proved capable of doing just about everything on the floor; thanks to his length and athleticism, he claimed the Mountain West Conference's Freshman of the Year title. After an even more impressive sophomore season, he was ready for the NBA.
When the 2011 NBA draft rolled around, the Pacers selected Leonard with the 15th-overall pick before trading him to the San Antonio Spurs. While experts weren't sure what to make of Leonard—he had all the physical tools to succeed but didn't have the best offensive skill set—Gregg Popovich had unearthed a gem.
While Leonard started as more of a defensive stopper and shooter than anything else, his game grew with each passing season. In 2014, he claimed the NBA Finals MVP award; he followed that up with back-to-back Defensive Player of the Year titles. He then headed to Toronto and, by winning another championship and Finals MVP, proved that he could be the main man and lead a team to the top.
'I'm a fun guy'
In modern sports, the biggest athletes become brands in their own right. While Kawhi Leonard does have his own logo as the face of New Balance's basketball line, he's not always the most outgoing guy. We see LeBron James eating tacos with his family and know all about Steph Curry's golf game; Leonard, however, prefers to focus on basketball.
The Clippers forward doesn't have any active social media accounts, at least as far as the public knows. During games, he simply keeps playing without getting too high or too low; he takes a similar tone in his press conferences and interviews. When he first arrived in Toronto, however, Leonard did show a brief flash of personality.
During his introductory, a reporter asked Kawhi how he would introduce himself to local fans. "I'm a fun guy," Leonard famously said. "Obviously, I love the game of basketball. I mean there's just more questions you have to ask me in order for me to tell you about myself. I just can't give you a whole spiel." He then remarked that he wasn't even sure where the reporter was sitting and laughed out loud.
That seemingly incongruous response, coupled with Leonard's awkward laugh—Faizal Khamisa of Sportsnet described it as "whatever the robotic equivalent of laughing is"—instantly became a meme. Whether you believe it or not, every basketball fan knows that Kawhi is apparently "a fun guy" behind closed doors.
Kawhi Leonard's college trash talk was pretty boring
Without knowing Kawhi Leonard on a personal level, there's no way to know how fun or boring he really is. The forward's trash talk, however, isn't the most exciting thing you'll ever hear.
In his oral history of Leonard's college career, Jayson Jenks of The Athletic caught up with some of Kawhi's old teammates. They provided some insight into the forward's personality.
"The most he talked was on the hard court, and Kawhi was not afraid to let you know that you weren't going to score on him, that you couldn't get past him or that he would score on you," guard DJ Gay explained. Every time the ball went through the net, he just said, 'Bucket. Bucket.' That was it."
Other players confirmed his account.  "Most people say it like, 'Oh, I'm about to get buckets on you," Tyrone Shelton added. "He was just like, 'Buckets. Layup.' Just one word."
Leonard might not have said much, but he did coin his signature phrase on campus.
"If I heard it once, I heard it 50 times," assistant coach Jason Hutson explained. "Board man. I'm a board man.' That's what he said. Absolutely. 'I'm a board man. Yeah, I'm a board man. Board man gets paid.' He spoke in phrases like that."
Is Kawhi Leonard a fun guy or boring? You can be the judge of that. If nothing else, though, we know he's pretty consistent.
Stats courtesy of Sports-Reference and Basketball-Reference