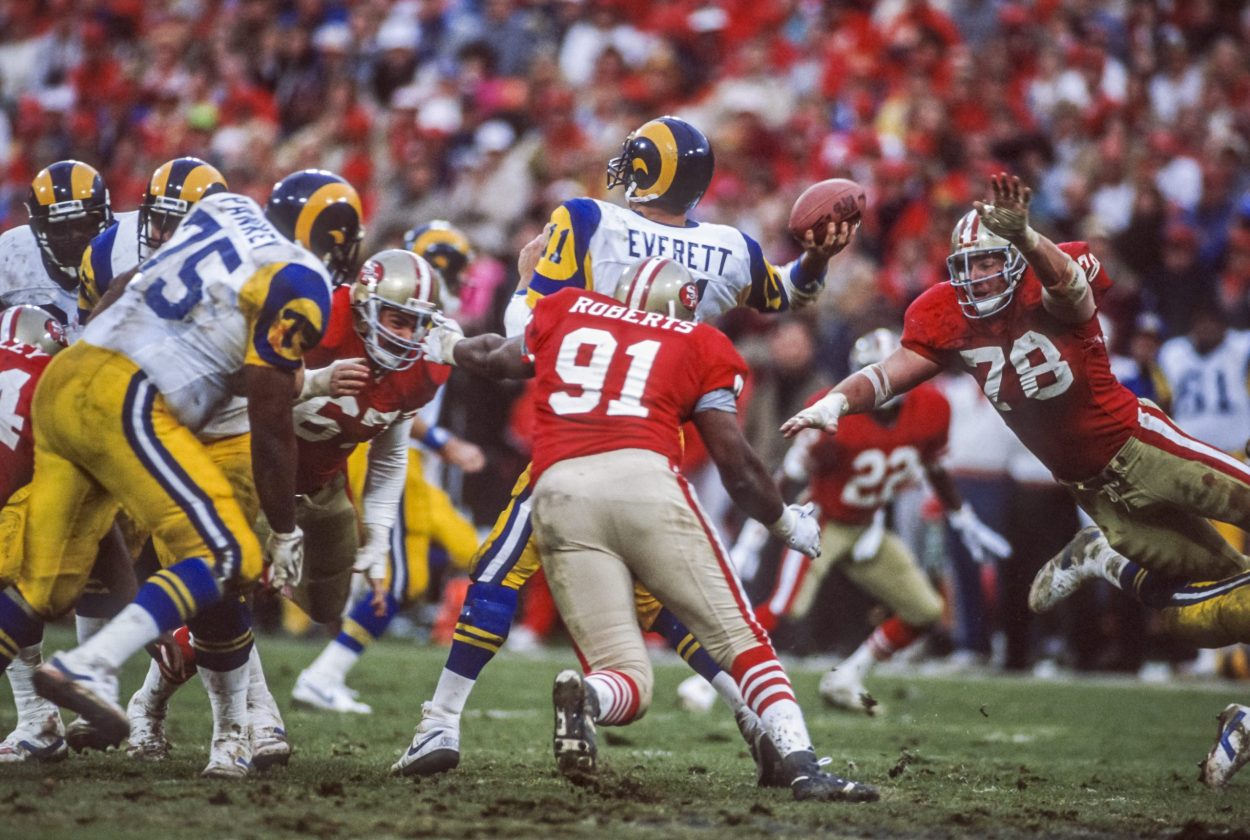 How the Rams-49ers 1989 NFC Championship Game Led to Jim Everett Sacking Jim Rome
The 'Phantom Sack' in the 1989 NFC Championship Game led to a very real confrontation between Jim Everett and Jim Rome in 1994.
No quarterback likes to be bullied. Not by an opposing defensive line, a group of linebackers and an occasional blitzing safety.
And certainly not by a talk radio host.
On Sunday, the Los Angeles Rams will host the San Francisco 49ers in the 2021 NFC Championship Game at SoFi Stadium, and it is interesting to note that despite their decades-long rivalry in the NFC West, the Rams and 49ers have only met one other time in the NFL Playoffs.
That was also the NFC Championship Game, back in the 1989 season. And as games go, it wasn't much to talk about. In what would be Joe Montana's last Super Bowl-winning season with San Francisco, the 49ers spotted the Rams an early field goal, then ran away for a 30-3 victory. Two weeks later, the Denver Broncos suffered a similar fate in a 55-10 loss in Super Bowl 24.
But whatever slings and arrows came John Elway's way were nothing compared to what Rams quarterback Jim Everett would have to endure.
But the embattled quarterback finally struck back at his demons – and that talk-show host – in the most shocking way imaginable.
A 'shell-shocked' Everett and the Rams never had a chance in the 1989 NFC Championship Game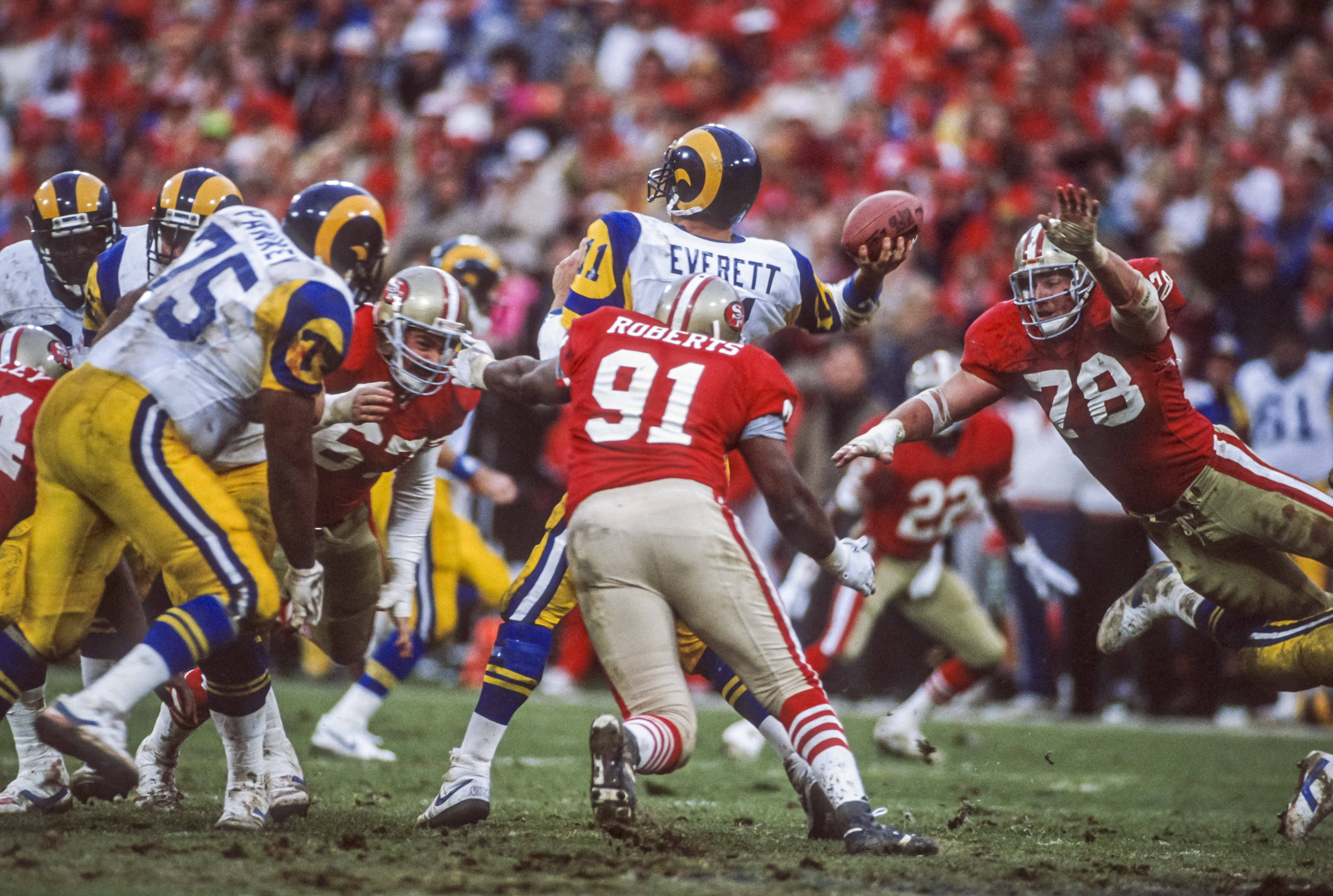 The really remarkable part of this whole sorry story is that the only sack recorded by the 49ers against the Rams in that NFC Championship Game came on the play where no one actually touched Everett.
Not that the 49ers weren't all over the Rams quarterback all game long. In battering the Rams into a 27-point loss, the 49ers forced Everett into a 16-for-36 day for 141 yards with three interceptions and a passer rating of 20.7.
So relentless was the pressure that the fourth-year starter dropped back at one point in the second half on a 3rd-and-10, felt pressure that wasn't there, and turtled to the ground, expecting to have at least one 49ers defender on top of him.
Instead, Everett was all alone, the victim of what would become known as "The Phantom Sack."
"I'll tell ya, Everett felt the bullet when there was no bullet!" an incredulous John Madden shouted to his CBS audience. "I don't know I've ever seen a quarterback get knocked down when there was no contact. You should not feel that [phantom pressure], I don't care."
After the game, the term "shell-shocked" got thrown around quite a bit to explain Everett's performance, three decades before New York Jets Sam Darnold would claim to be seeing ghosts in a loss to the New England Patriots.
"Don't ever say the 49ers aren't physical," Everett said after the game. "They can bring it."
So, too, could Jim Rome.
Rome piles on Everett for the 'Phantom Sack' with an unfortunate nickname, then ESPN2 called
Sports talk radio was still somewhat in its infancy in 1990. The legendary "Mike and the Mad Dog" show on WFAN in New York had only premiered a few months before the 1989 NFC Championship Game.
In San Diego, another sports radio star was making his ascendancy in the industry. Jim Rome would go on to become one of the most famous and influential sports talk radio voices in the country, but in the early 1990s, he was still just a rising star in Southern California, where the Rams and Everett were a popular topic.
Rome quickly latched on to the "Phantom Sack" as a way to hot-take Everett into prominence. And that meant giving Everett the nickname "Chris" — as in the female tennis star Chris Evert — intended to belittle the quarterback as being weak, less-than-manly, something that would quickly get a talk-show host in hot water in the 2010s and '20s.
But in the early 1990s, the sexist name-check only earned Rome greater prominence, and when ESPN created its companion network ESPN2 in 1993 and sought edgy stars for its new brand of content to attract a younger viewership, they tapped Rome to host a live interview program, called "Talk2."
And to try to make a big ratings splash for a network struggling to gain wide cable access, booking Jim Everett seemed a no-brainer.
Rome talked, then Everett walked in a shocking early burst of reality TV
Jim Everett was traded from the Rams to the New Orleans Saints in March 1994, but still agreed to appear on Talk2 in April 6, 1994.
The appearance was tense from the start, as Rome continued to call Everett "Chris," now right to the quarterback's face.
"Jim, good to have you on the show," Rome began. "Check that, Chris Everett, good to have you on the show."
An obviously-agitated Everett warned Rome to cease with the nickname.
"We're sitting here right now, and if you guys want to take a station break you can, but if you call me Chris Everett to my face one more time, we'd better take a station break."
This was no phantom threat.
And when Rome addressed Everett as "Chris" one final time, Everett stood up, chucked the table that separated the two aside, and knocked Rome to the ground. On live television.
It took studio workers to pull Everett off of the diminutive Rome, and it was over. But the confrontation became national news. The scuffle drew so much attention, many wondered if it had been staged as a publicity stunt to help the fledgling network.
Both Everett and Rome have denied it was any other than spontaneous and unfortunate.
But it hasn't stopped Everett, at least, from still having fun.
In 2021, one of those participation tweets went out looking for subtweets. The question: "Name an athlete with a seriously punchable face."
Everett sub-tweeted with a photo of Jim Rome.
"Wait, what … they said athlete? … oh, never mind."
Stats courtesy of Pro Football Reference