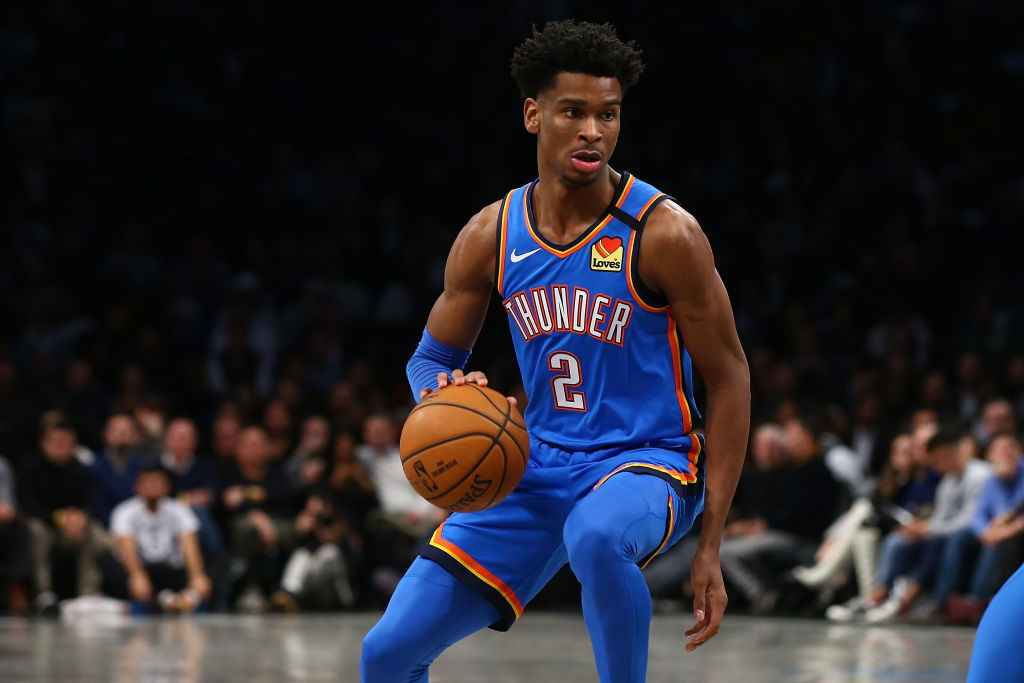 How Shai Gilgeous-Alexander Responded to His Coach's Challenge in a Historic Way
Star players always respond to a challenge. Oklahoma City Thunder guard Shai Gilgeous-Alexander did that with a historic triple-double.
A good coach knows how to motivate everyone on his or her team. Some players might need a bit of extra support, while others respond to being challenged. Oklahoma City Thunder guard Shai Gilgeous-Alexander apparently belongs to the latter category.
Thunder head coach Billy Donovan recently challenged his young guard to play more of an all-around game. On Monday night, Gilgeous-Alexander responded in a historic way.
Shai Gilgeous-Alexander's basketball career
Shai Gilgeous-Alexander might have made it to the NBA, but he didn't have the most straightforward road to the pros. He grew up in Canada and spent his first two years of high school in Hamilton, Ontario; he then transferred to Hamilton Heights Christian Academy in Chattanooga, Tennessee.
Shortly after coming to America, SGA committed to play his college ball at the University of Florida. The guard never suited up for the Gators, though; as his stock rose, he de-committed from Florida and accepted an offer to play for his dream program, the Kentucky Wildcats. Gilgeous-Alexander started out on the bench but forced his way into the starting lineup. He averaged 14.4 points and 5.1 assists as a freshman, then entered the NBA draft.
The Charlotte Hornets selected SGA with the 11th overall pick of the 2018 draft but promptly traded the guard to the Los Angeles Clippers. The guard just under 11 points per game during his rookie season, but found himself on the move again; during the offseason, he was shipped to Oklahoma City as part of the Paul George trade.
Responding to Billy Donovan's challenge
Prior to Monday night's game against the Minnesota Timberwolves, Oklahoma City Thunder head coach Billy Donovan gave Shai Gilgeous-Alexander a challenge.
"Coach had challenged me before the game to fill up the stat sheet more and do more things," the guard explained. "Because he thought, as well as myself thought, that I was more capable of what I was doing." Not only did SGA respond, but he responded in a historic way.
Gilgeous-Alexander exploded for his first career triple-double, finishing the night with 20 points, 20 rebounds, and 10 assists. He became the youngest player—21 years and 185 days old—to ever record a 20-20-10 triple-double; he's also only the second guard, behind Russell Westbrook, to have a 20-20 triple-double in the past 30 years.
SGA also entered the Canadian history books as the first man born north of the border to record an NBA. Steve Nash had three in his career—the most ever by a Canadian—but was born in South Africa.
The best is still yet to come for Shai Gilgeous-Alexander
While it's never a great idea to draw conclusions from one game, Monday night's outburst seemed like more than a historic performance. It was a stark reminder of Shai Gilgeous-Alexander's potential.
In the past several years, we've seen SGA grow by leaps and bounds, going from a bench player at Kentucky to an NBA starter. While the road hasn't always been easy, the Gilgeous-Anderson is growing into his new role with the Thunder; playing and learning alongside Chris Paul, he's added more offense to his game this season and become the club's leading scorer. If his upward trajectory continues, the Thunder will have another star guard on their hands.
When star players face challenges, they respond in a big way. That's exactly what Shai Gilgeous-Alexander did on Monday night.