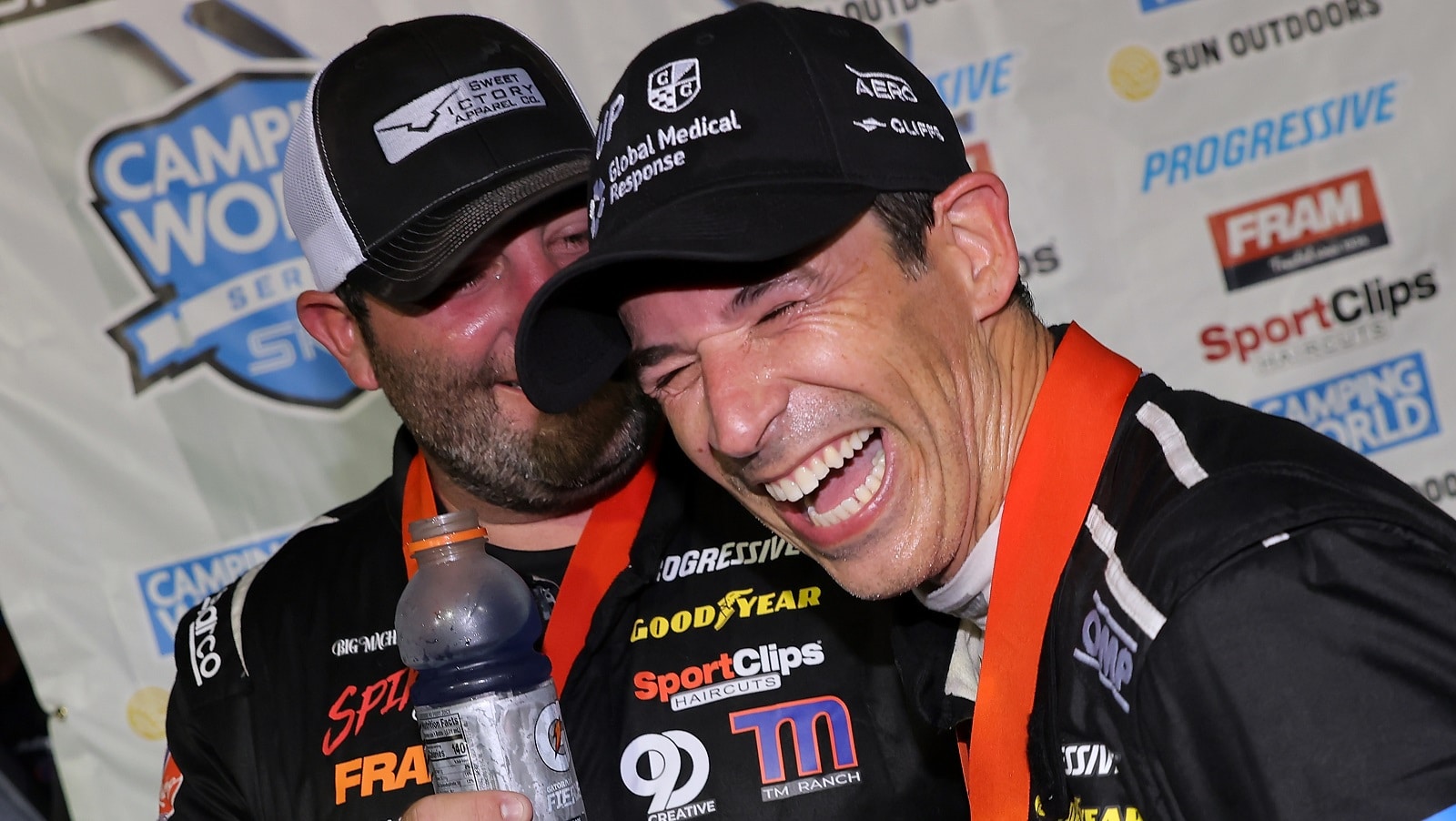 Indianapolis 500 Legend Helio Castroneves Teases NASCAR Fans With a Surprising Offer
Helio Castroneves wasn't scheduled to race Saturday in the SRX series. However, his win may have landed him another gig, this time in NASCAR.
Leave it to a four-time Indianapolis 500 winner to win a Superstar Racing Experience (SRX) race and then perk up the ears of NASCAR fans with a postrace disclosure.
Helio Castroneves may or may not have been serious. But it sounds as though he could drive in a NASCAR race to be determined.
Helio Castroneves won a race that wasn't on his schedule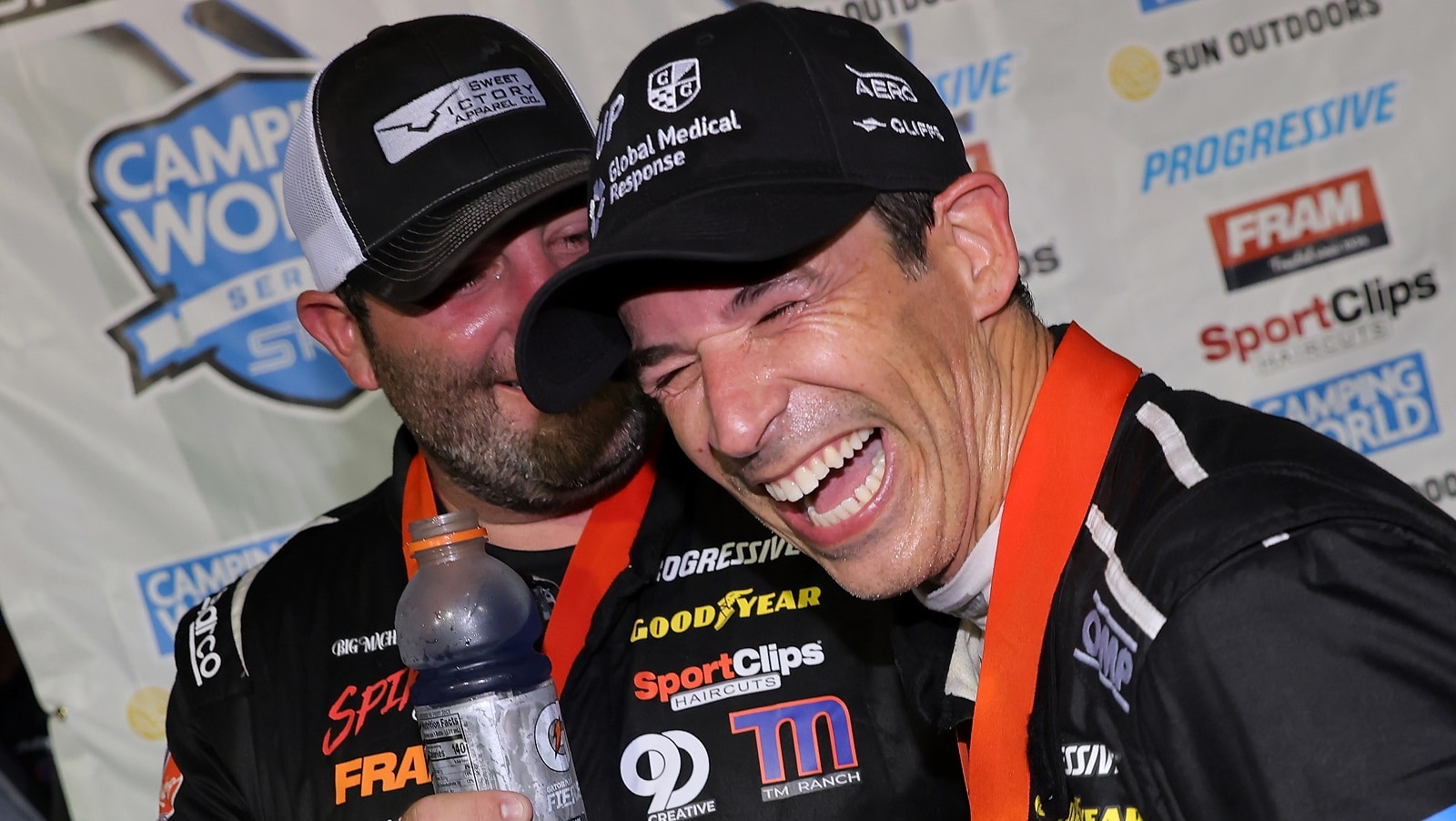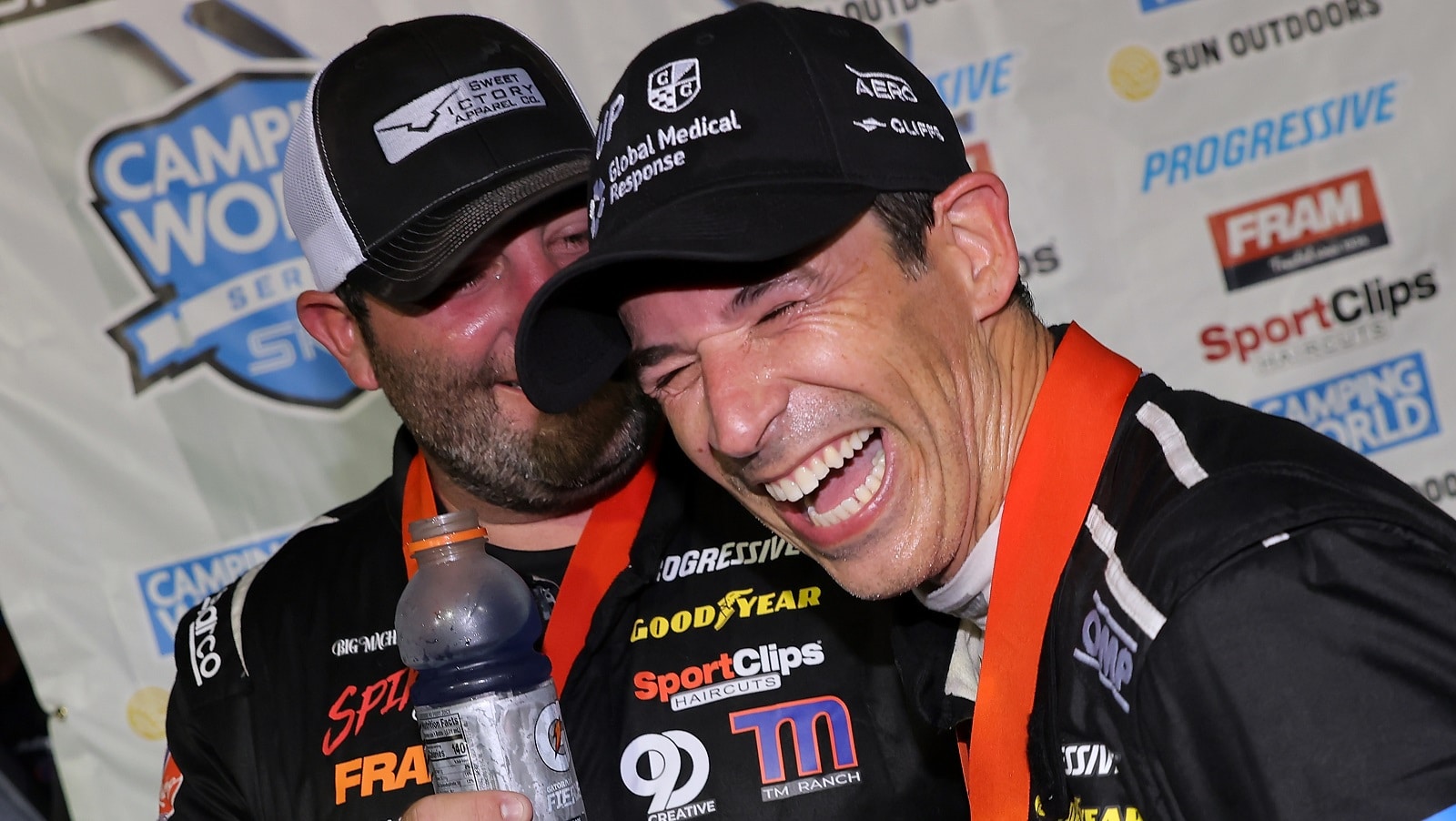 Four-time Indianapolis 500 winner Helio Castroneves had the weekend off. As a part-time participant in the SRX series, Castroneves was not in the listed lineup for the Season 2 kickoff at Five Flags Speedway on Saturday in Pensacola, Florida.
However, Castroneves was getting itchy to get back in a car and do some racing. When no one from SRX responded to his inquiry late in the week about a last-minute entry, he decided to head to Pensacola anyway.
"I bought my own ticket, I got everything ready to go, and when I was on the plane, I asked Ashely (Rogero-Butcher, SRX's director of operations) what time I should be to the track. She's like, 'Oh, you're not supposed to be here,'" Castroneves said, according to Fox News. "So, I was like, 'I'm already on the plane.' She's like, 'Hold on.' I landed, (and) it's like, 'I got a car for you and everything else.'"
Castroneves romped to victory over local ringer Bubba Pollard and NASCAR veteran Ryan Newman in the main event.
It was his first SRX victory. Castroneves appeared in all six races last season but never finished better than third on his way to fifth place in the season standings.
Helio Castroneves had a special incentive to win
SRX officials were surprised by Helio Castroneves' last-minute decision to race, but they weren't disappointed. SRX is an IROC-style race with a roster of drivers from various series, and Castroneves is about as big an IndyCar name as there is.
Aside from the four Indianapolis 500 victories, Castroneves has also won an IMSA SportsCar Championship and the 24 Hour of Daytona. Just for kicks, he also won the fifth season of Dancing with the Stars.
As has been his tradition, the Brazilian driver climbed the catch fence to celebrate his latest victory. He then rattled off some thank yous to people involved in the series that NASCAR Hall of Famer Tony Stewart co-founded last season.
"This is fantastic," Castroneves said, according to Frontstretch.com. "What a great — thank you, SRX, everyone here. Just absolutely amazing, Tony, thank you so much."
At that point, the driver spotted SRX CEO Donald Hawk and shouted out to him excitedly.
"Hawk and I had a bet — winning the race, he would find me one race in NASCAR, right?" he explained.
Who's got a NASCAR Cup Series car he can use?
He's fascinated with NASCAR, but Helio Castroneves is uncertain to land a Cup Series ride off his win in the SRX opener.
The obvious place to look would be Stewart-Haas Racing. Aside from being the SRX co-founder, Tony Stewart is the co-owner of the SHR team. However, there's a staffing issue. Aside from having a complete roster of full-time drivers for the team, SHR also employs Ryan Preece as a backup in case one of the regulars isn't available.
With the possible exception of Rick Ware Racing, no regular Cup cars appear available for the remaining 20 races of the season.
However, Trackhouse Racing offers an intriguing possibility.
Trackhouse officials announced in May that they have started Project 91, an initiative in which they will occasionally add the No. 91 Chevy to their two-car team to highlight the skills of international drivers. The first scheduled outing is Aug. 21 at Watkins Glen, where retired Formula 1 great Kimi Raikkonen will drive.
The only regular-season race after Watkins Glen is the following week at Daytona. Trackhouse could make that happen for Castroneves, assuming he doesn't have another commitment. IndyCar is off that weekend, but it would be a tight turnaround getting the car set up to Castroneves' preferences, especially if it gets dinged up at Watkins Glen.
A playoff race beginning Labor Day weekend is a longshot as teams might be hesitant to put a newcomer, even one as talented as Castroneves, on the track when advancement to the next stage is on the line.
Like Sportscasting on Facebook. Follow us on Twitter @sportscasting19 and subscribe to our YouTube channel.