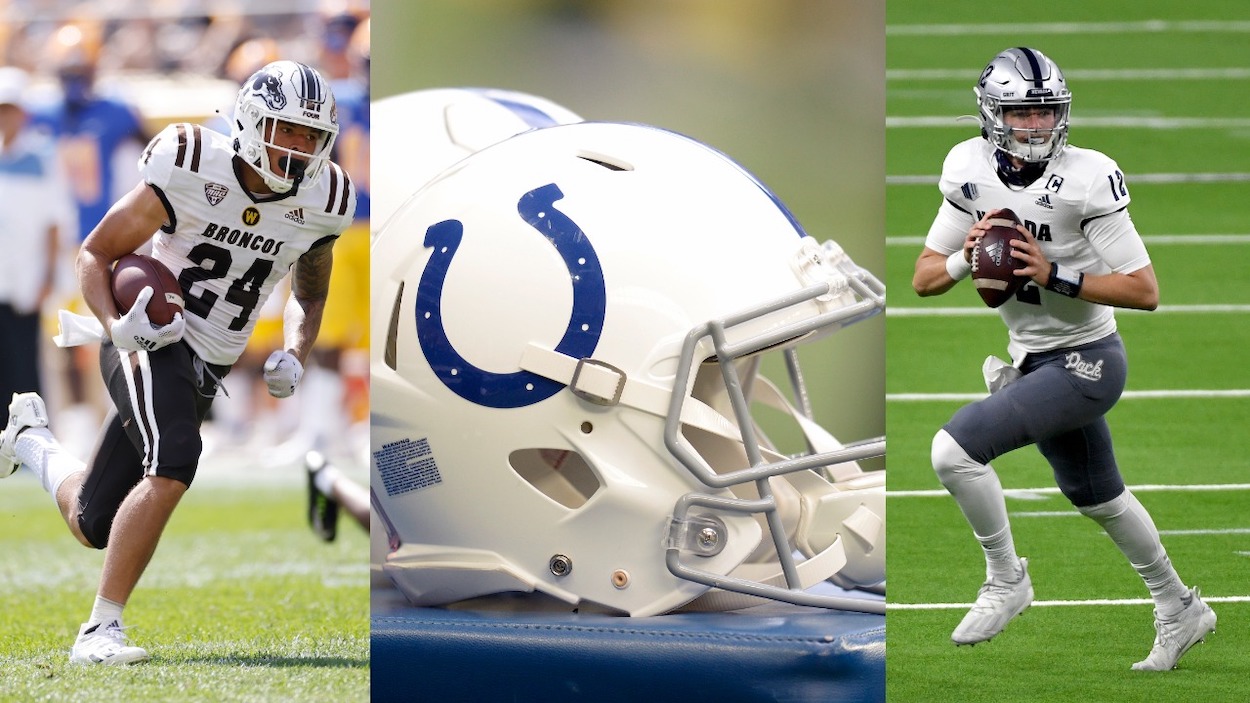 Indianapolis Colts 4-Round Mock Draft
With no first-round pick, Chris Ballard has to gamble on talent with serious question marks in the later rounds of this four-round Indianapolis Colts mock draft.
To get a look at the team's first three picks, we have to go with a four-round Indianapolis Colts mock draft. That's because the team's first-round pick went to the Philadelphia Eagles in last season's Carson Wentz trade. And it now is in the hands of the New Orleans' Saints pick after an all draft pick swap.
The Colts' second- and third-round picks in the 2022 NFL Draft aren't theirs either. General manager Chris Ballard swapped picks with the Washington Commanders as part of this season's Wentz trade to move from No. 47 to No. 42. The franchise also has the Commanders' third-round pick (No, 73), while the Atlanta Falcons have Indy's original No. 82 pick, which they got for quarterback Matt Ryan.
Now that the complicated piece is worked out, Ballard and the Colts' mission for the first three picks is simple: Upgrade the talent on the offense to help get the team over the playoff hump in 2022 and set the organization up for long-term success.
Here is a blueprint to do just that in this four-round Indianapolis Colts mock draft.
Round 2, Pick 42: Skyy Moore, WR, Western Michigan
Fans reading this Indianapolis Colts mock draft will recognize this profile well: An undersized wide receiver from a small school with outside wide receiver skills and speed to burn. Sounds a lot like T.Y. Hilton, right?
Well, in 2022, it's Western Michigan wideout Skyy Moore. The 5-foot-10, 195-pound WR was incredibly productive at his MAC school. Last season, he caught 95 balls for 1,292 yards and scored 10 touchdowns. At the NFL Combine, he ran a lightning-quick 4.41 40-yard dash, and he plays at that speed.
He might have a little T.Y. Hilton in him, but his ceiling is more like Steve Smith Sr.'s. If he can get anywhere near that level, he'll be a massive weapon for Matt Ryan this season and possibly the Colts' QB of the future after that.   
Round 3, Pick 73: Carson Strong, QB, Nevada
Speaking of QB of the future, it's vital that Chris Ballard always keeps one eye on that while also building for the present. This year, without a first-round pick, the team can take a flyer on a development signal-caller in the later rounds, and in this Indianapolis Colts mock draft, that player is Nevada's Carson Strong.
Strong is a first-round talent with a Drew Bledsoe-like arm. He threw for 9,368 yards with a 68.1% completion rate in 31 games for the Wolfpack. He also threw 74 TDs to just 19 INTs. So why isn't a passer like this in Round 1? Well, just like he has Bledsoe's arm, he also moves like Bledsoe did late in his career. Multiple surgeries on his right knee have sapped Strong of his athleticism, but, boy, can he sling it.
An anonymous NFC scouting director told NFL.com, "The medicals are what they are, but it also depends on how each team's doctors see it. He's going to move around like an old Philip Rivers, but he's got special arm talent." The Colts know precisely what you get with an "old Philip Rivers," and what it got them is a playoff berth in 2020. Taking a shot on a younger version of that to sit and learn behind Ryan for a year or two is worth the gamble at this point.
Round 4, Pick 122: Dare Rosenthal, OT, Kentucky
Without a first-round pick, teams have to roll the dice on talent in the later rounds, even if that talent has major question marks surrounding them. To that end, the third pick in this Indianapolis Colts mock draft is Kentucky Wildcats — by way of the LSU Tigers — offensive tackle Dare Rosenthal.
The 6-foot-7, 290-pound Rosenthal has the size and athleticism (he ran a position-best 4.88 40 at the combine) that NFL teams dream of at the tackle position. However, his maturity and willingness to put in the work to get the most out of his natural gifts are questionable.
The Louisiana native started his career at LSU. But after becoming the starter at LT as a sophomore, head coach Ed Orgeron suspended the player indefinitely for an unspecified reason (which ended up being a month). Rosenthal then transferred to Kentucky, where he made third-team All-SEC last season.
With Eric Fisher likely out at LT, the Colts need a new starter at the position, and, since they can't take one in the first round, they'll have to roll the dice on Rosenthal's natural talent in the fourth.
All stats courtesy of Sports Reference